Last Updated on May 15, 2023 by Sarah Gayda
From effective email management to reining in content chaos to the joys of meeting in-person, CEO Tim Brady shares our hot topics of last year and outlines what's ahead for 2023
The past year was transformative for the content services industry. Microsoft officially launched Microsoft Syntex (Colligo was a proud Syntex Launch Partner), Microsoft Purview was introduced, large conferences returned to in-person and automation became more usable in everyday business applications. 2022 will likely go down as the foundational year in the next generation of content management.
Reflecting on the past year, a few things ring particularly true:  
1. The majority of business communication still takes place via email, and most relevant business information is still received via email
Connecting email or Outlook to SharePoint remains critical, and this is reflected in our three most popular blog posts of 2022: 
This year, one of our customers achieved incredible success in email management and is worth highlighting. Instead of taking multiple days to file emails to or send content from SharePoint, Compliance Agency staff now file and send emails within seconds without any administrative involvement using Colligo Email Manager. This represents a time savings of close to 75%.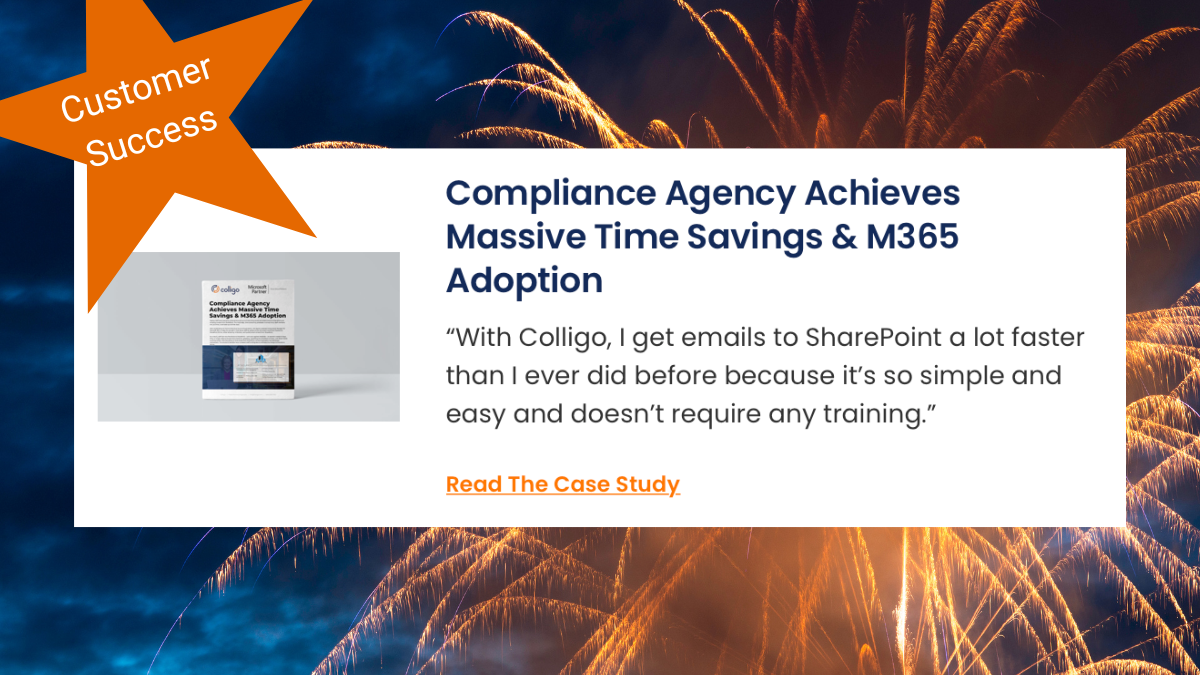 2. Content proliferation has led to content chaos for most organizations
You've likely noticed that the amount of data entering your organization and the amount of content with 'business value' has never been greater. In fact, according to AIIM International: 
1.6 billion documents are added to Microsoft 365 each day

 

There will be 130 billion terabytes of unstructured content by 2025

 

It costs $46 billion a year to store and manage content

 
Given the plethora of content and data, organizations are struggling to get control of their content and information – in short, its chaos. Further validating this reality, it's no surprise that our most well attended webinar was How to Bring Order to Microsoft 365 Content Chaos.  
Another fantastic example of a customer that's managing the information overload challenge exceptionally well is a Large Wealth Management Firm. Using the Colligo Enterprise Suite, the Firm created a central SharePoint information repository with all investment memos, company notes, and company/industry updates — easily searchable with metadata – and achieved 100% user adoption of SharePoint.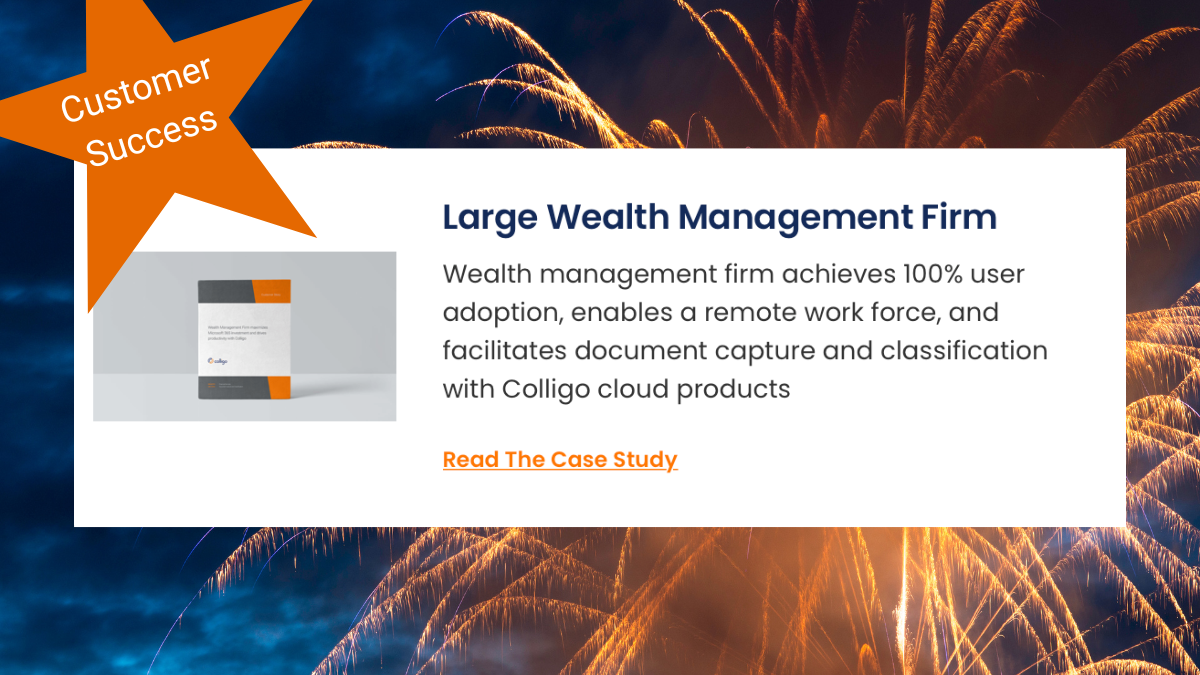 You can expect much more from us on this topic in the New Year in response to the overwhelming call for help from organizations all over the world.  
3. There's nothing better than meeting you in-person
As necessary as virtual conferences were during the pandemic, nothing beats meeting our customers and partners in person! The Colligo team was busy sharing our knowledge and expertise as well as gathering key industry and technology learnings to pass on to our community.  
We were thrilled to participate at AIIM Conference Denver, AIIM Forum Europe, Microsoft 365 Conference (x2), European SharePoint Conference, Document Strategy Forum and the Power of the Cloud.  
Exciting announcements in @jeffteper #Syntex presentation at #MSIgnite today! We are proud to be a launch partner! #MSpartner pic.twitter.com/4Qr5BKCtOQ

— Colligo (@Colligo) October 13, 2022
Growing and succeeding together in 2023
As we look forward to 2023, we plan on increasing our presence at major conferences again (more to come soon!) and hope to engage in meaningful, in-person conversations with as many of you as possible.  
We're also fully dedicated to providing valuable, educational resources to our clients and prospects, so you can make informed decisions and prosper. You'll find them all in the rich Learn area of our new website or subscribe to our monthly newsletter to get updates straight to your inbox.  
Thank you to our clients, partners and team for a wonderful 2022, and we look forward to continued successes and growth together in 2023!  
Sincerely,
Tim Brady, Colligo CEO