Last Updated on August 8, 2023 by Sarah Gayda
4 easy steps to file email from Outlook to SharePoint and ensure compliance
Getting SharePoint to connect to Outlook is a breeze. In 10 minutes, pulling from the vetted Microsoft solution catalogue, you can securely and reliably deploy Colligo Email Manager. Then, your workforce can use it anywhere they use Outlook – on the desktop, browser, or mobile app.
Colligo Email Manager is a Microsoft 365 add-in that will simplify your retention and sharing needs. It does so in a way that end users find natural. And IT administrators find it reliable and easy to deploy and support.
Here is how to connect SharePoint to Outlook and allow an end user to file an email:
1. Start Colligo Email Manager
You can launch Colligo from the ribbon. It opens as a side panel.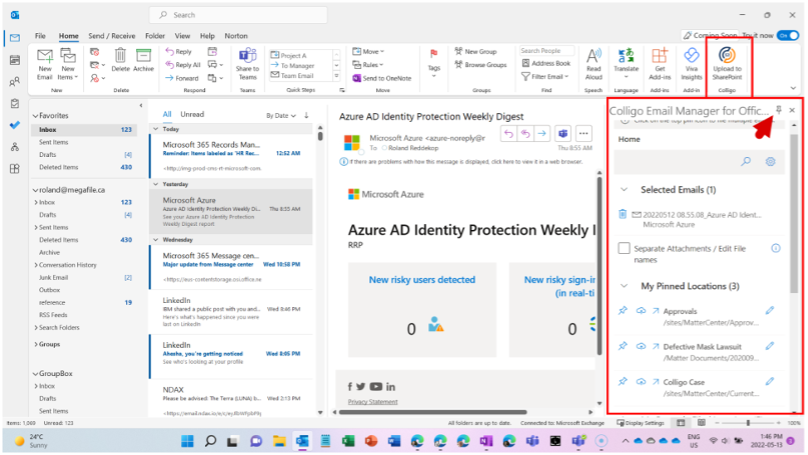 Quick Tip! You can conveniently pin Colligo open. Then it's always ready to use, making saving from Outlook to SharePoint quick and easy.
2. Select upload icon for selected filing location
For regular repeat fling to a particular SharePoint site, library, or folder you can pin these locations for single-click filing. You can also access any SharePoint, Teams, or OneDrive folder for occasional filing.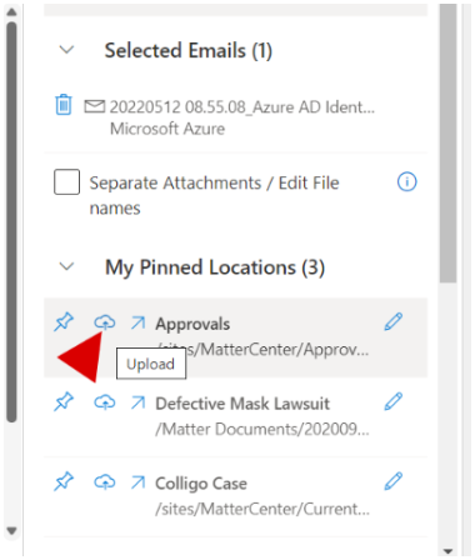 Quick Tip! You can select and file multiple emails at the same time. Every wondered how to file attachments from Outlook to SharePoint? You can store attachments with the email or separately in SharePoint by selecting a checkbox.
3. Note the metadata automatically extracted like the subject, sender, recipient, date/time sent, and more.
If you need to add a retention label or other metadata like a document category, you can do this now.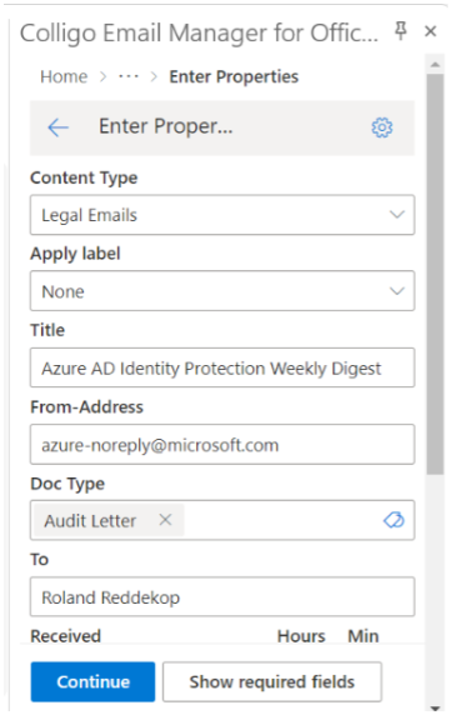 Quick Tip! Colligo can skip the metadata screen if you have no special requirements to classify your emails or attachments.
4. You're done
Your email is being uploaded now. It is happening in the cloud, not on your machine. You can move on with your day, or even close Outlook and shut off your computer.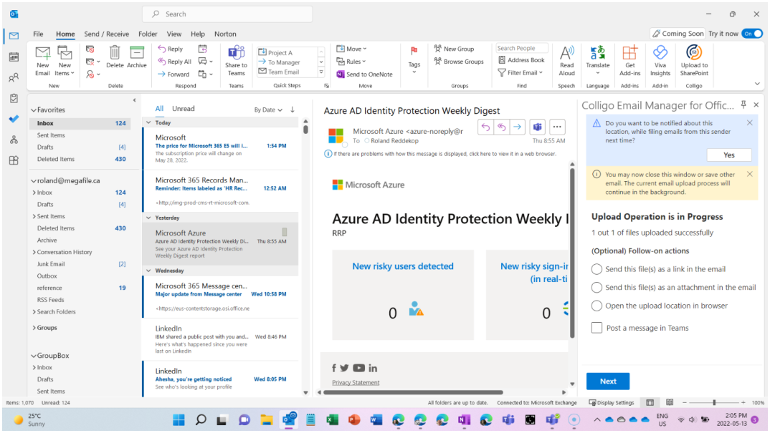 Quick Tips!
Do you want Colligo to remember where you filed an email from a particular sender and remind you next time? Just click on Yes when prompted.
Wondering how to insert a SharePoint link in Outlook? Colligo also provides a number of single-click follow-on actions that can speed things up for you. These include sending out a link from SharePoint by email, posting a linked message in Teams, or going directly into the SharePoint library to perform some additional task.
This just touches the surface of Colligo Email Manager functionality (see the full feature sheet). Other use cases include pulling content from SharePoint into your outgoing emails, searching for emails and documents in SharePoint, and much more.
Knowing how to access SharePoint from Outlook and file email is important
Working in an office, including a home office, you are probably reading and sending email daily. Even in the modern office, equipped with instant messaging like Microsoft Teams chat, email is still the core tool.
Email is used for communicating messages, both internally and externally with vendors, partners, and clients. If you walk around almost any office, the always-open application invariably is Outlook.
The continuing pervasiveness of email means you need to devote attention to preserving and corralling key emails. You need to store them in a shared repository (commonly SharePoint Online), especially emails with long-term importance (aka records). Ideally you want to do this in a way that is simple and not time consuming.
Key reasons why you should file email to SharePoint
Now that we've showed you how easy it is to file emails to SharePoint, let's focus on why you should. There are typically three reasons for saving email into a shared space, like SharePoint Online or Microsoft Teams:
1. Regulatory compliance
Many industries require preservations of communications. In these cases you make a commitment to a third party or accept a commitment. The risks of not complying can be devastating to your company's bottom line. Saving emails from Outlook to SharePoint, a safe and controlled repository, ensures compliance. It also means they can be audited and appropriate access is granted to the right people.
2. Knowledge management
Projects, especially those involving third parties, create many assets, including documents and emails. Most project managers do a good job of corralling project documents into a single library, so users can refer to them for support and future iterations. However, invariably, important emails fall between the cracks and context is lost. Having a complete record of a complex project ensures your organizational knowledge is retained. Also, it ensures you can pass your knowledge, systems and decisions onto others.
3. Business automation
Often email is a trigger to complete a task. When you have routine, well-defined tasks that are triggered by an email request, you can track and delegate processes by copying an email into SharePoint. Then the next steps can be managed efficiently, manually, or even automated with Power Automate or a similar business process automation (BPA) engine.
On the flipside, with most of your documents living in SharePoint and Teams, it can be awkward and time consuming to share those documents with others, internally and externally. With the volume of email increasing, you need efficient tools to manage these email challenges. An email connector that helps with tagging, filing, and quickly sending documents is imperative.
Let's get started
We welcome you to get in touch for a personalized demo of how to file Outlook email to SharePoint. Or talk to us about specific features of Colligo Email Manager that align with your business requirements.
More useful resources on filing email to SharePoint