Last Updated on December 6, 2022 by Sarah Gayda
Massive volumes of data created each day thrust information management into spotlight at European SharePoint Conference in Copenhagen
The Colligo team finished up a successful three days at this year's European SharePoint Conference (ESPC) in Copenhagen. As always, this Microsoft event did not disappoint!  
While there are many impressive innovations taking place across the software landscape right now, we believe the modernization and transformation taking place in content and information management is among the most exciting. Content management took centre stage at ESPC given the evolution of Microsoft Syntex and proliferation of Microsoft 365. As content becomes more embedded into collaboration and workflows, it's increasingly valuable and central to organizations.    
Content stored in the cloud growing at exponential rate
Don't take our word for it! Microsoft was keen to point out the massive volumes of data and information being stored to SharePoint globally, highlighting that 1.6 billion documents are added to M 365 every day. This has been a common theme at other Microsoft events this year as well.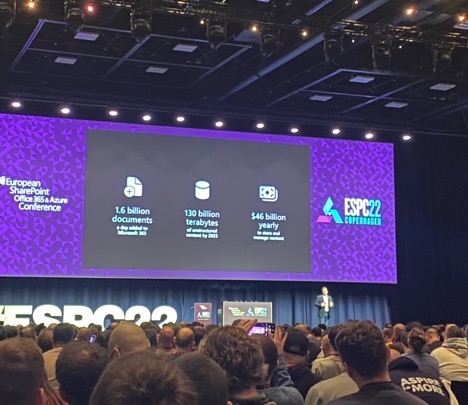 Where there is a need, there is opportunity
The downside to this, is that there is expected to be 130 billion terrabytes of unstructured content by 2025. The opportunity? Solutions like Colligo and Microsoft are helping to bring structure to unstructured content, by enabling the use of metadata labels and making classification and organization of data and content easier for organizations around the world. 
Save time and money with Microsoft 365 and Colligo
With the costs of managing and storing content exploding, using solutions like Microsoft 365 and Colligo can save you time and money. In the keynote presentation, President, Microsoft Collab Apps & Platforms Jeff Teper cited a 60% savings by using Microsoft 365. Similarly, Colligo helps organizations get more out of the software they already own and tailors it to the business need or use case, helping deliver a greater ROI and adoption rate on existing software.   
In a recent customer example, Colligo was able to enable a corporate legal team to save time filing and labelling emails, allowing their lawyers and solicitors to spend more time doing actual legal work.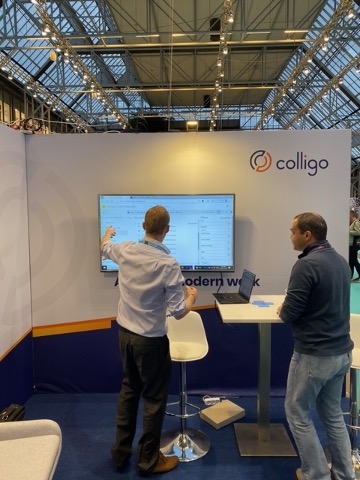 Search and discovery remain a challenge, SharePoint Conference attendees report
One of the most interesting takeaways we gleaned from ESPC 2022 was the number of organizations still struggling with search and discovery of documents. Many delegates we spoke to lamented about the struggles users have finding content and wondered how to make this better. We were able to have meaningful conversations around how metadata (i.e., attaching labels to content) can make locating content much easier, particularly when utilized through Colligo Content Manager. We hope to hear we've alleviated some of these challenges come next year's conference! 
For more information on learnings from ESPC 2022, other Microsoft conferences we'll be attending, content management or Colligo Content Manager, please get in touch or set up a time for a virtual demo. We'd love to hear from you!