Last Updated on May 15, 2023 by Sarah Gayda
Success story of Colligo customer TaylorMade Golf showcases legal department's time and cost savings
A pervasive theme at Microsoft Ignite 2022 was doing more with less. We believe in this at Colligo, often citing and hearing from partners,that we "help you get more out of the software you already own [Microsoft 365]." We are glad to see this adopted by Microsoft, as the return-on-investment conversation continues to be more and more important to global technology leaders and knowledge managers.
Content is everywhere – and this isn't good
Content is everywhere. While the world shifts back to a hybrid model for work, IT leaders and records managers are left picking up the data scraps with data located in siloes or, worse, not saved at all. This creates a massive risk for organizations.
At Ignite Conference 2022, Microsoft was keen to highlight the siloes and the need to merge and break them down. We believe this is crucial, particularly in email and Outlook, and that data needs to be brought into SharePoint Online, Teams, and OneDrive.
When filing emails to SharePoint, it should be a frictionless process. This means making it as easy as possible for your end users and augmenting any manual oversight with automation. We also believe you should do this with a cloud-based or Microsoft-365-based solution or add in, rather than a COM-based add-in from the days of old. Fortune 500 organizations trust Colligo for this, and we are glad to see Microsoft embracing the need for bringing Email into SharePoint.

Globally recognized golf manufacturer TaylorMade revolutionizes legal processes
Microsoft highlighted TaylorMade's success in revolutionizing its legal processes using Microsoft 365. Colligo was instrumental, alongside Lighthouse Global, in helping TaylorMade's lawyers save time by freeing them from filing emails manually and searching for documents, allowing them up to do actual legal work.  
"To be able to manage a plethora of legal documents and sensitive information, TaylorMade's legal team traditionally spent endless hours manually managing content as it arrived in Outlook. When they received trademark or patent information in their inboxes, legal team members would move the individual documents to their hierarchical system of Outlook folders. This tedious process was inefficient and prone to human error, pushing the company away from its innovation mission," according to both Microsoft and TaylorMade.  
Classifying information and making it more secure is critical, and TaylorMade is on the right track with Colligo and our partner Lighthouse Global alongside Microsoft 365 & Syntex. The TaylorMade success story is also part of why Microsoft invited Colligo to be an Official Launch Partner for the unveiling of Microsoft Syntex at MS Ignite 2022, and we were thrilled to be acknowledged during Jeff Teper's presentation Introducing Microsoft Syntex – Content AI for the Microsoft Cloud.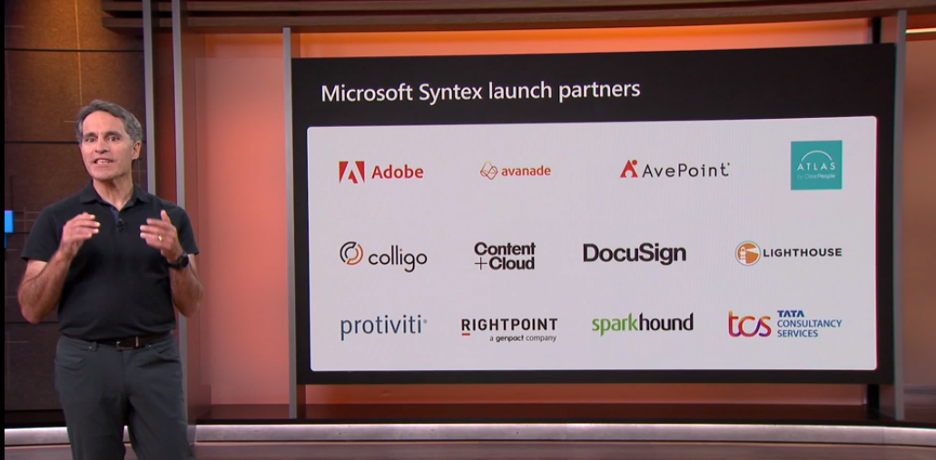 Using Microsoft 365 and Colligo as a legal DMS gaining traction among legal departments around the world
As seen in our recent webinar Unlock the Power of M365 for Legal Document Management, Colligo is helping legal departments everywhere tailor their Microsoft 365 deployment for legal use cases, particularly as a legal Document Management System (DMS). "We had lawyers spending hours and hours of time filing and moving documents," according to Ali Chitsaz, Senior Manager of Digital Workplace at TaylorMade Golf. This is the challenge Colligo commonly enables legal departments globally to solve.  
For more information about MS Ignite, or to find out how you can do more with less, get more from your Microsoft 365 investment, or leverage Microsoft 365 as a legal document management system, contact our sales team.
Introducing Microsoft Syntex – pioneering Content AI – built on #SharePoint, Microsoft AI, and more #MSIgnite
One the largest waves of content collaboration news we've ever done – thank you to our customers, partners, and team 💚https://t.co/mWPwePeBSt
— Jeff Teper (@jeffteper) October 12, 2022