Last Updated on May 15, 2023 by Sarah Gayda
Content control is attainable by
harnessing the full power of Microsoft 365 and SharePoint Online for modern ECM
Is content sprawl plaguing your organization? Is your team pumping out more documents, emails and records than ever before, but unable to find what they need when they need it?  
You're not alone. Content is proliferating at unprecedented rates. And it's only expected to get worse. Organizations predict volume will grow by 4.5x over the next two years, according to AIIM International. By 2025, the combined volume of data worldwide will grow 10x and skyrocket past 180 zettabytes, says IDC. 
Teams sprawl is the new SharePoint sprawl
Many will remember the good ol' of the early 2000s when SharePoint sprawl became a common term and pain point. Users saved everything and anything to the platform. We see the same trend happening now, as Microsoft Teams adoption has grown at a rapid pace and users are able to store their content in Teams (and yes, we know, Teams is just SharePoint on the backend, but many end users don't realize this).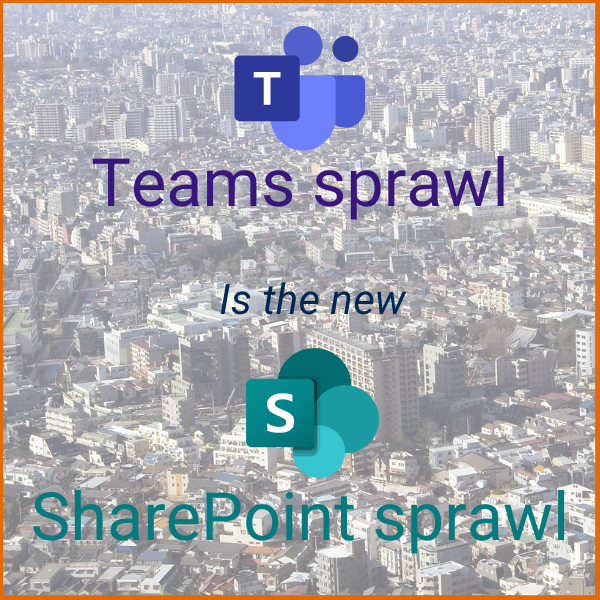 Most respondents on a recent Colligo poll rated their content sprawl problem as poor to very poor. This mirrors what our customers tell us as well, which creates four common challenges you can likely relate to: 
You're frustrated with the time and effort wasted searching for content.

​

Your organization lacks full governance controls and is at risk for non-compliance penalties.

A

bandoned artifacts, document graveyards, dark data and shadow IT

​

have multiplied in your organization.

Your organization is using multiple content repositories, so there's no single source of truth.
What is an ECM
?
In order to fix this, your organization needs to tackle enterprise content management (ECM) in a modern way, taking hybrid work into account. So, let's start by defining exactly what ECM is.   
Enterprise content management refers to the management of your organization's content throughout its lifecycle. This includes documents, emails, attachments, images, contracts, spreadsheets, presentations, and everything else. More than just an enterprise content management system or specific technology, ECM includes your strategy and processes as well. 
At times ECM can be confused with or referred to as document management or records management, but the term ECM is broader. For more, see AIIM's complete explanation of ECM.  
Content control, governance and compliance are within your reach
 with modern enterprise content management software
ECM solutions help you wrest control of your content and can significantly reduce the time you spend looking for, recreating or duplicating content. The time and cost savings you can realize by doing so make the effort well worth your while. 
Leveraging your investment in Microsoft 365 and utilizing a third-party tool like Colligo is a great place to start. Colligo integrates the software you already have – SharePoint, OneDrive & Teams – and lets you view and manage all your content from an easy-to-use single window as an enterprise CMS. Available right from the applications you use most (Outlook, Teams or the web browser), Colligo's cloud content management software enables you to find what you need quickly while staying in Outlook and Teams. 
Make content control a reality in your organization
View our recent webinar — How to Bring Order to Microsoft 365 Content Chaos – for a quick 30-minute session to learn fortify your governance and compliance program by unlocking the full power of Microsoft 365 and SharePoint Online. You'll also learn: 
Why it's critical to let your users stay within the apps they're familiar with and make filing content to SharePoint Online – compliantly – as seamless as possible

 

How to properly tag and classify content as it comes into your organization (and why this should be done from Day 1)

 

How to use labels and tagging (metadata) to improve your search experience and allow you to surface documents quickly and accurately

 

Concrete tips for saving measurable time and money, and improving organizational compliance

Elements of modern enterprise content management software 

How to extract more value from your investment in Microsoft 365

 
Or, for questions about content management in your organization, ECM software or more info on how Colligo can help, please get in touch.