Last Updated on May 15, 2023 by Sarah Gayda
Tips for how to govern with excellence from First Nations records management course at ARMA regional conference
I had the pleasure of attending and speaking at the ARMA regional conference in beautiful and warm Kelowna, British Columbia in early October. The conference title was Wine-ing About Records, playing off the well-known fact that Kelowna is one of the best places in the country for vineyards and wine tours, a great place for learning about records and information management.
Another theme of this conference was the First Nations' practice of governance, particularly with records. In my normal day-to-day meetings with customers, I primarily meet with enterprises, small businesses, and government entities. Learning about First Nations' diligence in self-government was an enlightening experience.
I jumped at the opportunity to take a multi-day course on records management hosted by the First Nations Public Service Secretariat, an organization that serves as a training and framework resource to the First Nations governing communities. Their slogan is "Courage to Excel" (no, not the Microsoft Excel), which refers to their goal to overcome obstacles and govern with excellence.
I found the Secretariat's course Records and Information Management (RIM) useful, particularly the introduction on why a healthy RIM Program is important. Here is a condensed version of what I learned about a healthy RIM program from the Secretariat.
4 key elements of a healthy records and information governance program
1. Preserves history & establishes archives
We are all familiar with the need to retain records. For example, you save seven years of income and tax records to be able to survive an audit. The retention period often is connected to an external requirement or risk. There are also intrinsic reasons to preserve certain types of records that have historical significance for an organization. You may have heard in the news about a pair of vintage Levi's jeans from the 1880s that were recently discovered in an abandoned mine. There are facts and artifacts that should be preserved indefinitely (archived) because of their long-term significance for history, education, celebrations, and warnings.
Archives are the category of records that are designated to be stored for posterity.
For First Nations, I learned this can include recordings and transcripts of oral history (which must be captured while the witnesses are alive), key artifacts and documents (often digitized for searches),  as well as history of territorial studies, legal cases, and the history of settlers they interacted with. Preserving this delicate cache of community knowledge is a rich and urgent topic among the First Nations groups. Similarly, most organizations will want to look for records that deserve this level of preservation rigor.
2. Works with your operational and administrative processes 
Information Governance (IG) focuses on the flow of information through an organization. Each type of record takes a path that is appropriate for its class. For example, invoices may have a lifecycle that includes preservation for seven years before being destroyed (disposition).
In general, your RIM should take into account the Information Governance Reference Model (IGRM) from the organization Electronic Discovery Reference Model (EDRM).
The purpose of IGRM, can be boiled down to managing risk. The risk of information loss, information corruption, or the inability to efficiently retrieve information when there is a demand are all risks that IGRM seeks to mitigate. Having a good handle on your information lifecycle from creation (or reception) to eventual destruction is key to mitigating financial risk to your organization.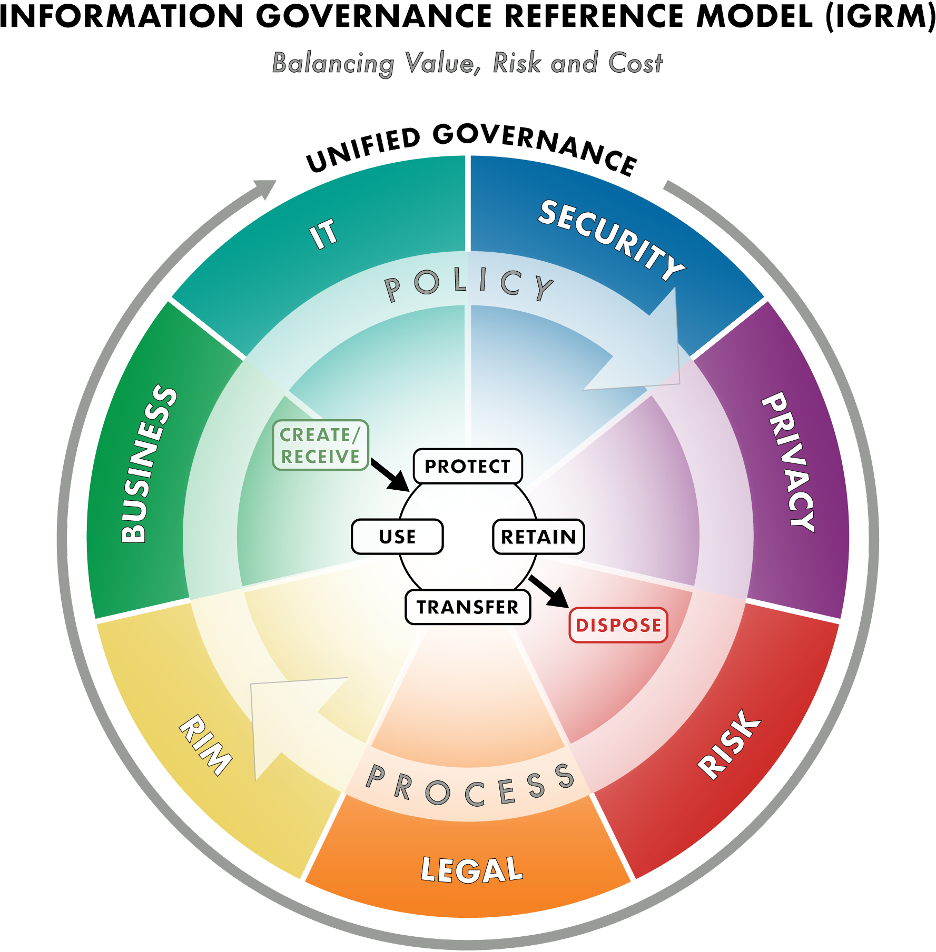 3. Is based on legislation and regulations 
Known as "Legs" and "Regs," legislation and regulations establish the rules around what is to be considered a record, how to maintain them, how to provide access to them, and how long to keep them, provided they are not archival.
You need to consult a variety of governmental laws from multiple levels of government to determine the retention schedule for each class of records. I found it interesting that self-governing First Nations groups can have additional regulations put forward as a Band Council Resolution (BCR). Many business records management systems, including Microsoft 365, have fields attached to the lifecycle rules where you can record a reference to the particular legs/regs that the rule is fulfilling.
4. Incorporates standards and principles 
Outside of government dictates, there are best practices and guidelines provided by organizations that focus on recordkeeping practices. The resources from these organizations are easier to understand than the government regs/legs and help you set up a workable system to tackle most requirements. These organizations publish helpful guides that demystify RIM concepts and provide recommendations for setting up your compliance team with clear job descriptions and roles, responsibilities, and authority.
Below is a list of some helpful publications on best practices. I would like to highlight the Government of Canada publication Electronic Documents as Documentary Evidence. Since many records may need to be usable in a legal context, such as supporting or defending in a lawsuit, that publication will teach you what is required.
For more information on managing records, how you can implement a healthy RIM program in your organization, or how Colligo products, including our records management solution, can help, please reach out.