Last Updated on June 14, 2023 by Sarah Gayda
Two methods for connecting SharePoint and Outlook and the pros and cons of each
Looking for a way to stay in Outlook while accessing SharePoint? The good news is you can efficiently and reliably move select email to SharePoint and access them again using one of two methods:
The manual, native Microsoft method
The automated method using third-party tools
We will explain how to access SharePoint from Outlook using both methods and discuss the pros and cons of each. (Hint: we strongly recommend using a proper solution via third-party tools that takes a more automated approach. And we'll show you why.)
Why would you want to access SharePoint from Outlook in the first place?
Like most people, you're likely looking to simplify the process of extracting email records and reference information from your personal mailboxes. You want to copy from Outook to SharePoint, consolidating email and attachments into SharePoint, alongside your other key documents. SharePoint and Microsoft Teams have evolved into a document management system with all the key necessities including retention control, robust Search, and metadata.
Another important reason for an Outlook SharePoint connector is to ensure that records and other value-laden content related to projects, cases, and other work initiatives are not hidden from those who need the information. This is especially true when employees leave your company.
Typically, past employee mailboxes are not archived or processed to mine for important content, as the task of combing through those mailboxes is arduous and time consuming. Storing emails in SharePoint can eliminate this burden.
To realize the benefits of storing emails in SharePoint, you'll need to choose one of these two methods: manual versus a proper SharePoint Outlook connection. 
Method 1: Manually move emails to SharePoint
We had one client tell us recently that it used to take their workers on average 15 minutes (yes, 15!) to save emails to SharePoint the manual way. (Compare this to as little as 30 seconds with Colligo.) However, it is certainly possible to do so using Microsoft's native applications.  
You can move email from your inbox to the library in several ways (saving email as a PDF to a temporary location, finding it, and uploading, or perhaps dragging it into the SharePoint drop-zone). An .MSG file will show up, which you can read using the built-in SharePoint viewer. Cool? Well, there are some significant cons drawbacks to this approach. 
Cons of Microsoft Outlook to SharePoint drag and drop functionality
Unlike Outlook, there is no way to view the critical properties like the sender or received date and time in columns associated with the email unless you manually add and edit those columns.  

 

The file name is simply the subject of the email, which will inevitably create many file name conflicts as you file additional emails. This is a huge issue, as organizations are currently facing significant problems with duplication of data. Using Colligo helps solve or reduce the massive duplication challenge of files in SharePoint, not accomplished using this manual method.

 
Another option for highly sophisticated power users is to look at forming some type of Power Automate flow. However, the drawbacks to this are plenty, due to the complexity and lack of scalability within an organization.
A similar function that Microsoft has provided is the Share to Teams add-in. The purpose of Share to Teams is to bring an email into a chat thread where you can collaborate with others about the contents rather than asynchronously going back and forth via email. This Microsoft add-in is a button you can add to your Outlook ribbon.
Instead of dragging and dropping an email, you click the button, choose a Teams Channel and the email is copied over as an .EML file. Simultaneously the subject and body of the email are posted to the target Teams channel chat with a link to the EML file.
Cons of the Share to Teams add-in
This method provides the ability to collaborate. However, it's deficient as a tool to move key emails into SharePoint or Teams storage for the same reasons as the manual method above, creating more (rather than less) document and content chaos. Plus, it lacks the ease of choosing exactly where you want to copy the email (restricted to default Teams channel libraries). 
Method 2: Automate & simplify copying emails to SharePoint Online with third-party tools like Colligo
The primary goal of Email Manager is to simplify the user experience while at the same time provide tangible value for cataloguing your email content for efficient Search and Retention using SharePoint functionality like metadata and labels.
How to file an email using Colligo
Colligo will show up in your Outlook ribbon automatically after your 365 Admin provisions it. It will open as a sidebar inside Outlook and you can pin it open if you enable quick single-click filing.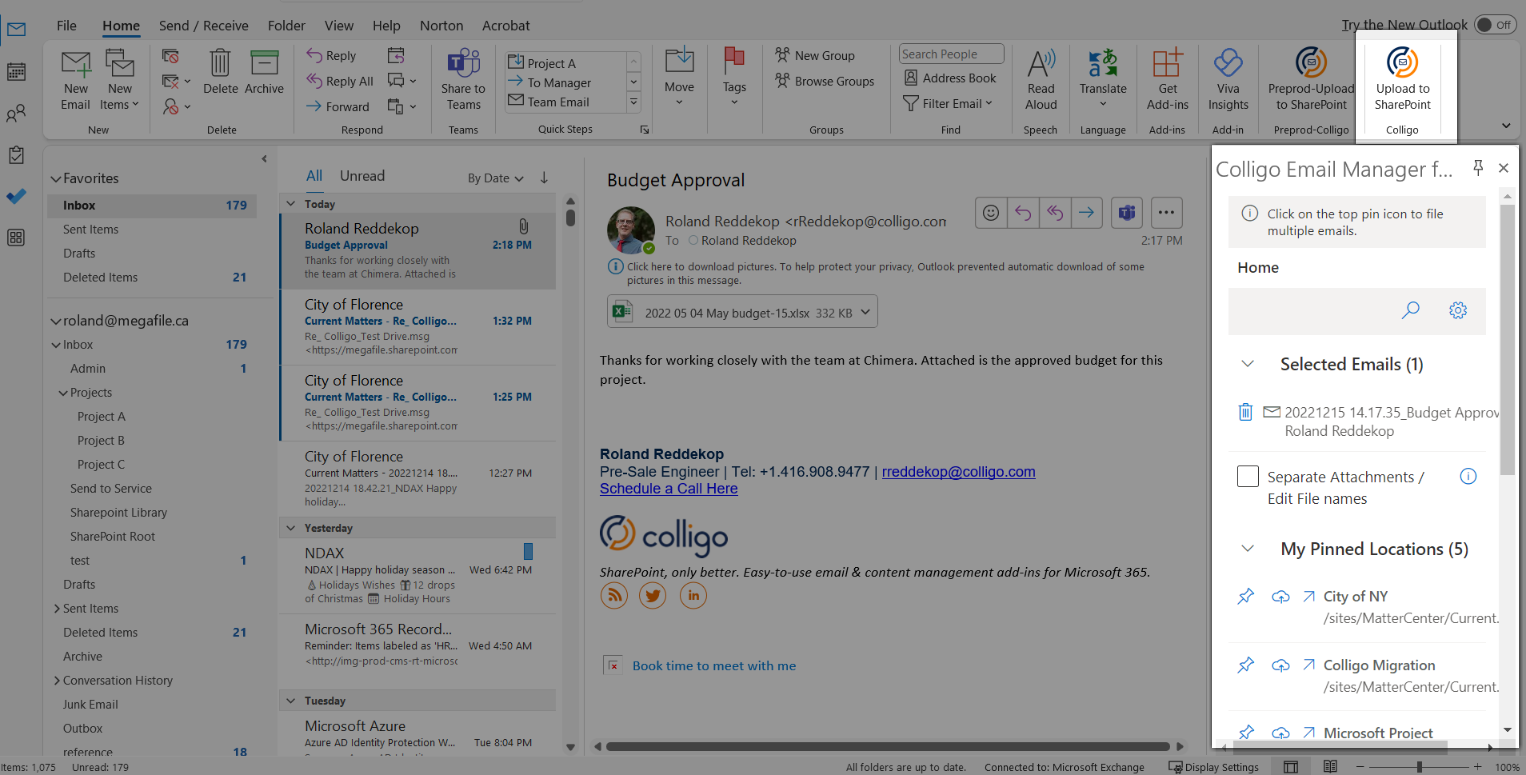 The easiest way to file is to choose to upload to a pinned (favorite) location with a single-click. These locations can be libraries or folders in SharePoint, Microsoft Teams, or even OneDrive.
You or your administrator can easily add pinned locations.
Alternatively, as you use Email Manager, Colligo can remember where you are filing emails from specific senders or companies and suggest the filing location automatically. Colligo can even suggest filing locations based on codes in your subject line like a case or project reference ID.
Once you have selected the filing location or accepted a suggested location, Colligo goes to work extracting valuable information from your email like the subject, sender, recipients, sent date/time, and more. This information will then be saved into SharePoint columns, which makes the email easier to find in the future.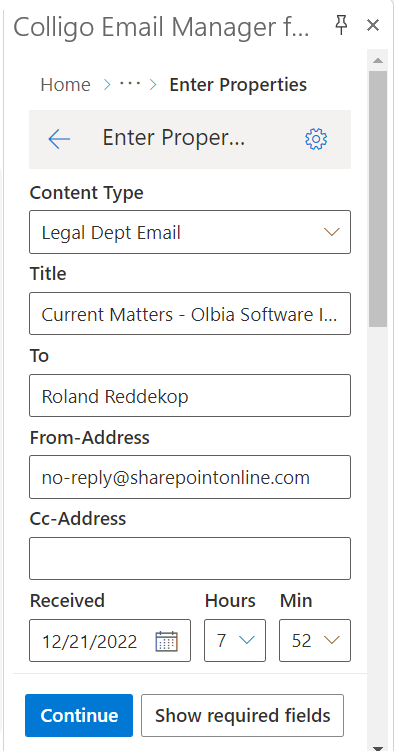 You can even add properties to classify your email such as choosing from a category list, adding a comment, or choosing a retention label.
Every company has different requirements in this area, so Colligo will automatically configure itself accordingly.
That is all. Now you have safely stored your email in SharePoint.
How to access your emails from SharePoint
Now that your emails are saved in SharePoint, Teams or OneDrive, there must be a better way to access them! Emails saved by Colligo in SharePoint (such as in MSG file format) are legally acceptable for legal court and discovery use. This is because they maintain the fully intact original email including the email headers that are normally hidden in Outlook. 
You can access your emails directly inside SharePoint or use the SharePoint App on a mobile device. But if you want a simpler, more functional experience then Colligo Content Manager is for you. It's connect to Outlook feature enables you to access your files without leaving Outlook or Teams. Given that Teams is the most commonly "always open" application on business desktops today, this is especially helpful.
Colligo Content Manager can run as a Microsoft Teams application, as a standalone web app, or inside Outlook itself. Most of our customers find the Teams implementation the most convenient. Plus, your 365 admin can publish Content Manager to everyone using MS Teams in your organization.
From a single screen you can access all your Microsoft 365 file content, wherever it is stored. Like Email Manager, you can easily pin favorite locations in the left pane. Content Manager has a centre pane where you can browse your files. This includes emails but also just about any other file type you use in SharePoint. And the right pane is a high-fidelity preview.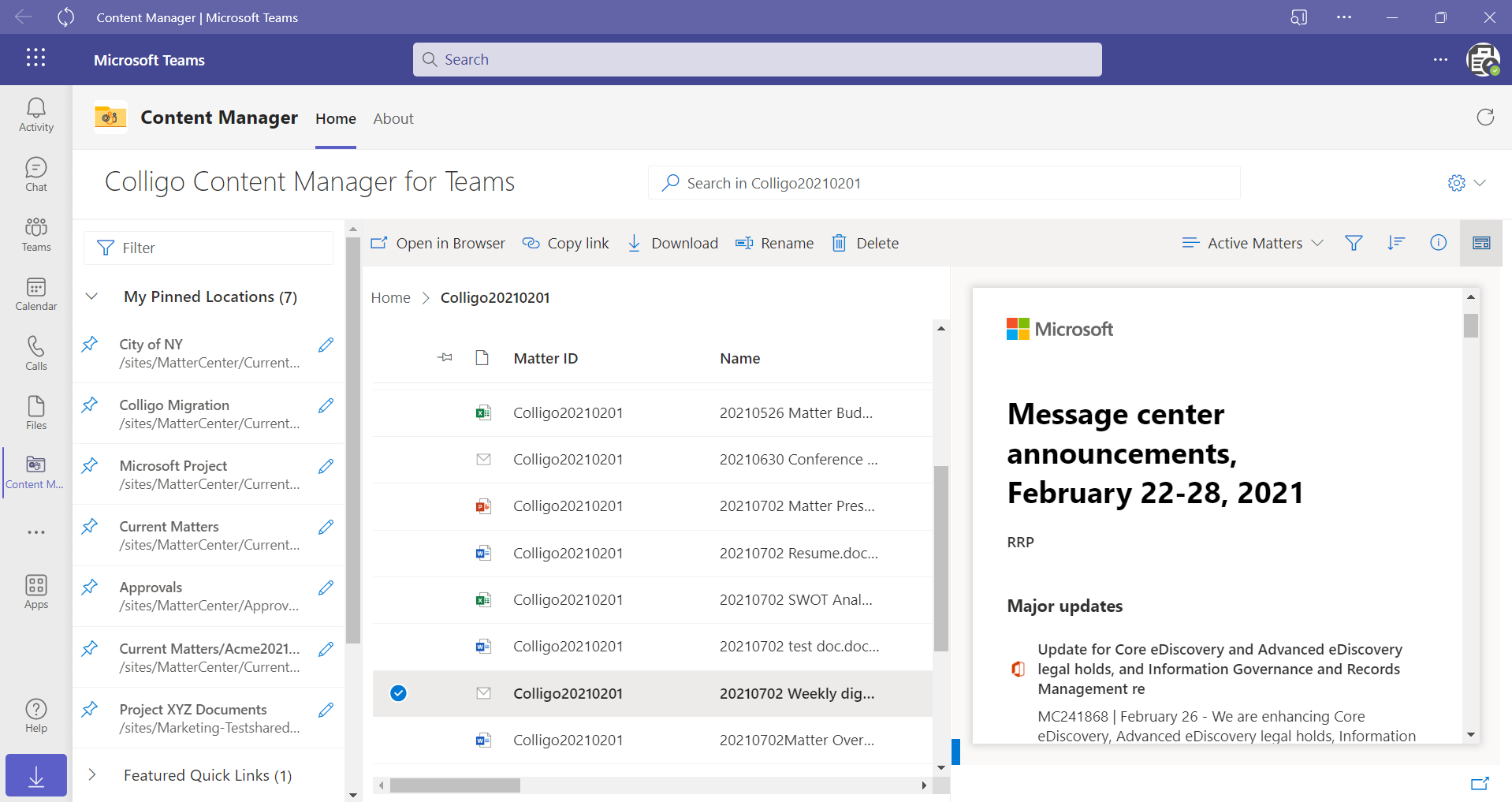 Content Manager provide a single place to search for any file, anywhere in Microsoft 365. Plus, it offers the best experience available to upload content to M365 and apply tags and labels without any hassle.
Let us show you how it's done
You can solve many of your email and document management problems with Colligo add-ins. Achieve your compliance goals and offer users a more efficient and simpler way to work with SharePoint and Microsoft Teams.
For more information on our SharePoint app, a personalized demo or a free trial, we invite you to reach out.