The Microsoft 365 Collaboration Conference did not disappoint! The Colligo team was on location in Las Vegas for this year's version of one of the staple events in the Microsoft community calendar. Collaboration and content services remain core to every organization, and the M365 Conference provides a great opportunity to learn and share best practices around modern work while hearing the latest from Microsoft.
Top themes and highlights from the conference
 1. Viva Las Vegas!
Viva remained a central part of this year's conference. A common theme we came across, both in the conference sessions and in discussions, was the broad challenge of adapting to the new hybrid world. All-in-office or all-remote almost seems easier than orchestrating a successful hybrid strategy. Microsoft is helping tackle this challenge with the latest innovations from Microsoft Viva, and we were impressed by some of the latest features, including Viva Topics in Outlook moving to general availability and the Yammer integration into Viva.
Marrying the impressive innovation with real core business use cases for organizations will be important if Viva is going to proliferate the way the rest of the Microsoft 365 suite has. We see opportunities to augment Viva with Colligo's offerings in organizations – saving emails to SharePoint, and then doing more with knowledge and structured data.
2. Teams continues to proliferate
More organizations than ever before appear to be utilizing Teams. However, the increased usage sparked more questions and comments than we've heard in a while. A great problem to have for Microsoft in our view. Microsoft spent a considerable amount of time on Yammer and Microsoft Teams communities.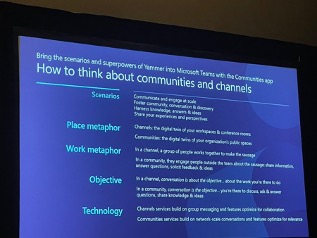 3. More organizations moving to the Cloud and Microsoft 365
Continuing the trend that exploded during the pandemic, interest in how to migrate, solutions to deploy, and how to configure SharePoint for modern work was extremely high.  Rez Noorez from Creospark highlighted the importance of the information architecture being well structured to drive organization, labeling, usability, and findability for users (of course with the help of Colligo's add-ins!) in his presentation.

3. "The best community in tech"
We come away evermore impressed with the strength and knowledge sharing of the Microsoft community. As highlighted in the keynote, Microsoft has "the best community in tech." The conference brought out ~100 MVP and community members alongside 50 Microsoft experts. We were excited by the attendance and huge interest in our Colligo Happy Hour event, even as we hosted on the final night of the conference. As always, it was great to spend time in-person with our partners and customers!
Excellent time at the #Colligo Happy Hour last night at #M365Conf! Thanks to all of our customers, partners and colleagues who came out! This really is the best community in tech! @M365CONF pic.twitter.com/mkGs7DcR3U

— Colligo (@Colligo) April 8, 2022