Last Updated on August 1, 2023 by Sarah Gayda
We recently held an 'ask an expert' webinar where Andy and I from Colligo joined Microsoft MVP Joel Oleson to answer questions. Our panel tackled the topic of how IT leaders can support remote work on Office 365 and SharePoint. Three key takeaways:
The disruption caused by COVID-19 has pushed many companies to accelerate their digital workplace transformation plans beyond what Change Management Professionals ever thought was possible.

Companies and their employees that embrace this stretch opportunity will bounce back faster and have greater productivity in the post virus world.

Video calls are proving critical for maintaining and growing trusting working relationships.

Companies must establish a cameras-on policy for standing meetings

Email boxes are increasingly overflowing with valuable information and documents that must be identified, retained and shared for future reference and compliance.

Tools to simplify and automate this process have never been more critical.
The webinar was engaging, refreshing and informative – we were glad to see it well attended! You can watch the webinar recording.  Or if you prefer to read, we've recapped some key topics discussed below.
1. Remote working is accelerating the cloud adoption trend
The onset of the pandemic and the shift of global workforces to remote working has accelerated cloud adoption and digitalization. Microsoft CEO Satya Nadella commented on a recent earnings call that "as COVID-19 impacts every aspect of our work and life, we have seen two years' worth of digital transformation in two months".
The responses from participants surveyed appeared to reflect this notion, as almost 60% of survey respondents were either in the middle of their migration to the cloud (with increased urgency) or were hesitant, but are now scrambling to get cloud ready, with another 20% already working at fully on cloud organizations.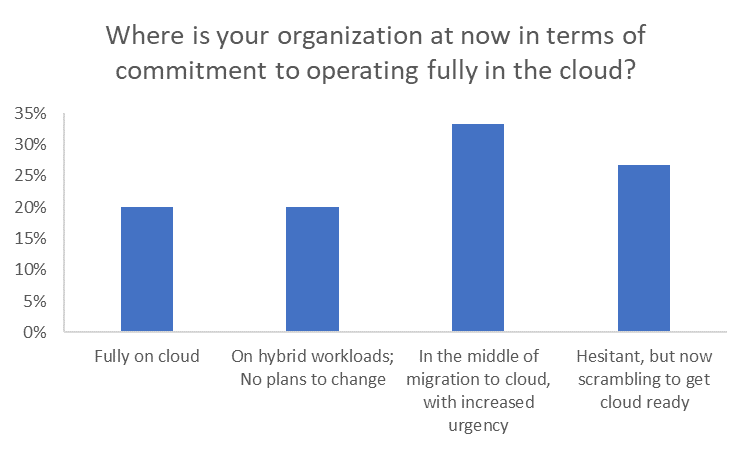 Organizations adopting cloud solutions and shifting to O365 need filing and tagging solutions; third party software solutions, like Colligo, can help make this a more efficient process, embedded in employees workflows, and make filing and tagging a more positive experience.
2. Communication challenges are abundant in the remote working world
With the advent of remote working, employees globally are adopting new technologies to provide continuity in the way they work. Communicating effectively in a work from home world is something organizations are struggling with.
The many mediums for communicating are also creating challenges. At Colligo, we have adopted Teams, and recommend others do as well. Apparently, many other organizations are realizing the same benefits; Teams video calls were up massively by the end of March, according to Microsoft.
Roland was quick to point out several best practices that can help with this, including:
stepping back to look at what the over arching goals are,
humanizing work through appearing on video in calls,
centralizing communication and documents in a team space, and
having a strategy to save reference emails to a shared location (and using a third-party application to make workers more efficient, like Colligo Email Manager).
This aligns with survey respondent results showing that 40% of respondents find document management (right files to right place, right meta) as the most challenging task with employees working from home.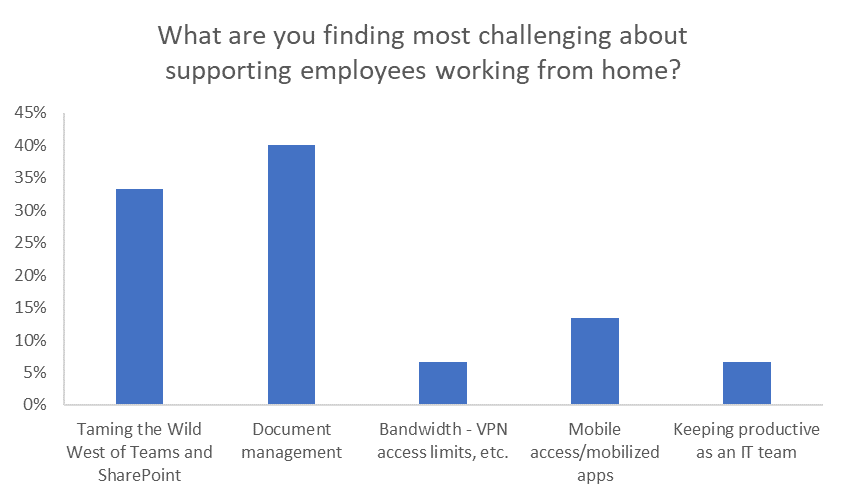 The adoption of these new technologies and communication methods creates its own challenges – but do not worry, you are not alone.
3. Organizations need to prepare for the return to work
In what is being called the 'new normal', jogging attire is becoming more acceptable for video calls. However, working remote is about much more than video calls and keeping in touch with teammates. It is imperative to put the strategy in place now to not only adapt to the current 'new normal' and keep your work force productive during these turbulent times, but to prepare for what lies ahead.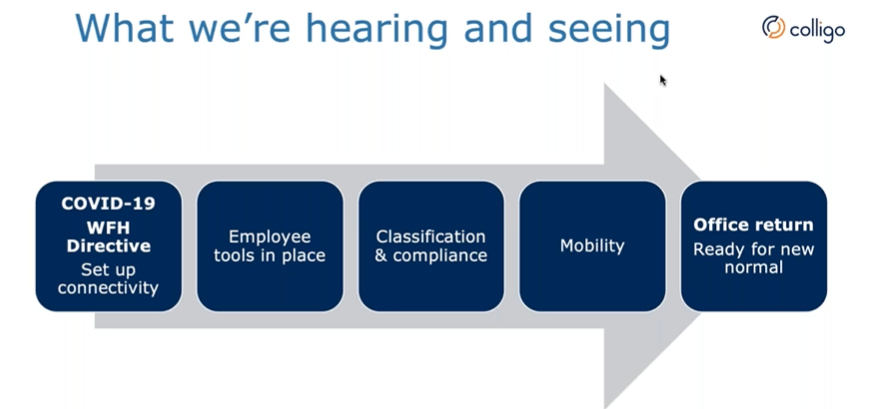 To provide business continuity, it is of paramount importance that IT and business leaders alike consider their strategy for working both remotely and for tackling the return to work. As we progress from the initial shock and adapt phase of the pandemic (phase 1), phase 2 is all about adapting to the new normal with a more strategic lens, and preparing for what comes next. While there are many ways to do this, Microsoft MVP Joel Oleson was quick to comment that; "starting from square one, where we are going to classify our data… and move forward with a plan… and work across" is the best approach.
"It's easier to keep people maintaining files right now, than face a clean up later."- Colligo, May 7, 2020.
Appropriate file capture was the number one ranked priority among webinar survey respondents for top file management priority while working remotely. Avoiding 'file chaos' is crucial. Don't let your organization fall behind. Implement proper procedures and practices now rather than later.
Want to make using SharePoint and Office 365 easier?
Colligo can help. Our solutions provide cloud-based email and document management to help with your organization's SharePoint and O365, and broader knowledge management strategy.
Learn a little more or put in a good word with your IT manager:
Colligo Email Manager for Office 365 – Save emails to SharePoint, right from Outlook on Office 365 – Watch the video
Colligo Document Manager for Office 365 – Save Excel, Word and PowerPoint files to SharePoint, right from Office 365 applications – Watch the video
Colligo Briefcase – Offline access to SharePoint and Office 365 for iOS and Windows
We're glad to give tours of Colligo products right for your environment. Request a demo.
Our Colligo team is working from home offices but 100% at the ready to help you out.
Stay well
We hope these SharePoint and Office 365 tips are helpful as we all try and stay healthy and productive. Remember that face to face contact with your workmates can help. Than means yes, today's the day to turn on that video camera.