Last Updated on September 18, 2023 by Sarah Gayda
Compliance & email management among central themes of AIIM Conference 2023, as Association proclaims pivotal moment in the information management world
If you're looking to stay current on the very latest in information management, then the annual AIIM Conference is the place to be. Held in the Big Easy, aka New Orleans, this year's event was buzzing with the energy of passionate information management professionals and experts from around the world.
Among the large variety of panel discussions, round tables, educational sessions and conversations at the Colligo booth, key trends and themes emerged. In addition, AIIM released its 2023 State of the Intelligent Information Management Industry report with research that supported what we heard. Here's a recap of our top five takeaways.
1. Compliance is a top goal for Information Management (IM) professionals, but organizations still have more work to do
Conference attendees we heard from believe compliance should be a top priority for their departments and organizations. However, most say that "IM capabilities, such as managing information through its lifecycle and applying governance and compliance, fall below expected levels [at organizations]," according to AIIM's report.
To help solve this disconnect, attendees agreed that automation is key. This includes the semi-automatic application of metadata and retention labels to content, including email, upon ingestion into the system of record. Capturing important information such as author or sender, date, subject and content type, can be automated for end users. Using user-friendly tools like Colligo and Microsoft Syntex enable automation while enforcing record keeping policies.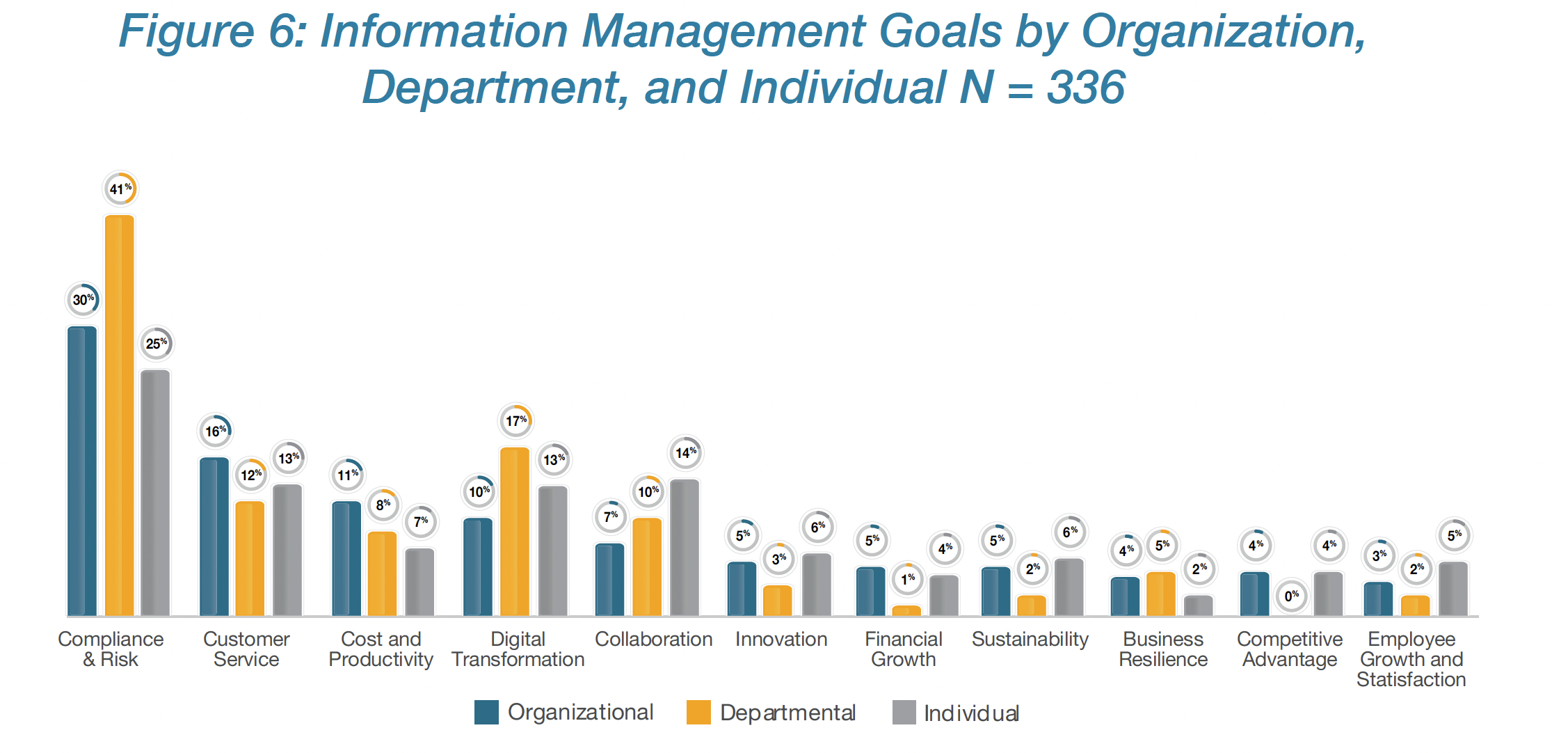 Reducing costs matter to senior management, according to Colligo
We should also note that while information management professionals surveyed in the AIIM report rank digital transformation higher than costs and productivity, we don't necessarily hear the same from senior management.
In fact, high-level executives tell us that reining in IT costs and improving worker productivity are more important than ever, especially given current economic uncertainty. Learn more in our webinar Optimize Microsoft 365 & Do More with Less.
We believe the lack of weighting on costs and productivity in the report may be due to the fact that only 7% of the AIIM survey respondents were VP-level and above.
2. Email remains a thorn in the organizational side
Without a doubt, email remains a huge record keeping problem for organizations in all industries. Common frustrations we heard at the conference included (but were not limited to):
My team is using their Outlook folders as a storage repository.
I don't know what to do with an employee's emails after they leave my company.
I have no way of searching for or sharing important business information contained in employees' emails and attachments.
I need a way to manage retention and disposition of emails.
At a roundtable session hosted by Colligo CEO Tim Brady entitled, "The M365 Expert Series: the Insider's Guide to Rocking Email Retention in Exchange," the sentiment was the same. Tim had a number of recommendations for solving these problems that resonated well with the audience:
Use a third-party add-in, like Colligo Email Manager, to connect Outlook to SharePoint and add labels easily.
Store emails and attachments in SharePoint and not in Outlook folders or OneDrive.
Automate the application of metadata and labels when moving emails to SharePoint to align with the compliance objectives of your organization. Ideally, allow users to stay in Outlook, so it's quick and easy, while still following policies.
Consider if Microsoft Purview is a good fit for your organization.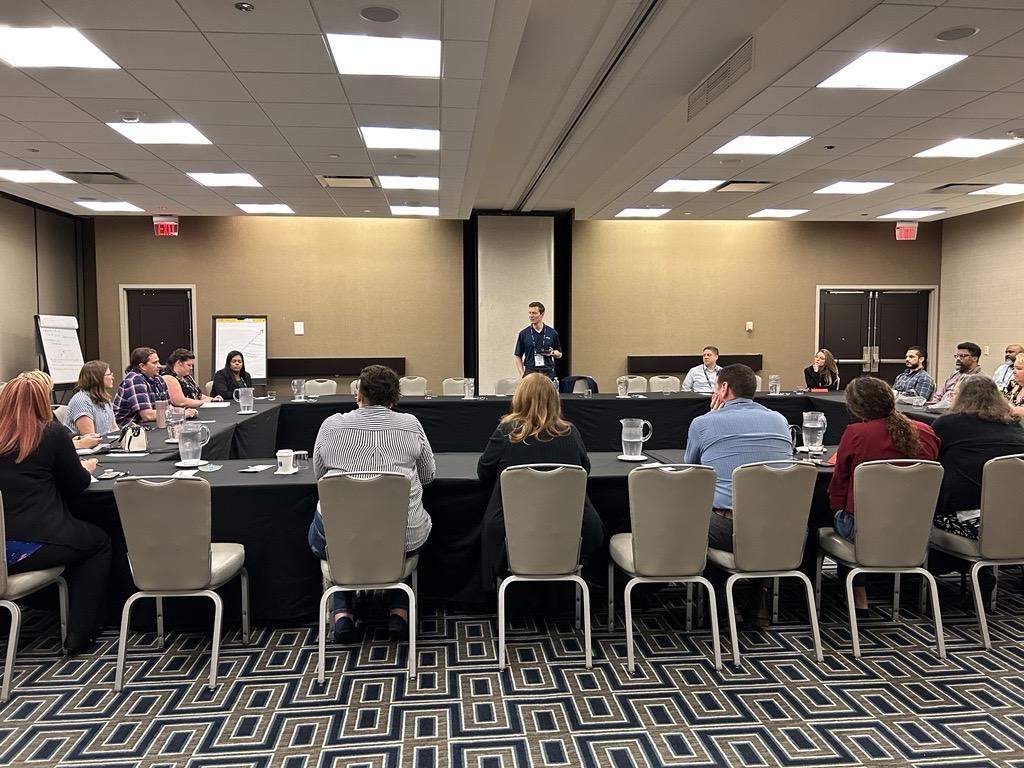 3. Streamlining content systems & repositories makes good business sense
According to AIIM, "The average number of content systems in organizations has risen from 3.14 to 4.95 over the last ten years." What's more, "Only 26% of document, content, and records management systems integrate with other core applications."
We see the disconnect between systems as a major challenge for organizations, especially in the areas of eDiscovery, security and governance and compliance. We recommend consolidating your data in one system of record, Microsoft 365. As you are likely already paying for Microsoft E3 or E5 licences, this is a great way to reduce your IT spending while providing a single source of truth for enders.
To help you achieve this goal, Colligo now offers migration services to efficiently move you from your legacy systems to SharePoint Online and Microsoft 365. Talk to us for more details.
4. Digital transformation is heading in the right direction, but challenges remain
Most people we spoke with report that their organization went through a period of rapidly digitizing and moving to the cloud during the pandemic years. At the same time, some said that certain departments are still grappling with paper records and historical documents, often dating back decades.
AIIM notes, "Almost two-thirds (65%) of organizations have achieved significant digital transformation, up from 46% in 2018…However, the challenges blocking further digital transformation remain consistent — lack of money, focus, and rigid culture." The association's report adds that, "5% of respondents currently do not have digital processes."
We hear this from some of our clients as well. Many still have parts of their businesses, such as plants or factories, with records still primarily in physical format. Again, if you need help moving remaining parts of your organization to the cloud, we have you covered.
5. Both the AIIM community and city of New Orleans are fun and fantastic!
One of the best things about the annual AIIM Conference is being able to socialize with a group of interesting, knowledgeable, friendly and fun information professionals. Mix in a marching band, live jazz band, conference celebrations and southern food and hospitality, and you have yourself a good time!
We'll be back again next year as a proud sponsor, reporting back to you on the latest trends in information management. In the meantime, please reach out with any questions about the findings in AIIM's 2023 Industry Watch report. Or, talk to us about how we can help your organization in its digital transformation journey, migration to SharePoint Online or with email management.
A fantastic week at the @AIIMIntl Conference in New Orleans! So great to see everyone, and thanks to all the organizers! The Colligo team will see you next year! Billy McPhee @Tim_Brady_ Sarah Gayda #aiim23 pic.twitter.com/QMj7jMv78v

— Colligo (@Colligo) April 28, 2023