Last Updated on May 8, 2023 by Sarah Gayda
Event showcases significant product and feature enhancements for Microsoft Teams & SharePoint
Jeff Teper, who has earned the reputation as the father of SharePoint, kicked off the Microsoft 365 Conference in Las Vegas this week. He focused the audience on the two paradigm shifts that were the main topics of the conference: 
Flexible

w

ork 

 

AI (Artificial Intelligence)

 
Biggest UX wave yet – #SharePoint #OneDrive – Copilot and more – #M365Confhttps://t.co/CoN6lwlbt0 pic.twitter.com/vbGdoHNnIh

— Jeff Teper (@jeffteper) May 2, 2023
Flexible work is here to stay with help from Teams and Security Copilot
Of the two, flexible work is the most established and came about under duress. Flexible work refers to the hybrid work model that most businesses have settled into since the pandemic. While many organizations have repatriated many of their knowledge workers back into the corporate office, the shift towards flexibility has become permanent.  
In talking to many people at the conference, as well as my own clients, it's clear that companies are seeing the advantages of a hybrid workforce. The average worker works between one and three days in the office and the rest from their home office, ideally a dedicated space setup for quiet concentration. 
And Microsoft has enabled these workers to be productive anywhere. Jeff shared that Microsoft Teams, a virtual workspace for teamwork, has surpassed 300 million monthly active users. That's incredible! He also noted that over 200 petabytes of data is being uploaded to SharePoint, Teams and OneDrive monthly. Another statistic that tells a compelling story of success. 
Microsoft is continuing to advance flexible work with even more focus on security. But getting security right takes knowledge, and this is where Microsoft Security Copilot will help. Security Copilot is a new AI chat tool that will answer your administrator's security–related questions and provide them with actionable tips on where the tenant configuration security could be improved.  
When it comes to AI and security, I can't help but think of the Terminator robot from the future; however, this one is on our side. 
Artificial Intelligence integrated into Microsoft products
The other paradigm shift is the productization of AI. In addition to integrated ChatGPT into their internet search engine Bing, Microsoft has been working to integrate AI across their collaboration products under the umbrella Microsoft 365 Copilot. There are more use cases for Copilot than I expected.
Jeff brought on multiple Microsoft Vice Presidents and Product Managers from various areas to drive home how Microsoft is responding and enhancing to both of these paradigm shifts.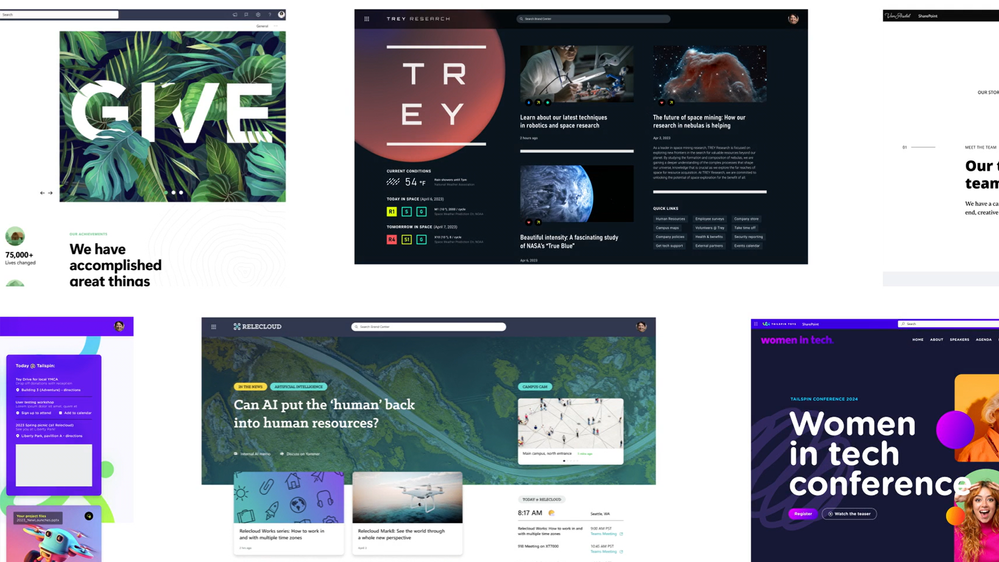 The new Microsoft Teams
Sumi Singh, VP of Teams Engineering, took the stage to extol the benefits of the new Microsoft Teams. We all recognize that Teams helped many organizations collaborate remotely through the pandemic and that the skills learned have stuck. But over time, the Teams client, originally launched as an MVP (Minimal Viable Product) six years ago, has become bloated and slow, and in need of a revamp.  
The overhaul is close to completion, and a Teams preview is now available. The performance benefits, including 2-3x speed increases for common tasks and 50% less memory use. They are a welcome change! 
On top of this, the new Teams enables easy switching between organizations and user accounts, while still allowing all notifications to appear if desired. This is great for me and others who use Teams both at work and another organization such as a charity or church. 
Teams premium will be an add–on to Teams to enable a hassle–free, no–download virtual appointments experience with clients.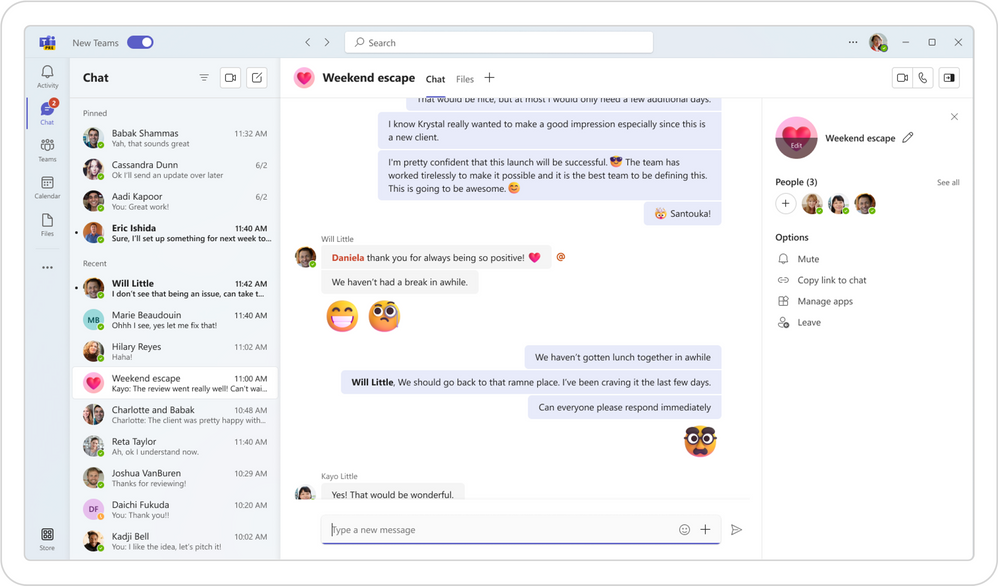 Microsoft 365 Copilot – AI everywhere
Though announced last month, Copilot was showcased by Sumit Chauhan at the conference. Jeff fondly labelled Sumit the 'mother of Copilot,' Microsoft's productized AI engine. 
The story goes that when Bill Gates saw ChatGPT–4 in action, he said it was one of the top two things he has ever seen. The other one was the Graphical User Interface. Gates knows. 
Sumit demonstrated in all our favourite Office products from Word, Excel, PowerPoint, and Outlook. She showed its abilities to save us time by summarizing and creating content, whether it be emails, presentations, or even full articles. And all the end user needs to do is simply ask for what you want using natural language in chat requests.  
I found the PowerPoints to be particularly amazing. It is awesome to see how an intelligence without limits can use the full Office feature toolset to compose documents that look great. I can see myself honing many new Office skills by following Copilot as my design mentor. The benefits of Copilot can be summarized as: 
Unleashing creativity

 

Uplevelling collaboration

 

Uplevelling skills

 
Faster m
ore helpful Microsoft lists
Jason Moore, VP of OneDrive and Microsoft Lists presented a whirlwind of improvements coming to lists including loading lists in half the time. Lists views are maturing, adding onto the amazing calendar view with a week layout and board views that allow you to drag and drop list items like virtual Kanban boards. To round out lists, we will have a new forms experience. This will make adding data to a list even more user-friendly. 
On the AI side, lists continue to use Microsoft Graph and intelligence to display relevant documents you are working with. But, you will also be able to view files in adaptive view, such as files by your frequent contacts and by your recent meetings. 
The key announcement that got me cheering? Microsoft is working on the ability to open non-Office files in local desktop applications directly from OneDrive online. This is very helpful for workers whose primary canvas is not necessarily Word, Excel, or PowerPoint files, but PDFs or other file types like graphics or videos.  
Are you a Colligo customers who files emails in SharePoint as MSG files? You'll be able to easily reopen archived emails to view attachments or to continue the email conversation. Expect this late in 2023. 
The new SharePoint
Denise Trabona, Principle Design Manager of SharePoint, brought us up to speed on the "gorgeousity" that is coming to SharePoint. Finally, we will have a way to make SharePoint look and feel like our own carefully crafted company brand. We can even include custom fonts. Cohesiveness with the brand identity is so important, especially for intranet home sites. A new brand center will deliver this. 
Plus content has never looked better. SharePoint pages will have more flexible layout options. And new tools like an inline image editor, and ability to place images with intuitive drag and drop. Video is becoming more prevalent in this age of YouTube and Rumble. And now there are sites and page layouts specifically designed to leverage video content. And if you like what PowerPoint has done with Design suggestions, just wait and see AI professional design suggestions for layouts and formats for your page sections. 
If you need help designing an entire site, just ask Copilot for SharePoint. AI will take your instructions and a PowerPoint you provide and render it as a strikingly visual SharePoint site. Even after the site is created, Copilot stands by for your suggested changes.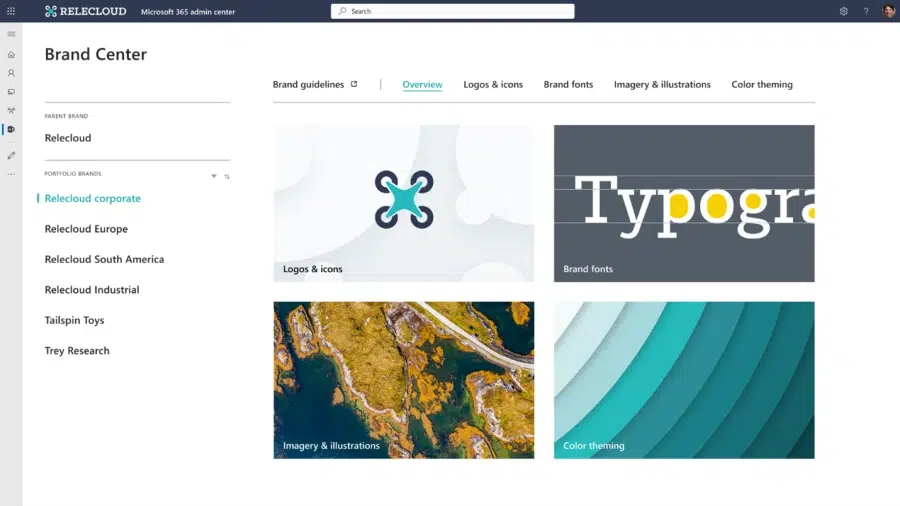 Finally, if you like the co-editing experience in Microsoft Office, the same functionality will be available in SharePoint. This will enable teams to work together on pages. Like co-editing in Word and PowerPoint, you will see a presence indicator. This tells you who is working on the page with you. Teamwork!  
I am looking forward to diving more deeply into all these new tools that will help us respond proactively to the evolution of work. An improved Microsoft 365 and SharePoint means we can deliver even better Colligo solutions for our customers.  
The Colligo team was on the ground in Vegas this week at #M365Conf23! @Tim_Brady_ M365Conf #MSPartner#SPC23 with @CrushNetworks pic.twitter.com/NxwuQcYoGv

— Colligo (@Colligo) May 4, 2023