Last Updated on June 9, 2023 by Sarah Gayda
Superior flexibility, security, plus lower costs – modern work with Microsoft 365 is more attractive than ever
Content management has changed. Long gone are the days when a legacy Enterprise Content Management system can cut it. A central catalyst for this change has been the introduction and mass adoption of cloud applications over the last decade.  
Organizations who have moved either fully or mostly to the cloud are realizing the vast benefits and were likely better prepared for the pandemic and the shift to remote and hybrid work, according to AIIM. The scalability, security, and flexibility the cloud offers makes it an attractive solution for most enterprises, and the move to remote and hybrid work made it even more appealing.  
Given all the positives, is your organization still reluctant to fully move to the cloud? If the answer is yes, you're not alone. After all, moving one of your most valuable assets – your content – along with your workflows, processes, and custom apps from on-premise environments to the cloud is a giant leap, and a slightly scary one at that.  
Behind the apprehension and tentativeness surrounding managing content in the cloud are some common misconceptions that are likely holding you back. We'd like to clear those up. After all, we believe that most organizations should move content management to the cloud, or at least utilize SharePoint Online and run a hybrid consumption model for more sensitive components. Optimized for the way organizations operate in the modern work world, the cloud provides a more seamless digital technology experience while still maintaining compliance and security requirements and policies.  
Let's dig into these concepts a bit further, separate fact from fiction, and review the concrete benefits you can achieve. 
Benefits of moving to the cloud for content management
1. The cloud increases collaboration and productivity
How prepared was your organization for working from home when the pandemic began? Research shows organizations utilizing cloud-based content services platforms (CSPs) were better prepared for and reacted more quickly during the initial lockdowns caused by the pandemic. That's because modern ECM systems enable workers to collaborate and communicate easier and faster from anywhere and ensure everyone is working on the latest version of a document. Legacy Enterprise Content Management (ECM) systems just can't compete in the modern work world. 
Email is still the most common form of communication and collaboration among employees and external parties. While the rise of cloud-based collaboration tools may be changing this, one thing remains clear: your collaboration communication tools cannot be standalone; they need to integrate with your content services platform in order to be effective. In this vein, Microsoft Teams and its integration with SharePoint and the rest of the Microsoft suite (plus add-ins like Colligo Content Manager) provides a more comprehensive collaboration experience.  
Productivity is also enhanced when all the content you need to complete your job is available to you in real time, from anywhere. Why wait to receive the latest version of a contract or document when you can utilize SharePoint Online and the browser version of Office Apps as part of the Microsoft Cloud.  
2. The cloud enables work from almost any device, anywhere
The hybrid model for work is gaining momentum. Your workers may continue to work from home or elsewhere, your organization may no longer require one central physical location, and you can now attract global talent and expand your business reach beyond borders. The cloud makes this easier than ever before, particularly with cloud collaboration and productivity applications.  
From an IT point of view, the crisis highlighted gaps in many information management strategies and the importance of securely managing your information assets any time, from anywhere, on any device. The cloud not only makes this easier, but provides greater opportunities for analytics and monitoring, while also lowering the risk of a solution coming to end of life, particularly with SharePoint Online, which should be music to your IT admin's ears. At Colligo, we commonly tell clients, "Say goodbye to upgrades." Our cloud solutions for Microsoft 365 include automatic updates, eliminating a lot of IT time and effort, and make email and content management securely available from anywhere and any device. 
3. The cloud will simplify your governance and compliance
Information governance, particularly as knowledge workers work in a remote or hybrid model, has become far more challenging. With the proliferation of data and more ways to share and access information, content is sprawling at an unprecedented rate and is a top challenge for records managers and Microsoft 365 users. We've seen this before; when SharePoint was first introduced, many of us used it to store and share content. However, this led to SharePoint sprawl, which took years and cost a significant amount to clean up.  
Now, as we enter the next wave of Teams, you are likely seeing this familiar foe again. It is not enough to simply move all your data to the cloud. Instead, utilize the right cloud applications for content management, like Colligo's Content Manager, to bring order to the chaos and promote governance. Modern content services platforms (CSPs) and the right third-party applications bring a more complete governance solution for the digital-first workplace.  
The cloud can help knowledge and record managers focus on retention/disposition, classification, management of records, and discovery. However, governance is more challenging and complex when content is stored across multiple repositories and systems, so utilizing the right cloud applications is important.   
Your organization needs visibility into what is shared and who it is shared with and likely has mandated a system of record or repository, such as SharePoint, as the designated location for all information and content, according to company or regulatory policy. Records, including employee information or financial documents, must be retained appropriately, or regulatory bodies can impose heavy fines. You'll find this much easier to manage in a cloud-based environment, as content can be stored in a central, secure, managed repository, instead of in disparate systems and siloes across your organization. When paired with a cloud-based capture solution, like Email Manager for Microsoft 365, getting content into the repository is even easier.  
4. The cloud will make your content more secure 
You've probably heard detractors claim that content can't be moved to the cloud due to security concerns. This is a common myth. It may have been true a decade ago, but it no longer holds, and we need to set the record straight.  
Today's cloud (including major public cloud providers and many security-first focused applications), has become more secure than on-premise environments in the eyes of cybersecurity and IT professionals.  
The better security in the cloud comes from a more centralized architecture and security embedded throughout the organization's infrastructure, enabling sharing right from the cloud, securely and linearly, and protection of sensitive information. Also, public cloud providers have near unlimited resources to make constant improvements that most organizations (likely including your own) cannot afford.  
Further security with SharePoint Online & Microsoft
The Microsoft Cloud, or Microsoft 365 (including SharePoint Online), provides several features that bolster the security in cloud environments and make SharePoint a secure place to store your content, including:  
Ability to set up multi-factor authentication

 

Ability to use separate admin accounts

 

Protection against email malware, ransomware

 

Utilization of Office Message Encryption

 

And more (here's a good

blog post

on this)

 
Compare this with on-premise solutions, like SharePoint Server, that require an IT team to maintain the server and administer updates and patches.  
Further, Microsoft offers 99.9% availability and uptime with SharePoint Online (vs. SharePoint on-premise, which is dependent on the disaster recovery and standby strategy of your organization). There's also Microsoft Intune, an endpoint manager for protecting mobile devices that access SharePoint Online. The cloud in general, and Microsoft 365 and SharePoint Online specifically, are proving the superiority of security in the cloud and providing reason for organizations to seek the security benefits of cloud-based content management and email management solutions. 
5. The cloud will decrease your costs
It goes without saying that cost is an important factor in your decision to move workloads to the cloud. Most organizations have become comfortable with the consumption model of cloud spend being more akin to an operating expense line item, rather than a capital expenditure cost, making cloud solutions more accessible and less of an upfront financial burden. For many, the cost savings of moving workloads to the cloud is far greater than deploying on-premise and needing to attend to hardware and server farms and employ staff to monitor servers and provide constant patching.  
SharePoint Online is no stranger to this model, providing a flat rate license and running SharePoint Online in Microsoft Azure. Further, Microsoft handles the continuous patch management and server updates, making this a viable option for almost any business. Colligo aligns our cloud product pricing with that of Microsoft, making it as easy as possible to get up and running.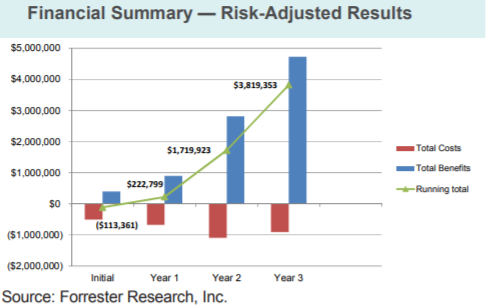 What are you waiting for?
Not every organization can move all content to the cloud. While there are certain circumstances where it makes more sense for organizations to keep some highly sensitive data on premise, this is not the norm, and 59% of organizations view migrating more workloads to the cloud as a top initiative. This is because SharePoint Online and cloud applications for content management provide superior flexibility and offer significant benefits in the new era of modern work. 
Colligo applications are for the cloud-first world and scale with the needs of the modern organization: highly flexible, more stable, and faster solutions. We're building for the next 20 years and believe you should have an eye on how your IT decisions today will impact you in the short-, medium- and long-term. To learn more about SharePoint Online and the merits of moving content to the cloud — or if you need help convincing your team that now's the time to make a move — please get in touch with us.