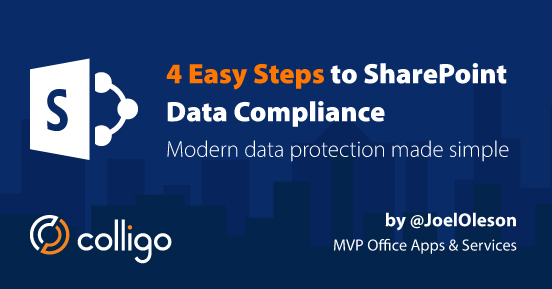 Struggling with where to begin with data compliance in SharePoint?
Recorded Webinar: Simplify SharePoint data compliance: site classifications, labels and ease for users.
Hosts: Joel Oleson, MVP Office Apps & Services / Roland Reddekop, Colligo
In this webinar the hosts break down the built-in SharePoint features for site classification that support a structure for automated compliance plus tools for users to easily add labels and classify their data today.
Over 60-minutes the webinar covers review 4 Easy Steps for Compliance:
How to determine label names
How to create, publish and apply labels to libraries
How to create and apply data loss prevention (DLP) policies to warn users and block data from risk
How to make it easy for users to save and classify files to SharePoint without leaving Outlook and Office 365.
Learn as Joel Oleson, a Microsoft MVP/RD and 19-year SharePoint veteran with 7 years of experience at Microsoft who shares practical guidance to keep data secure and compliant. Colligo's Roland Reddekop reviews how users can save, classify and label emails and files right from the applications they primarily work in like Outlook and Office 365.
Who's it for?
IT and line of business leaders that are being challenged to address data compliance as part of their content services or knowledge management programs in SharePoint. This webinar will be useful for both SharePoint administrators and corporate legal stakeholders including HR, Finance and Procurement.
Share this webinar!

 Tweet this

 Share on Facebook

 Share on LinkedIn

 Send via email