Last Updated on May 15, 2023 by Sarah Gayda
Updates to Colligo Office Connect and Email Manager for Microsoft 365 in response to engaged customer feedback 
Office Connect user experience enhancements
We've brought user interface changes to the Colligo Office Connect for Microsoft 365 application, enhancing the experience for your team. The updates add further simplicity to the app, making filing, saving, and browsing for content through Office Connect even more frictionless.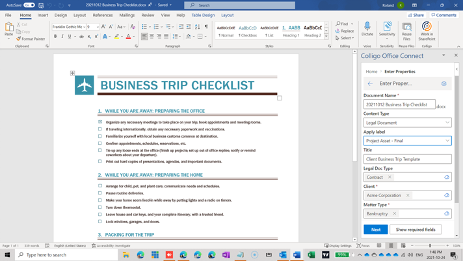 Numerous customers asked for the same follow-on actions your team experiences in our Email Manager for Microsoft 365 product inside Office Connect. Well, now we've made it happen! Your team can now let other team members know that they've filed that customer document, invoice, procurement document, or case matter, right from within Colligo Office Connect.  
The enhancements to Colligo Office Connect provide a similar experience to that of our Email Manager solution and deepen our integration with Microsoft Teams, allowing you to do more with your content.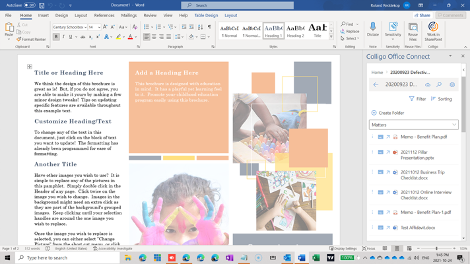 Email Manager adds more intelligence
Our team has been hard at work developing Colligo Intelligence over the last several years. Colligo Intelligence automates more of the filing and tagging processes, and produces intelligent recommendations from our recommendation engine.  
More automation and smart recommendations help take the guesswork and friction out of filing by both reducing the steps to properly tag and file content and emails, and providing recommendations to enhance accuracy and increase compliance.  
The latest enhancements to Colligo Email Manager for Microsoft 365 include deeper filing location suggestions and the ability to recall recent content types for a certain location. Further, we've added some low-code configuration capabilities, including being able to customize the date and time format, among others.  
Outside of the Colligo Intelligence incremental functionality, Email Manager now also provides greater functionality to filter files by metadata (when browse feature is turned on), helping to reduce your team members' search and discovery times and increasing the efficiency of your organization.   
We've also improved the move functionality within Email Manager, allowing your users to both copy and move content to a new location.  
Need more detail on the latest enhancements? Get in touch.