The latest Colligo Email Manager for Microsoft 365 now integrates Outlook 365 with OneDrive for Business. With the 1.8 release, knowledge workers can stay within Outlook and save emails to OneDrive in the same efficient and productive motion that Colligo provides today for SharePoint and Microsoft Teams, and with the same convenient tools to apply metadata when saving for rapid file search and records management purposes.
OneDrive for Business allows an organization that has Microsoft Office 365 to allocate private cloud storage for each of its knowledge workers. Once the cloud storage space is allocated, employees can store files for later access, while adding protection and compliance. OneDrive for Business provides a cohesive file experience, while enhancing collaboration capabilities and providing visibility controls for security. 
The latest update extends email management to OneDrive, plus we've added deeper Microsoft Teams integration as Colligo continues to extend the powers of the Microsoft 365 suite.
Colligo integrates Outlook 365 and OneDrive – key benefits:
With Colligo Email Manager for Microsoft 365 users can now:
Stay in Outlook 365 and access the OneDrive for Business folder hierarchy 

Upload emails and/or attachments from Outlook into a particular folder within OneDrive for Business

Preview, file, and edit OneDrive files, as well as directly send emails as a link or an attachment directly from Outlook

Pin document libraries or folders from within OneDrive for Business as 'favorite' locations for quick access from Outlook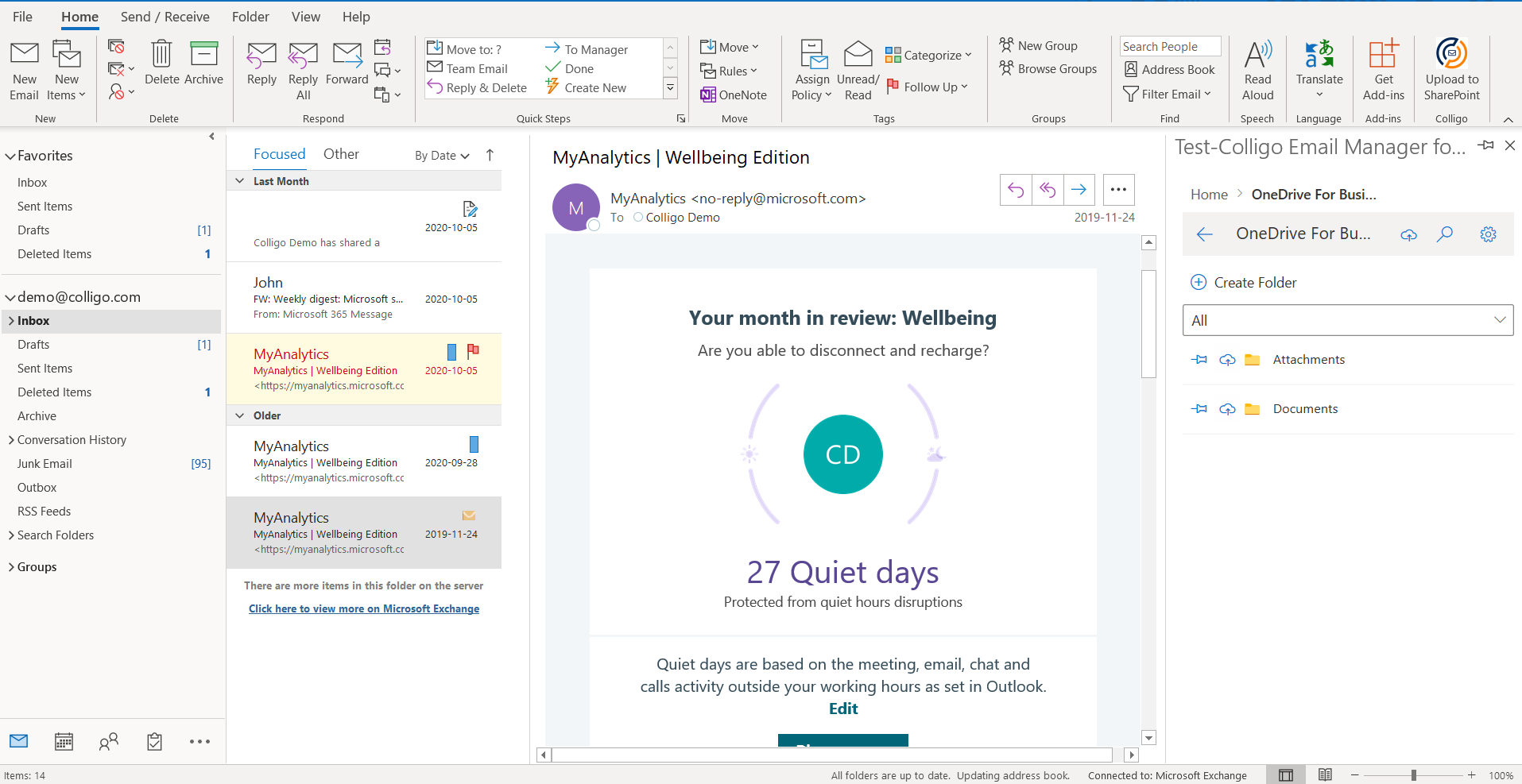 Save Outlook 365 emails to OneDrive to save workers time
Colligo's integration with Microsoft's OneDrive for Business reduces the time it takes knowledge workers to view and file content, and share files, by letting them stay in Outlook to save to OneDrive, while boosting organization productivity by keeping all your documents in one place. Colligo also enables workers to work with content and emails even when users are not connected to the internet.
Post Outlook 365 emails to Microsoft Teams
Release v1.8 of Colligo's Email Manager for Microsoft 365 also boosts collaboration by enabling users to post Outlook 365 emails direct to a Microsoft Teams chat channel, as well as performing additional follow on actions (sending and opening upload location directly in the browser).

Email management from OneDrive makes information management easier for workers
Knowledge managers, records managers, and IT leaders continue to face significant challenges in balancing information governance imperatives with the ease of use that workers expect. Both parts of the equation are needed to prevent corporate information from being lost in silos or inappropriately exposed; all the more important in a remote working environment. 
Colligo continues to help our customers solve this issue by providing them with a streamlined email capture solution to OneDrive and SharePoint that is easy to support and manage, while reducing legal risk and increasing content discoverability.
Beyond email management for OneDrive, Colligo offers document management and content management with SharePoint
Let us show you how simple it can be to improve information management while key departments continue working remote. Colligo Microsoft 365 add-ins are powerful yet can be deployed in 10 minutes, organization-wide without any desktop visits or installs, and without a drain on IT resources.
Colligo Email Manager for Office 365 – Save emails to SharePoint, right from Outlook with metadata and labels support – Watch the video.
Colligo Office Connect for Microsoft 365 – Save Excel, Word and PowerPoint files to SharePoint, right from Office apps with metadata and labels support – Watch the video.
Colligo Content Manager for Office 365 – Search, preview and share links to any SharePoint file right from Outlook. Simplify access to favorite links. Watch the video.
We help organizations everyday to improve data security, ensure records compliance – all while supporting more efficient cross-team collaboration and productivity. 

We're glad to give tours of Colligo products right for your environment. Request a demo.
Our Colligo team is 100% ready to support you while working from home offices.