Last Updated on December 1, 2021 by Sarah Gayda
Knowledge management in a world of change among other themes at KMWorld Connect 2021
While the world around us has changed over the last 18 months, two things remain persistent: knowledge within organizations is growing and needs to be managed, and software solutions provide a scalable way to do this.
At this year's version of KMWorld Connect, featuring Colligo presenters, Microsoft shared a slide highlighting the need for people plus artificial intelligence (AI) to enable knowledge management and a knowledge sharing culture. As we know, it's one thing to have an organization that has knowledge, but to compete in a modern and hybrid working world, organizations need to embrace a knowledge sharing culture.
Fostering a knowledge sharing culture necessitates bringing knowledge into your flow of work. How is this done? One way is to ensure knowledge is easily and intuitively to accessed, managed, shared, and collaborated on with colleagues, without creating new information silos.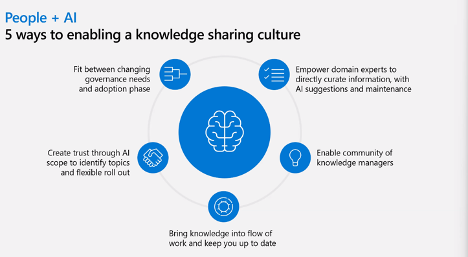 Every organization will take a slightly different approach to managing and collaborating on content, and Microsoft highlighted the ways Microsoft Viva can be leveraged to further enable knowledge workers to collaborate and learn as people and AI come together. Microsoft has added knowledge management controls to enrich the knowledge management experience; the company pointed out Topic Discovery, Topic Visibility, and Topic Permissions help shape the delivery of knowledge and interactions with organizational information. We are interested in a use case in which, when utilizing Outlook (perhaps emails received and filed utilizing Colligo Email Manager), Viva Topics allows you to view connections to that email as well (Topics proactively finds topics and shows you topic cards).
Metadata remains a central part of knowledge management
Following a similar theme, metadata remains a critical part of your knowledge management strategy for kicking off a business process or workflow, or for improving search or discoverability. In Sebastian Klatt's session, Sebastian reiterated Colligo's belief in the importance of getting metadata right in order to improve knowledge management.
Notably, the Microsoft Term Store, which is often overlooked, is an important part of building the information architecture and a broader knowledge management strategy. Think of the Term Store as a SharePoint-wide central metadata management location. The Term Store is important for our friends who are knowledge and records managers to become familiar with if you aren't already! (Do not fear – we are here to help you if needed!) Microsoft's solutions, complimented by Colligo's cloud application suite, allow your organization to fully leverage metadata and supercharge your team's compliance, governance, and productivity.
External and internal collaboration a more fundamental piece of knowledge management
While email remains the dominant form or medium of enterprise communication, it's no surprise that communication and collaboration applications have become more popular for internal communications. As Microsoft MVP @jwillie mentioned in his session, "I don't care what's in my hotdog, just make it taste good," referencing the fact that despite increasing usage, Teams is still just SharePoint on the back end.
Importantly, a lot of work and attention is also being paid to improving collaboration externally in a secure, compliant, and easy way. Microsoft 365 (Office 365) allows for external content to be indexed. Connectors can also help in accessing external information before indexing in your Microsoft 365.
Hybrid work is here to stay – and knowledge management will evolve with it
Hybrid work will persist going forward, and this impacts knowledge management. Something we discuss quite a bit at Colligo is the fact that people spend about one hour per day searching for or recreating information, according to Microsoft. We think newer features from Microsoft, like Topics in Office from Microsoft Viva, will continue to improve this and connect people and information, a core pillar of modern knowledge management.
Of course, helping get content into SharePoint, OneDrive, or Teams is the first key step in enabling knowledge management, and solutions like Colligo's can make this much more frictionless for work within Microsoft 365.
Missed Colligo's session at KMWorld Connect 2021? View it now.