Last Updated on May 15, 2023 by Sarah Gayda
Users need to manage content effectively from within the app to enable high-performing teams
Has Microsoft Teams become your central hub for communicating, collaborating, and creating content? You're in good company. The "always-open app" now has over 250 mm daily active users, and organizations are increasingly relying on Teams for enabling remote, in-office, and hybrid forms of modern work. However, if you're like 97% of users, you may be severely underutilizing Teams.
In fact, a recent Swoop Analytics report found that most people are heavily using Microsoft Teams for chat, calls, and meetings, but digital teaming features like channels, file sharing, and notes are all severely under used. The report also suggests that many organizations are ready and keen to leverage much more of the app, achieve "true digital teaming," and ultimately become a high-performing "superteam."
Our own research supports this finding. During a recent webinar poll 50% of respondents said they were primarily using Teams for communications like chat and online meetings. The other half stated they were also using Teams for document collaboration, a comparatively high number that is likely due to our audience composition of technically savvy users who care about information governance. Still, it's evident the full potential of Microsoft Teams has yet to be fully realized.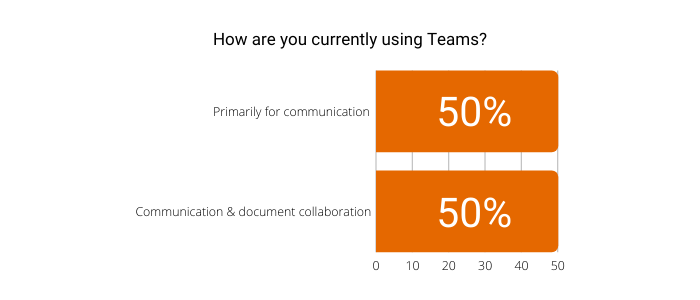 So what's holding people back? For one, as great a communication tool as Teams is, the unintended consequence of collaboration is content sprawl. Large quantities of conversations and documents mean many more artifacts are produced among chats, Teams sites, and channels. Controlling this sprawl is a daunting challenge for organizations that need to properly govern information and adhere to compliance standards – or that simply want to enable their employees to find content. Freshly recovered from containing (or attempting to contain) SharePoint sprawl, organizations have a right to be guarded about unleashing another round of content sprawl in Teams.
The Sprawl Solution
Colligo Content Manager for Teams was created in response to our customers' need to prevent and contain content sprawl in Teams. We heard loud and clear that our clients wanted to:
Manage content effectively within Teams
Implement proper information governance controls including applying metadata and labels so content is properly stored, searchable, and easily found
Utilize the power of Teams as part of the Microsoft 365 platform
Curb content sprawl and rein in information chaos
Explore, find, preview, save, and share files from within Teams
And that's what we delivered. Colligo Content Manager for Microsoft Teams provides full content and document control, including the ability to add and edit metadata, from one central Teams location. As one happy customer put it, "Colligo has allowed us to improve team collaboration and increase individual team member accountability. We wish we found Colligo several years ago!"
Get in touch with us for more information, a demo or trial of Colligo Content Manager for Teams, or view our recent webinar for Tips for Reining in Content Sprawl in Microsoft Teams. We'd love to hear from you.