Last Updated on February 7, 2023 by tania
It's now been several months since we entered our new 'work from home' world. Content sprawl has taken full effect, and many are realizing the sheer volume of ROT (redundant, out-of-date and trivial) data lying around. If your company uses Microsoft 365 (Office 365) and SharePoint, there are many tools that you can use to keep close to your co-workers and stay productive and bring order to the chaos while we continue to adapt (and stay safe) during COVID-19.
The silver-lining of working from home, as many have likely realized, is that this can be a good time to learn to use products to stay connected and efficient in your work. Here are some power tips for video, email and documents, to best use Microsoft 365 (Office 365) and SharePoint while you are away from the office.
This is a vital time to make sure workers find it simple to use SharePoint. If your employees live in Microsoft 365 (Office 365), but resist saving files to SharePoint, there are great Office add-ins for SharePoint Outlook Integration that let them keep working from their inbox, or Word or Excel and maintain SharePoint files for knowledge and records management. We can help you support remote teams with these workflows.
Better Utilization of Teams for Video Meetings
By now, many have gotten used to using the computer's video camera. In fact, many are citing "video-chat fatigue". However, seeing each other's faces continues to be important to keep some human connection right now, and it really does make meetings more enjoyable. While some have gotten away from it as remote working roars on, we find video an important element to help bring collaboration and personal touch back into meetings. According to research firm Gigaom, 87% of remote users report feeling more connected to their teammates when using video conferencing. Everyone stays more alert and communication gets better because body language improves comprehension dramatically.
Now is the time to fine-tune how to use Microsoft 365 (Office 365) web meeting software if you've been on the platform for some time. If you've gotten comfortable with using Teams for text chat, moving to video is a natural next step. It really is easy. Microsoft offers a helpful video and step-by-step checklist to walk you through it. If you're newer to Office or Microsoft 365, Microsoft Teams is the communication site and collaboration platform that also acts as a skin on top of SharePoint. We strongly encourage starting meetings by replying to a conversation started as a way of keeping video conversations associated with channels or topics.

A note for newcomers – everyone gets an opportunity to test out how you look on camera, and how your home office looks on camera, before anyone else can see you. Like the screenshot below, if your camera is on, you'll see a preview of what your video is displaying. Once you feel ready, you can give the "Meet now" okay for showtime.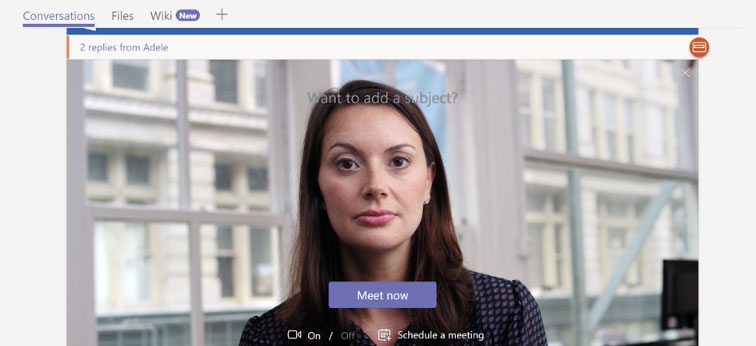 Messy clutter at home? No problem, just put on a clean shirt, and fire up that camera with background blur turned on. Microsoft has even released virtual backgrounds, which add some fun to meetings. Problem solved. So how about making it your goal this week, or even next time you have a Teams meeting, to turn on that camera and deepen engagement with your team?
Teams has also lit up new features like multi-window meetings and calling experiences, meeting lobby additional options, gallery layout, and hand raising, reinforcing why it's our favorite chat and video hub.
How to use SharePoint to Share Documents
How do you typically share documents with your co-workers? Did you answer, "by email" or "by network drives?" Now that you are locked out of the office with uncertain VPN reliability, it is a really good time to modernize your approach and start using SharePoint team sites.
Most of us don't try new things, even if we know there could be advantages, because we're truly creatures of habit. "This works, why change?", is a frequent comment from employees when we talk to workers about using their SharePoint site to share files.
Likely, you have already been informed by your corporate IT of the advantages of SharePoint for document management: Reduce the confusion of document versions floating around the office and make it easy to access, edit, and sync files from any computer, anytime. Unlike OneDrive, which is a private file storage location, SharePoint lets you share files in a central document library that all your co-workers can see – or at least whoever has appropriate access and permissions (e.g. confidential financial documents, saved just the finance and legal team).
Some people hesitate about file sharing in SharePoint because they don't know exactly how. No one is peering over your shoulder in your home office right now though (well maybe some members of your family are lurking but no one you need to worry about), so it's a good time to get familiar with SharePoint features and capabilities. A great place to start is with Microsoft's tutorial on 10 things to do with SharePoint right now. You sure won't be alone!

Perhaps the coolest thing about using SharePoint is sharing links to files. You know how after you send the boss an attachment, that's when you immediately find something you missed? When you share a link to the document, you're able to go make that fix often before the boss clicks the link and assesses your work. Sharing links to files in SharePoint is easy – Microsoft help lists the quick steps.
How to Save Outlook Email to SharePoint to Prevent Inbox Chaos
In high-stress situations like this COVID-19 virus where people are not working together in the office and communicating face to face, your email inbox can easily start overflowing and overwhelming you (many of us have experienced both the worst and the best of this over the last few months…)
Just because our workdays have re-adjusted to a 'new normal' structure, you should not let your discipline slip on managing emails or files, particularly since we've now realized we may be here for a while. Content sprawl is real. This pandemic will pass. If you let your Outlook inbox run amok, it will be you who has to do all the cleanup in a few months with the return to the office. It's a lot easier to keep things sorted starting right now.
Best practices in email management:
Delete what you don't need each week, don't let it pile up.
Save email to SharePoint for easy searching, sharing and collaboration.
Set up a SharePoint library or folder in a library for the category of email you need to share. For example, "Contracts", "Invoices To Pay", "Work Orders", and similar content types.
Rather than everyone saving a copy of emails, share a link to saved important emails in SharePoint.
The conventional way to save email to SharePoint is by dragging and dropping it from Outlook to your desktop and then into SharePoint.
A more elegant solution is to use an Office add-in for Outlook, like Microsoft 365, which lets you save emails and attachments to SharePoint in a single click. At the same time employees can extract important metadata like sender, date, subject and so on automatically, and automatically save outlook attachments to SharePoint. Saving metadata makes it easy to sort and search emails in SharePoint down the road. Once the emails are saved and shared in SharePoint, any member of the team can view and collaborate on them. If they are emails to clients, for example, the whole sales or service team can stay apprised of contract requirements or invoice charges.
If you really want to help your team take their content management strategy up a notch, we also recommend our new Colligo Content Manager, enabling you to explore SharePoint right from Outlook, providing search/browse, view, and share content in a more friendly and easier to use experience. The one-two punch of Email Manager and Content Manager for Microsoft 365 is enabling organizations to capture and collaborate like never before, increasing productivity.
How to Use Microsoft 365 and SharePoint with Low Bandwidth
If Internet bandwidth is an issue as you continue to work from home, there are great syncing tools that can help you work faster. Look at the Colligo Briefcase mobile app for easy-to-use offline SharePoint access. Briefcase enables you to take an entire SharePoint library or just a particular folder, and view it offline from your mobile devices. Once the content is offline, you can make changes without any bandwidth lags and then automatically sync back the changes when you reconnect.
If you ask, IT teams are generally glad to put Briefcase in place because they can automate the push of libraries, folders, and views to the worker, saving them time and effort.
Want to Make Using SharePoint and Microsoft 365 Easier?
Colligo helps employees to find information, work productively and collaborate faster using SharePoint, and do it all right from Outlook and Office applications, driving significant ROIs for customers. Get the benefits of SharePoint but make it simpler for employees.
Colligo Microsoft 365 add-ins can be deployed in 10 minutes, organization-wide without any desktop visits or installs…perfect for times like these when IT resources are heavily taxed.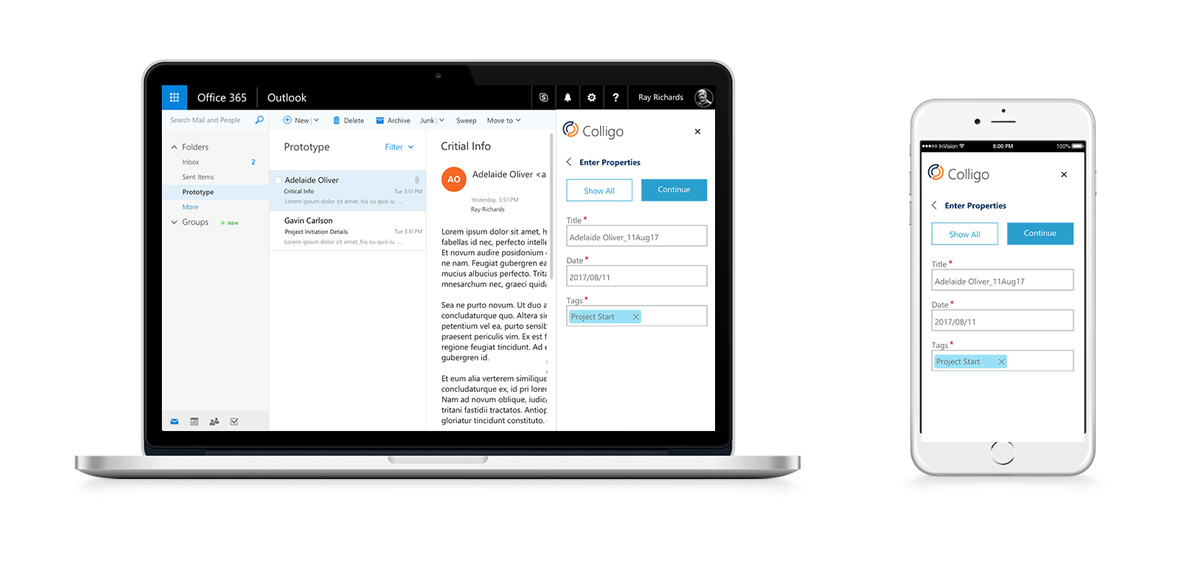 Learn a little more or put in a good word with your IT manager:
Colligo Email Manager for Microsoft 365 – Save emails to SharePoint, right from Outlook on Office 365 – Watch the video
Colligo Office Connect for Microsoft 365 – Save Excel, Word and PowerPoint files to SharePoint, right from Office 365 applications – Watch the video
Colligo Briefcase – Offline access to SharePoint and Office 365 for iOS and Windows.
We're glad to give tours of Colligo products right for your environment. Request a demo.
Our Colligo team is working from home offices but we're still 100% ready to help you out.
Stay well
We hope these Microsoft SharePoint and Office 365 tips are helpful as we all try and stay healthy and productive. Remember that face-to-face contact with your workmates can help. Yes, today's the day to turn on that video camera.
Is this the brave new world of information governance?
Will Knowledge Management and Records Management Converge with Office 365?