Last Updated on October 25, 2023 by Sarah Gayda
Learn how to safeguard and preserve company records contained in emails after employees or contractors leave your organization
Ever grappled with the daunting conundrum of what to do with massive quantity of emails of departing employees and contractors? How do you ensure important corporate documentation is accessible and usable after team members leave your company?    
A new term we heard this week — which we rather like — is "leavers." The term refers to employees or contractors who leave your organization. In the US, the overall staff turnover rate was approximately 25% in 2022. When looking at the turnover rate for contractors and freelancers, that rate jumps to a whopping 415%, according to a 2021 study. 
Given these high turnover rates and the sheer volume of data stored in employee in-boxes, it's no wonder the business challenge of what to do with leavers' emails has become the hot topic of the day. So, let's dig in.  
Exchange Online archiving & Outlook archiving fall way short when it comes to email records management
First let's start off by stressing that effective email records management is not possible using Outlook Archive or Exchange Archive. In other words, neither Office 365 email archiving option will solve your email records problem. Here's why both methods are severely lacking:  
The Outlook Archive function, which you can see from the right-click menu when reading an email, simply moves an email to an Outlook folder called Archive. That's it. There is nothing special or functionally different about this folder versus any other folder. It is just a convenient method to remove an email from your inbox without deleting it. It does not allow others to search or access any records stored in this folder.

 

Exchange Online Archiving

is simply additional storage space for older emails. It is turned on by your Exchange administrator who also creates an archiving policy such as moving all emails older than two years to your online archive. This is not a location where you can consolidate records since the online archive is just old email, regardless of their value. Also, this method does not provide any collaborative or knowledge sharing benefits for your organization. The online archive is private and only accessible to the mailbox owner.  

 
You must move emails to SharePoint Online to manage them as records
We firmly believe there's no better place to store company records – including email – than SharePoint Online. You're already paying for Microsoft 365 so leveraging SharePoint Online as your email archiving solution (or system of record) makes solid sense from a financial perspective. In addition, you benefit from Microsoft's second-to-none security and ensure a single source of truth for corporate decision making. 
Most importantly, email records stored in SharePoint Online can be accessed, shared and managed by other team members in your organizations. And you can find them quickly and easily.   
So, let's get specific about what to do with leavers' emails and how best to move email records to SharePoint for email archiving purposes.  
3 quick steps to bulk file emails to SharePoint Online for archiving
Moving hundreds or even thousands of emails from Outlook (including folders) to SharePoint Online is not only possible, but simple! When employees or contractors leave your organization, you can move their emails to SharePoint in three quick steps: 
1. Select the source folder 
You can pick any folder you have access to. This includes your mailbox, a shared mailbox, or any mailbox that you to manage.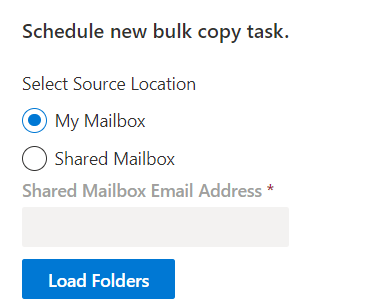 2. Choose a destination 
Choose any location in SharePoint, Teams, or OneDrive where you want to copy or move the emails from the source folder.  
3. Set options and schedule 
Choose options like metadata, copy or move, include subfolders, skip previously uploaded email, etc. Then finalize your bulk file job by indicating when you want it to run: now, later, or on a recurring schedule.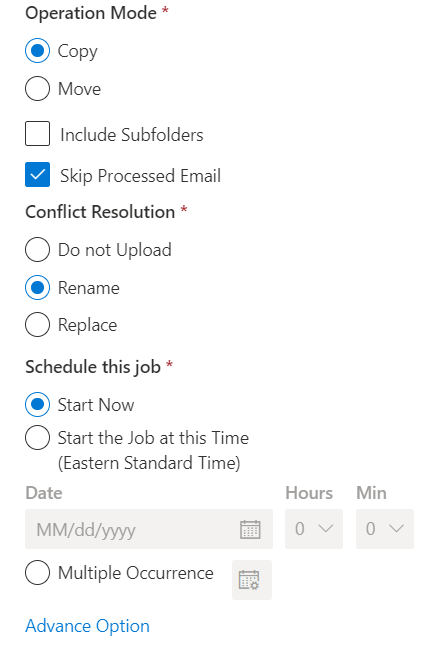 Also note that Colligo Email Manager runs in the Microsoft cloud, not on your local computer. This means it's a future proof and reliable solution for you given Microsoft will no longer support COM-based add-ins in the coming year 
Better yet, if you're looking to work with Microsoft Sytnex or Microsoft Purview to enrich or retain content and records, Colligo works very well with these Microsoft solutions.  
Why you should file leavers' emails to SharePoint
Now that you've seen how simple it is to archive leavers' emails to SharePoint, let's talk about the reasons why you should. 
To start, think of all the important records buried in the emails and attachments of your departing employees or contractors. Moving emails to SharePoint with metadata tags is a lifesaver to: 
Ensure you don't lose important historical corporate data

 

Increase your company's regulatory and legislative compliance while decreasing risk

 

Expand your 

records keeping practices to include email

, and more specifically, the email of past employees and contractors

 

Enhance knowledge management and collaboration, as your team members can now find and access the records

 

Save your team time, as a team member or administrator no longer must manually sort and file the emails of your departing employees and contractors

 
Imagine an ex-employee on your team had a key diagram or project outline in their inbox. Your administrator or designated team member, with appropriate access, would now be able to go into SharePoint where the emails are archived, search based on metadata or contents, and retrieve the key piece of information you need.  
In another example, let's say you designate an administrator to file select emails of a team member who's left your company. This is a tedious and time-consuming process. Bulk filing these emails to SharePoint eliminates lengthy exercise, freeing up valuable time and resources.  
Start securing your company email data now
Safeguarding your company data after employees leave is imperative. But there hasn't been an effective solution for how to deal with data contained in email and attachments until now.  
Colligo's bulk filing tool makes archiving email to SharePoint easy. Get in touch now for more details on our email archiving software or schedule a demo.