SharePoint was on display a few weeks ago in Dublin Ireland at the European SharePoint Conference 2017. And, while it's now 16 years old, SharePoint just keeps getting better and better, prompting me to quote the old Irish saying "The older the fiddle, the sweeter the tune." I had the pleasure of attending the conference, where we had a trade show booth, with three of my Colligo colleagues.
There was a lot of energy at this year's show, and rightly so. SharePoint is experiencing a bit of a renaissance since Jeff Teper and his team at Microsoft took over the past two plus years ago. SharePoint Online is now one of the key pillars of Office365 and it's driving crazy adoption numbers (as we will see later). There were so many interesting things to see and hear at the conference that I can't really do it justice in a single post, so I will outline just a few of the highlights from the packed four days.
During the conference I caught up with my old buddy, Microsoft MVP Christian Buckley, or rather Christian and his video equipment caught up with me at our booth. Christian is a prolific writer and presenter in the SharePoint community. His blog, BuckleyPlanet, is full of a lot of great and very insightful info. Check out the video of us at ESPC here.
We were proud as punch to accept the "Best Mobile Solution" award on behalf of everyone at Colligo. There were so many great finalists: Infragistics, Inc, Valo Intranet, WEBCON BPS, and KWizCom. The award was recognition for the great work our team did with a number of customers, including Pernod Ricard and Air Transat. Those case studies are available on the Resources section of the website. If you'd like to explore further how our award-winning solution can help your organization, I invite you to contact our team.
Session Highlights
The conference was kicked off by talks from key members of the SharePoint team in Redmond. The headliner was Jeff Teper, Corporate Vice President – Office, OneDrive & SharePoint at Microsoft. Jeff talked about how they re-ignited SharePoint two years ago (as I mentioned at the beginning). There has been so much momentum built since then. SharePoint is now used by 85% of the Fortune 500. It has been growing in leaps and bounds: 90% in the last year. SharePoint is now used by over 300,000 organizations worldwide and 65% of all seats are online.
Jeff then discussed the "6 Pillars of Value for SharePoint & Office365":
Share and Work Together
Inform and Engage People
Transform Business Processes
Harness Collective Knowledge
Protect and Manage
Extend and Develop
He went into detail about each of those areas, outlining some of the significant developments over the past year. In particular he mentioned the Security and Compliance Center under the "Protect and Manage" section. I attended one of the later sessions on that topic and I'll go into it in a bit more detail later in this post.  You can watch Jeff's entire keynote here.
Chris McNulty, a long time friend in the SharePoint community, former MVP and now Senior Product Manager for SharePoint and Office 365 at Microsoft demoed some of the most recent developments with respect to the content management aspects of SharePoint. Many of these new developments were announced at the Ignite Conference, but are just now being released. One of the most interesting things he talked about in my opinion was "Attention Views", which are now available as of October 2017. Attention Views aggregate files that require custom metadata into actionable screens that enable bulk management and updates. That's certainly one way to make sure that files are classified properly, and is a very useful feature if you don't have the capability to apply metadata when content is captured like you can in Colligo Email Manager. Chris has worked with Colligo over the years on a number of projects, including several webinars.
Another great presentation was given by good friend, Naomi Moneypenny, a former MVP who is now a Senior Product Manager for Enterprise Search and Discovery and Social Intranet at Microsoft. Naomi talked a lot about the power of machine learning to power search. Very cool stuff. Naomi's presentation was similar to the one I'd seen in Washington a week earlier. I discussed that in a previous blog post. Naomi is a big thinker and has her own blog which is definitely worth reading!
It was great to see our old friend, Dan Holme, Director of Product Marketing, SharePoint & Yammer at Microsoft speak as part of the keynote. Always engaging, Dan demonstrated a number of SharePoint "pages" features, including a ream of new webparts. Mark Kashman from Microsoft recently posted a great article on what's coming up for web parts in SharePoint in Office 365. We've been really fortunate over the years to work closely with Dan on several Colligo webinars and whitepapers.
I also attended many technical sessions during the conference. I don't have space here to go into a lot of detail about everything I learned, but wanted to highlight one of the sessions I found particularly interesting and directly applicable to what we do here at Colligo. It was titled "The Power of Microsoft Teams & Data Governance using the Security & Compliance Centre" and it was given by Karuana Gatimu, from Microsoft Engineering. John Deters, also from Microsoft Engineering, joined by Skype from Redmond for the demonstration portion.
I was particularly interested in this session because there's some Colligo history here. The presenter was scheduled to be Nishan DeSilva. Nishan had been instrumental in getting us into Email Records Management in the first place when he was at Watson Wyatt. We worked with him on a project to make SharePoint 2010 into a production records management solution. Nishan moved to Microsoft in 2010 to lead governance in the Legal and Corporate Affairs department and was responsible for deploying Colligo Email Manager there. I knew Nishan had moved to the Office 365 group in fall 2016, so naturally I was curious. As it turns out, Nishan did not present, but his team laid out what they had been working on.
The room was packed, so clearly this was a topic of interest to many participants at the SharePoint conference. As I watched them speak I realized that Nishan was now realizing his dream for records management that he had articulated when we first met way back in the Watson Wyatt days.
Microsoft announced the Compliance Center in Office365 in 2014 and has been building out features since then. Since Nishan joined the Office 365 Information Protection Engineering team to lead Advance Data Governance, they have added many new capabilities in the renamed Security and Compliance Center that enable customers for the first time to build an end to end records management solution in Office365. I came away with the impression that this capability is going to change the face of the Office365/SharePoint records management market for good.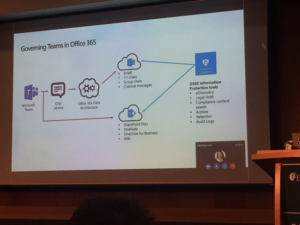 What particularly impressed me was the concept that information governance is a service that is independent of the product or content that's being protected. The talk was focused on how that works for Microsoft Teams and the slide we've posted here from the presentation shows how this works for the different data types that co-exist in Teams. You can see that messages, such as emails and chats, are managed within Exchange , while files or wikis are managed within SharePoint Online. Despite the fact that these reside in different systems, the information protection tools in the Security and Compliance Center provide a common framework for governance and compliance for the data In-Place.
One of the key requirements of a compliance solution is the ability to apply common retention policies across disparate types of content. To enable this they introduced the concept of labels.  In their words "…labels in Office 365 can help you take the right actions on the right content. With labels, you can classify data across your organization for governance, and enforce retention rules based on that classification.". Once applied, labels can then kick off a retention workflow that enforces a specific policy. Very cool!
When the presentation was over, one of the questions that was asked was "how do labels relate to content types". The answer was "Soon you will be able to attach a label to a content type". That's pretty cool because Colligo already allows users to apply content types along with Metadata to files, emails and other data contained in SharePoint. So basically, we will be fully compatible with the Security and Compliance Center. So watch this space as we start to explore how this revolutionary concept changes records management in Office 365.
In Dublin's Fair City
Finally, a word about Dublin, the host city of ESPC 2017. The city sparkled during the conference. You could see the economic prosperity returning to Ireland as exhibited by the many cranes atop building sites littered the cityscape. Immediately apparent was how the technology community is embracing Dublin, with many buildings slated to house big names firms such as Google and Facebook being erected just across the river from the convention center. Of course, no trip to Dublin would be complete without a visit to one of the many great pubs in town. The Colligo team visited the famous Temple Bar and sampled some of the great local food and drink.