The shift is on to Office 365. But what about data compliance? Are the new compliance-made-easy tools from Microsoft giving organizations a push to comply with intensifying national and sector-specific data security regulations?
In a recent webinar on how to simplify compliance in SharePoint attended hosted by Microsoft MVP Joel Oleson and Colligo, a survey on Office 365 adoption showed more and more organizations are moving cloud first with their data.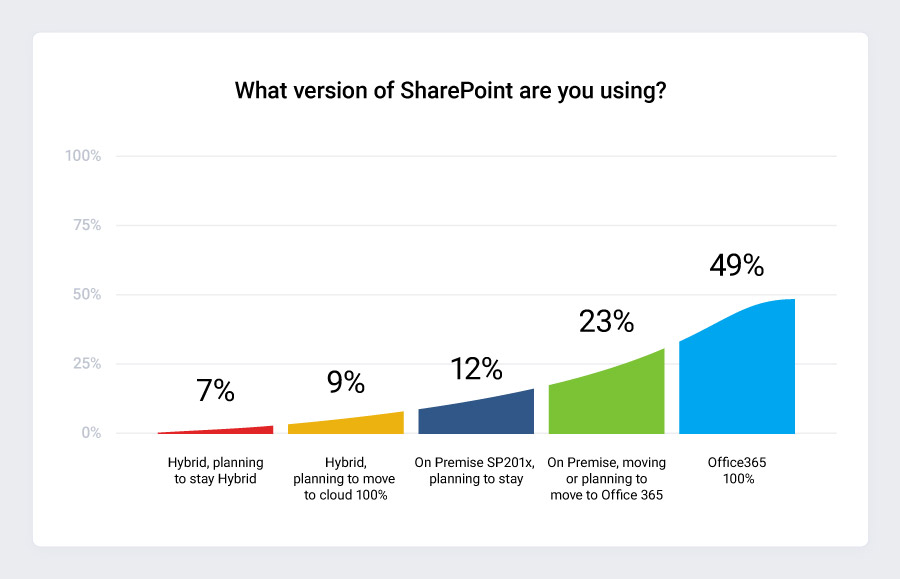 What is still in early stages is the implementation of data compliance. Most organizations are just starting or not yet started with classification, DLP and utilizing new label functionality from Microsoft.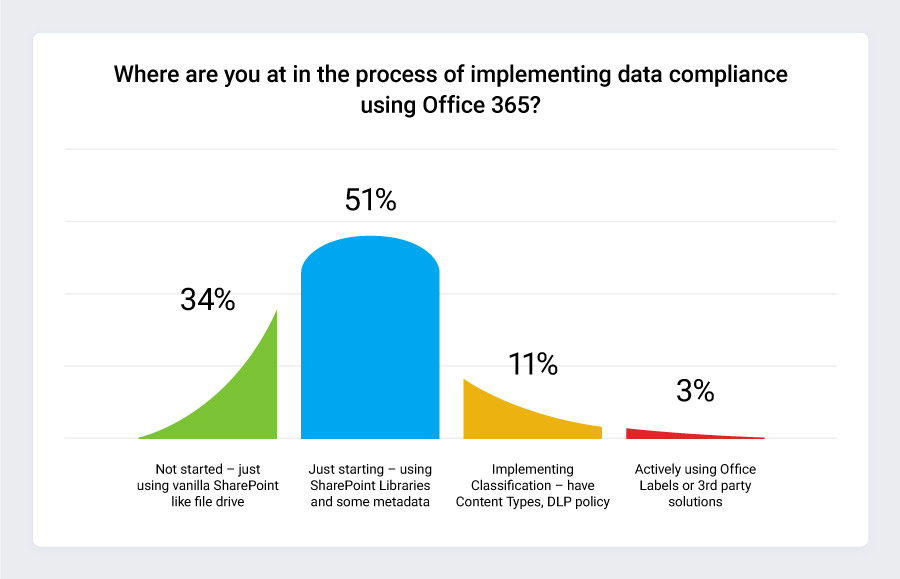 This yet-to-accelerate adoption is against a backdrop of intensifying regulatory pressure from national data privacy policies (GDPR in Europe, PIPEDA in Canada, and pressure for a national policy in the US) through to sector specific policies like HIPPA, FACTA, ECPA and employee records and contract management regulations. Regulators want us to know the risks of taking a cavalier approach to compliance are multiplying.
Looking back, many organizations made the initial shift to SharePoint and undertook ECM programs with a focus on knowledge management, not so much compliance. As our webinar respondents revealed, even shifting to Office 365, many organizations have yet to develop a data compliance plan to meet the modern requirements for data privacy and retention.
Microsoft is working to tip the balance. Consider the classification, DLP and labelling features they have rolled out in SharePoint just in the last year. From a technology standpoint, implementing data compliance has never been easier. This confluence of stiffer regulations with better compliance tools may well make this a watershed moment for companies to adopt data governance and compliance practices.
"Right now Microsoft is fusing content management and compliance – into an ever more streamlined set of tools to keep data compliant, keep knowledge easy to discover and share, and make files easy to retain or remove from SharePoint," commented Loic Triger, COO Colligo. "Organizations that use the shift to O365 to also implement a smart compliance framework will be the ones that avoid lost productivity and best manage the risk, cost and distraction of data breaches in the next decade.  Achieving that though, will also require a focus on tools easy for users."
The SharePoint add-ins from Colligo equip employees to add labels and metadata as they save emails and files right from Outlook and other Office programs they use most, without having to lose productivity and go into SharePoint. Even for organizations automating classification and labels, the end-user oversight on how classification and retention rules are applied ensures critical accuracy in how data compliance is rolled out.
"Engaging employees in compliance behaviour requires working from the mindset of the worker," added Loic Triger. "Users have an immediate need to rapidly save, search for and share emails and files to be productive. We give them that ability right from the Office 365 applications they use most and woven into easy-to-use compliance tools."
There's another incentive to address data management head on when shifting to O365. Consider the cost and data loss issues that come from moving massive data to the cloud without addressing classification and retention. Microsoft predicts a data explosion over the next few years, and IT departments are already watching it happen. For organizations that means data storage costs compound annually and the threats of dark data – data without labelling or classification that exists as a privacy risk without any organization value – also mounts.
Watch and see – the organizations that outperform will use this moment embrace compliance along with O365.
4 Steps to SharePoint Data Compliance Made Easy – Watch webinar & get resources.