How to set up remote records management for finance, HR and legal departments using Microsoft 365 and SharePoint.
Historical AIIM research found the top three business drivers for information governance in organizations are compliance, preventing data loss and enabling knowledge sharing. In the early phases of the pandemic, the top priority quickly shifted to knowledge sharing – making sure essential departments like finance, HR and legal could access all vital information remotely and providing tools to continue their work as undisrupted as possible. 
Six months later, many organizations are realizing the sudden shift to cloud-based deployments for information opened the door to disregard information management procedures that were in place for compliance and to protect data loss.  
This shift has also led to an explosion of information. In an August 2020 AIIM survey, respondents reported that the shift to remote work has organizations grappling with a 4.5x increase in the volume of information being created and shared with the majority of this information being unstructured and unmanaged. This data chaos is posing risks especially to finance, HR and legal teams handling highly regulated, sensitive information.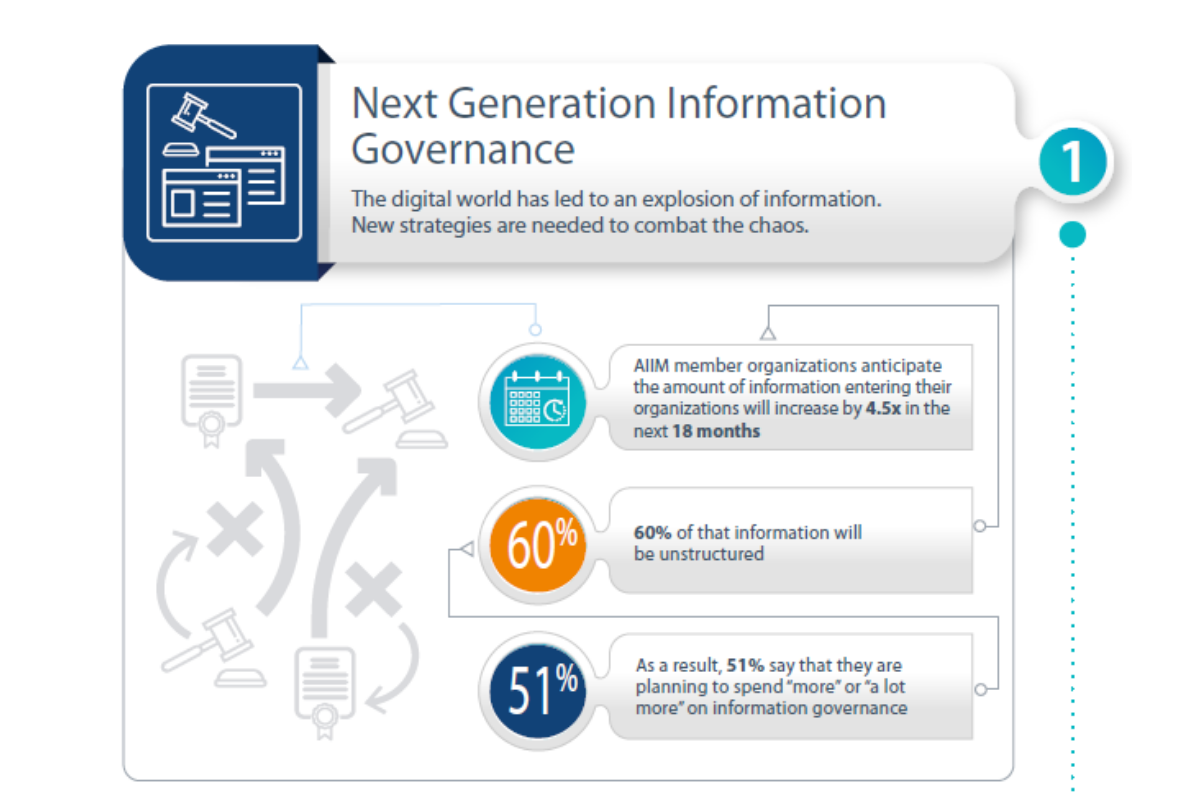 Source: Excerpt from AIIM Infographic – Developing a Records Retention Program for Remote Environments

Now organizations are asking, how can we put in place information governance on our new cloud infrastructure using Microsoft 365 (formerly Office 365) and SharePoint? And how can we do it in days or weeks before our data sprawl creates compliance or data loss issues on top of the productivity losses we're seeing as sprawling data gets hard to find and share?
Why did information management practices erode so easily?
As organizations seek to resurrect or establish information and records management practices for a remote work world, it's worth asking why the procedures in place prior to the pandemic were so easily abandoned in the first place.
Members of finance, HR and legal departments are generally acutely aware of the data security and compliance risks of the documents they handle – but still information governance best practices have gone off the rails in many organizations. Why? 
Was it the shift to new cloud technologies like Microsoft 365 that derailed procedures? Was it the mindset shift of being in crisis mode? Or was it one of the most common hurdles to behaviour – that information capture got a few steps more complicated with Microsoft 365 so it simply didn't get done?
What's the obstacle with data capture with SharePoint?
While Microsoft supported millions of workers in making the shift to the cloud since COVID-19 began its global spread, they also advised to protect your data and maintain compliance in a remote work environment. The challenge is, implementing Microsoft 365 comes with some adoption challenges in terms of convenient data capture. 
"Protect your data and maintain compliance in a remote work environment "- Microsoft
In a report from June 2020, Gartner points out "SharePoint provides strong capabilities in some areas, such as architecture and integration and library services, but has weak or missing capabilities in other areas, such as capture, records management, and workflow and process."  
Gartner goes on to recommend that organizations should "use third-party products to augment Office 365's capabilities if you have advanced capture or records management needs and want to meet them using SharePoint."
While Gartner dug into some sophisticated use cases of managing record retention and sensitivity using SharePoint, the experience of the Colligo team is that even for basic information management, organizations need to look squarely at the existing behaviours of finance, HR and legal departments to discern what tool will be convenient enough to motivate data capture and records management. If your finance, HR, and legal teams conduct their work primarily in Microsoft 365 Office applications like Outlook, Word, Excel – will they be willing to leave those applications to manage files in SharePoint? In our experience, likely not.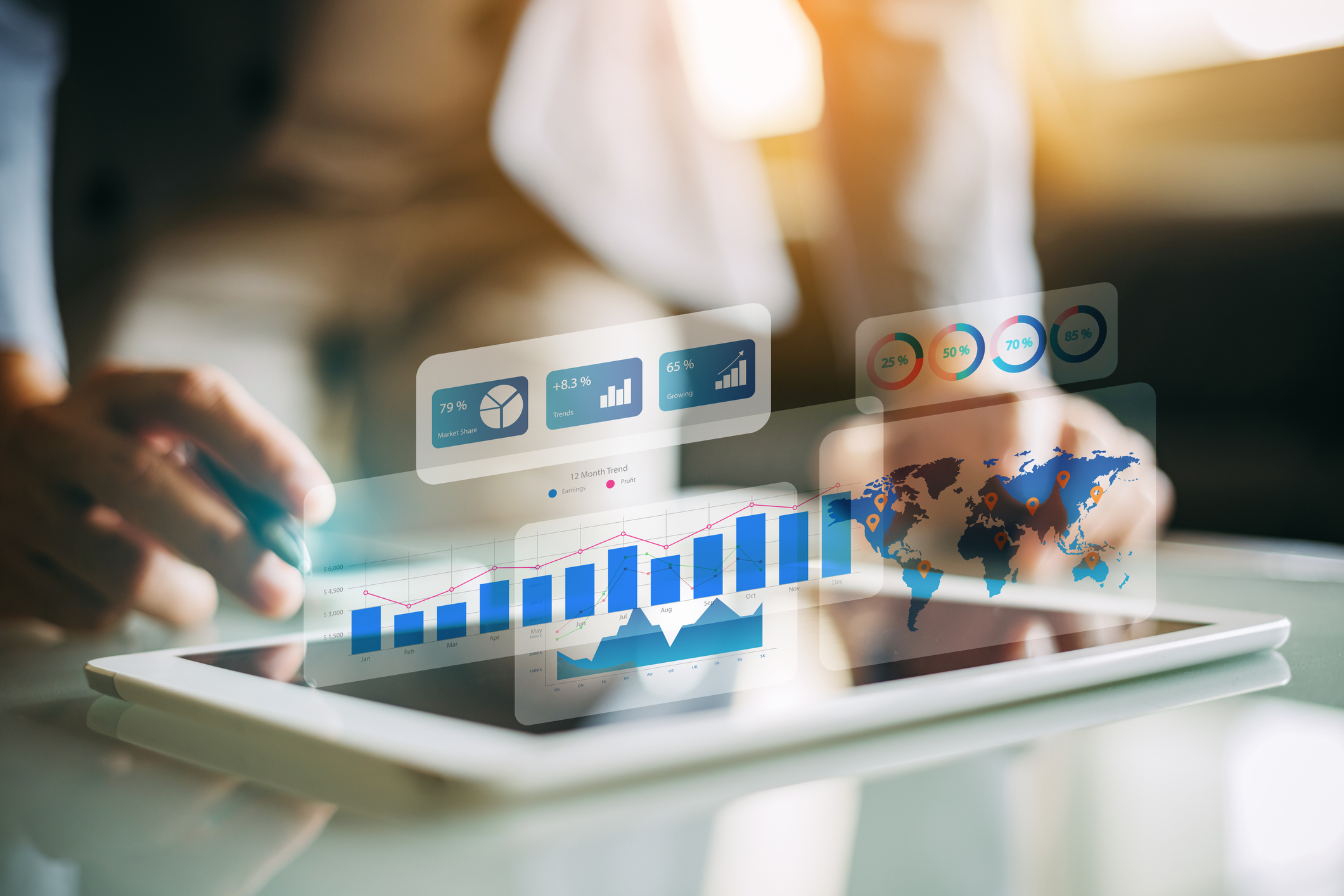 How to boost adoption of SharePoint for email and records management  
As organizations evaluate third-party products to help them best utilize Microsoft 365 and SharePoint to get information management on track, here are some priorities of finance, HR and legal departments that are essential to consider:
Provide tools for records capture without disrupting workflow
Empower users to capture files to SharePoint and add metadata without leaving the app they are using

including Outlook, Teams, Word and Excel on Microsoft 365

Empower users to add retention and sensitivity labels from within Outlook, Word and Excel

for records management 

Empower users in Outlook to browse and share secure links to any SharePoint file
Make SharePoint information governance effective for key departments
Organizations that lead in adoption of SharePoint for information governance overcome the common challenge that users resist leaving the apps they are working in to go to SharePoint.  Colligo add-ins bring SharePoint information management capabilities into Microsoft 365 Outlook and Office applications, empowering employees to capture files and add metadata right from the applications they use most. 
Key capabilities we provide:
Colligo Email Manager for Office 365 – Save emails to SharePoint, right from Outlook with metadata and labels support – Watch the video.
Colligo Document Manager for Office 365 – Save Excel, Word and PowerPoint files to SharePoint, right from Office 365 applications with metadata and labels support – Watch the video.
Colligo Content Manager for Office 365 – Search, preview and share links to any SharePoint file right from Outlook. Simplify access to favourite links. Watch the video.
Let us show you how simple it can be to improve information management while key departments continue working remote. We help organizations everyday to improve data security, ensure records compliance – all while supporting more efficient cross-team collaboration and productivity. 
Our solutions are powerful yet simple to implement. Colligo Microsoft 365 add-ins can be deployed in 10 minutes, organization-wide without any desktop visits or installs, and without a drain on IT resources.

We're glad to give tours of Colligo products right for your environment. Request a demo.
Our Colligo team is 100% ready to support you while working from home offices.