Last Updated on May 15, 2023 by Sarah Gayda
Digital transformation necessary for companies to modernize and stay competitive
"The amount of data to be created in the next 3 years will be greater than the data created over the last 30 years," commented Satya Nadella. This year, Microsoft Inspire kicked off with one of the best keynotes we've seen in a long time. Nadella's opening presentation was animated and uplifting and well worth a watch. We love Inspire as it provides an opportunity to hear about updated technologies and partner opportunities across the Microsoft technology stack, from Power Apps and Dynamics to Azure and Microsoft Viva. Inspire 2021 did not disappoint!  
As companies globally turn to the Microsoft Cloud to create new technology opportunities, Microsoft continues to be more central and synonymous with digital transformation. "Microsoft is the only cloud that supports everything an organization needs to adapt to hybrid work," remarked Nadella.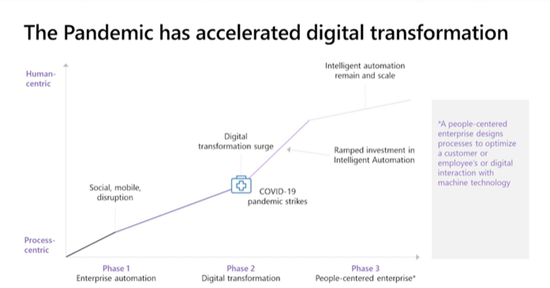 More firms than ever are racing to modernize and undergo digital transformation in order to remain competitive in the new era of work. This should help bolster Microsoft 365 (Office 365) growth for years to come and aligns with Colligo's focus on cloud solutions for modern work. Integrating the Microsoft 365 suite for better capture, classification, management, and access is what separates Colligo.  
Microsoft is the most complete technology stack
Innovating from Cloud to Edge was something Microsoft emphasized at Inspire this year. We increasingly see the Microsoft Cloud as an enabler for organizations to innovate, providing the tools and platforms modern organizations need to build. Globally, as companies with both knowledge workers and field workers look to digitalize and modernize, Microsoft aims to empower them to utilize technology and data, from the 'cloud' to the 'edge'. With more workloads running on Azure, organizations are better equipped to optimize assets, monitor performance, have deeper insights into operations, and provide insights across large and small teams. Microsoft is the only cloud to support every organization's multi-cloud, hybrid, and edge needs.  
Microsoft made a big push this year with their new industry clouds, which are essentially extensions of existing clouds, pulling together industry-specific solutions based on vertical-specific needs. The six industry clouds introduced are designed to be modular and extensible: healthcare (i.e., providing virtual health capabilities), retail, financial services, manufacturing, non-profit, and sustainability. Microsoft notes that partners play a large role in enabling the Microsoft Cloud for both industry and non-industry specific solutions – and we agree! 
Together we achieve more
Microsoft reiterated the value partners provide; Microsoft estimates partners will drive $1.2 trillion in revenue by 2024 on business related to Microsoft technology. With over 30,000 apps and services published and 4M+ monthly active shoppers (with 95% of Fortune 500 companies using Azure) in the commercial marketplace, alongside 56% year over year growth in Microsoft 365 partner opportunities (Forrester TEI study), the Microsoft ecosystem continues to thrive.  
Within the Microsoft Cloud, there continues to be opportunities for partners at various points in the stack. The unified stack really starts with a torrent of data coming into Azure at the bottom, and delivers value all the way up to the top with the applications family of Dynamics 365 or Microsoft 365. Microsoft highlighted the key components of partnering for success: developing partner skills, accelerating opportunities, and building and promoting solutions. 
The evolution of the Microsoft Cloud towards industry clouds presents further opportunities for partners. Partners can now leverage the industry clouds and couple them with specific industry or domain expertise to deliver more tailored solutions for end customers. A win-win for both sides.  
Microsoft pointed out that partnerships are built on trust. Building trust is a central focus of every organization. Microsoft continues to invest more in the ecosystem, providing opportunities for partners and helping us achieve more together.  
Teams and enabling productivity in hybrid work
Microsoft remains focused on enabling productivity in hybrid work through Microsoft Teams, and establishing Teams as a platform. This is no surprise, and has been commensurate with the strong growth in Microsoft Teams adoption and usage over the past two years, with Microsoft citing over 1 billion 1:1 calls per month and 145mm+ daily active users (DAUs).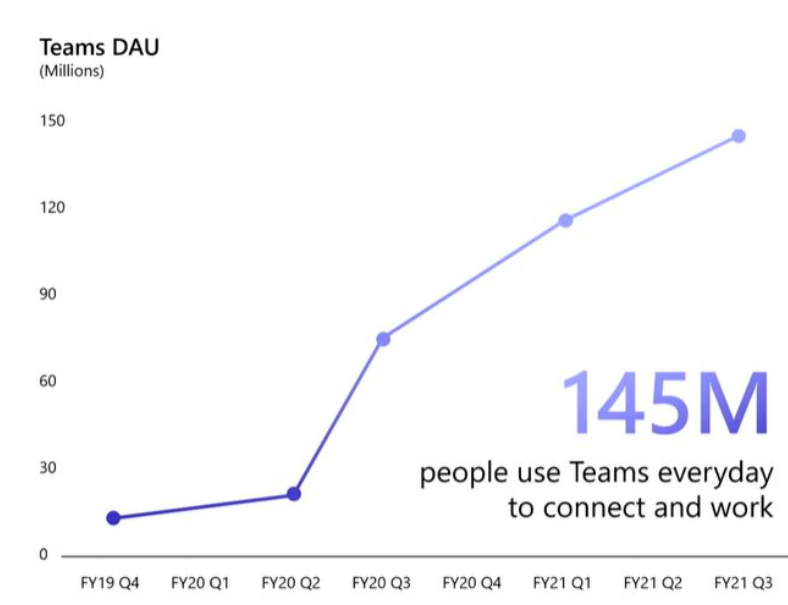 With that, Microsoft continues to enrich the new 'communication hub of the enterprise' by adding deeper integrations, such as the ability to access Dynamics 365 data from Teams (introduced at Inspire), and enable the burgeoning partner ecosystem of apps added to the platform. It's no surprise that the transactable applications on Microsoft's commercial marketplace have grown 70% year over year as partners look to take advantage of the Microsoft suite and platform.  
Another integration impressing us is the innovation for the employee experience with the introduction of Microsoft Viva. Viva is a tool to provide a best-in-class employee experience embedded in the flow of work. Viva has four modules: Viva Topics, Viva Connections, Viva Insights, and Viva Learnings, which all sit on top of the Microsoft Viva Platform and ecosystem of Teams and Microsoft 365. As the Microsoft 365 opportunity has grown significantly year over year, owing to Microsoft becoming more top of mind with customers and new product innovation, we have seen the birth of Viva as a new way to connect and provide experiences to employees within the organization – especially important for organizations around the world right now. We expect to see a lot more Viva deployments in organizations over the next few years.  
We've recently seen the introduction and launch of SharePoint Syntex as well. Syntex and Viva are the output of Microsoft's Project Cortex initiative, and we often get asked what the key differences are between Viva Topics and SharePoint Syntex. Microsoft provided a clear explanation for viewers at Inspire this year:  
Topics essentially works with content in shared subjects and 'topics,' while 

 

Syntex essentially provides expertise about content and recognizes key figures in content to allow for the creation of tags. 

 
We learned that the Viva 'North Star' is making the employee the hero, supporting employees and managers from hire to retire, and making it easy for HR and IT managers to improve the employee experience. Teams is the hub where work is done; Viva is the employee experience, which is brought into Teams. 
Mirroring the growth in Teams, we've seen many of our customers and partners spending more time in Teams as well. As a result, we opted to bring the best of Colligo into Teams. We will be introducing our latest Teams application shortly, unlocking productivity and governance. Stay tuned to our blog for the latest updates and check out our Content Management solution in the meantime!