Gain unparalleled visibility into your data with the additional capabilities of Microsoft Purview & Colligo Email Manager
Do you want to keep all your emails, documents, and other content organized in one place? Do you need to be able to access this information quickly and easily at any time? Wondering how to access SharePoint from Outlook?  
If so, Outlook SharePoint integration is a must-have. In this blog post, we will discuss why integrating Microsoft Outlook into SharePoint is so important, how you can do it without having to set up complex integrations yourself, the powerful capabilities of Microsoft Purview, and how third-party apps like Colligo Email Manager can make your life a lot easier. 
What is Outlook SharePoint integration?
Outlook SharePoint integration allows users to save and access their SharePoint files directly from within Microsoft Outlook. This includes documents, forms, reports, images and videos. Basically anything that's stored in a SharePoint site can be viewed, edited, filed and tagged from within Outlook. 
This makes it much easier for users to collaborate on projects and share data with colleagues. It also allows them to manage their workflows more efficiently by being able to access all the necessary files from one centralized location. 
Why setting up your own integrations is difficult
Setting up your own integrations between Outlook and SharePoint can be a complex process that requires considerable technical knowledge. Not only do you have to understand how the two systems interact with each other but also how they integrate with other services such as Exchange Server and Office 365.  
The process is often further complicated by the need for additional hardware such as servers and hardware firewalls. It's not something most people would feel comfortable attempting on their own without assistance from an IT professional. 
Using Colligo Email Manager for Microsoft 365 instead
If you don't want to go through the hassle of setting up your own integrations between Outlook and SharePoint Online, then Colligo Email Manager for Microsoft 365 may be the solution for you. Our third-party add-in provides a simple way for users to save email to SharePoint libraries right from within Microsoft Outlook.  
On top of that, it also helps improve user productivity by allowing you to search SharePoint in Outlook – viewing both emails and documents stored in your organization's SharePoint library directly from inside Microsoft Outlook – and save emails from Outlook to SharePoint in seconds.  
Plus, it integrates seamlessly with Microsoft Purview. This helps organizations gain insights into their data while staying compliant with various privacy regulations such as GDPR and CCPA.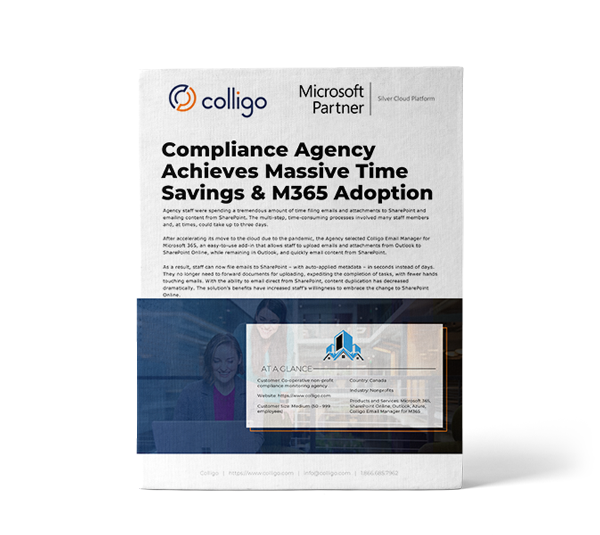 Microsoft Purview offers valuable insight into your data
Email is an important part of Microsoft Purview because it allows organizations to manage records in place; however, without Colligo, there is no way to determine which emails are records and which are not.  
Organizations need the ability to require users to add metadata to emails (records) as they are filed to the repository. Additionally, emails allow organizations to track who is sending what files so that they can better control data access. This ensures that sensitive information always remains secure.  
Manage records in Microsoft Purview – Learn | by Microsoft Documentation: https://t.co/dIeODWHSXW

— Erica Toelle (@EricaToelle) October 19, 2022
Overall, SharePoint Outlook integration combined with Microsoft Purview provides an ideal solution for organizations looking to maximize collaboration while still maintaining a high level of data security and governance. The combination of these two tools helps organizations stay compliant with relevant regulations. It also helps protect your valuable information from malicious actors or unauthorized access.  
By integrating Outlook SharePoint integration, Microsoft Purview and Colligo Email Manager, organizations have the power to collaborate effectively without sacrificing their data security. With this powerful combination, businesses have access to the best of both worlds.  
Get started today
Give your users easy access to all their documents stored in SharePoint directly from within Microsoft Outlook. With Colligo Email Manager, you can enable advanced data insights with Microsoft Purview. Find out more or get in touch with us to get started today.