Last Updated on May 15, 2023 by Sarah Gayda
Ignite again lived up to the hype. Microsoft made many announcements at Ignite that certainly grabbed headlines with the launch of Microsoft Mesh (AR/VR) alongside more valuable content around Microsoft Viva. At Colligo, we found several announcements relevant to new file experiences and admin controls in M365 worth highlighting. Of course, many will want a full review, but we have focused on our top three takeaways. 
1. New
Microsoft Lists
Capabilities
Microsoft introduced several new capabilities to the Microsoft Lists product. Generic lists have benefited millions of SharePoint users over the years; however, with Lists now a standalone product under the Office 365 suite, Microsoft has built upon this trusted platform, bringing a much richer user experience and functionality to the basic SharePoint lists we all knew and enjoyed. Recent innovations to Lists, announced at Ignite, include:  
The ability to define custom list templates and manage which templates

are

available to which individuals within your

organization.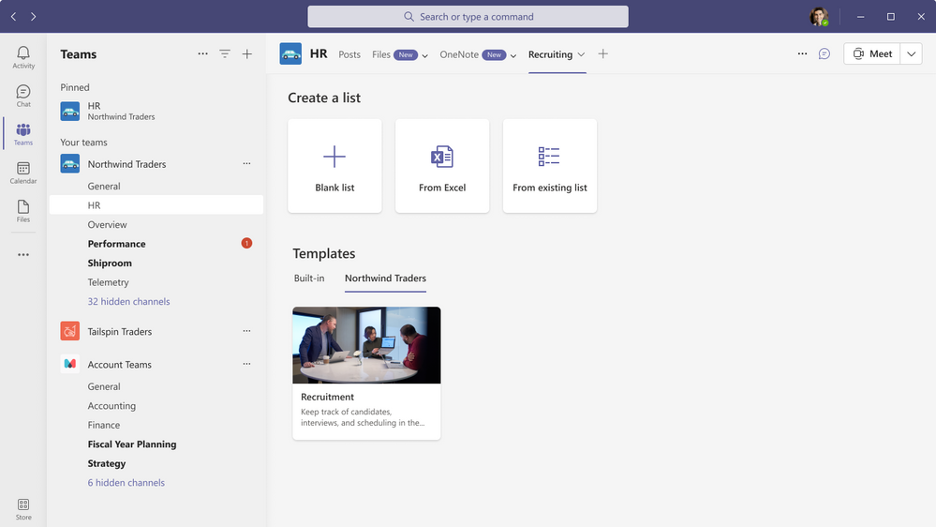 The

add

ition of

 smart

people picking and autofill suggestions to Lists from the Microsoft Graph, enhancing the user experience and

surfacing

more relevant

results.

 
2. 'S
hared
C
hannels'
Addition
to
Teams
Microsoft made many Teams announcements; however, this announcement is one of the more exciting, as we believe this will help bolster the adoption of Teams across tenants and allow it to become even more central to the organization as a communication hub. This feature is expected to roll out broadly later this year.   
Of course, most records are still created via email, but we believe Teams will continue to play a growing part in collaboration and communication, both inside and outside the walls of the organization. However, as records and data continue to grow, utilizing a solution like Colligo's Content Manager can help your team better manage your organization's content from within Outlook or as a standalone app.  
In addition to Microsoft's healthy list of Teams updates, Colligo is soon launching our own Teams application, bringing the ability to manage and view all of your organization's content right from Microsoft Teams. The application harnesses the power of our Colligo's Content Manager application and brings this into Teams for all around better and more compliant content management. Colligo's new Teams application will allow your team to work where they spend most of their time (with Teams now being an 'always open' app) and increase productivity through the intuitive dashboard, while still providing governance that IT leaders have come to know and love from Colligo. Stay tuned for the official product launch!
The addition of shared channels (

a.k.a.

Microsoft Teams Connect)

allows

for

secure

sharing beyond a company's walls. Historically, knowledge workers needed to log into

a

guest account to view messages. Now with shared channels, they can stay in the primary account, while working and sharing files as a member of that team, making the workflow much

smooth

er

. This was certainly a heavy lift on the back end for Microsoft in terms of working with Teams and Active Directory, so kudos to the Microsoft team!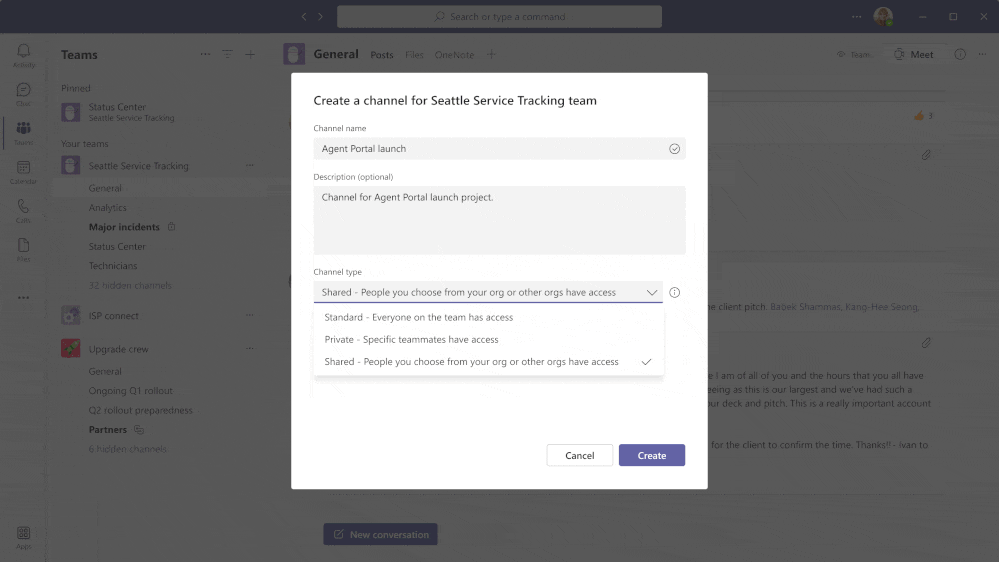 Microsoft announced multi-geo for Teams

for data residency

. While ava

ilable

on SharePoint

for some time, the addition to Teams is welcome to many users

utilizing preferred data location with Azure AD

(Azure Cosmos DB)

. 

 

Last but not least

on the long list of Teams announcements, was the introduction of greater

interactiv

e webinar capabilities

for up to

1,000 attendees

. This one is one we look forward to testing out shortly!

 
 3. 
Several
S
ecurity and
C
ompliance
U
pdates
to OneDrive and SharePoint 
 There were a lot of announcements regarding security and compliance capabilities in SharePoint, OneDrive, and Teams. 
Building on last years' introduction of Microsoft Information Protection (MIP) labels functionality, Microsoft announced the general

availabi

li

ty

of

e

x

ternal

sharing policies with sensitivity labels, adding more control for administrators.

They

also announced

the

ability to

co-author and Auto

S

ave on labelled and encrypted files

to Microsoft 365 apps on the desktop. 

 

Microsoft announced

data

access governance insights, which will be coming to preview later this year, allowing validation of the most frequently used sites for sensitive documents to have appropriate access

policie

s

for security and customiz

ed

policies.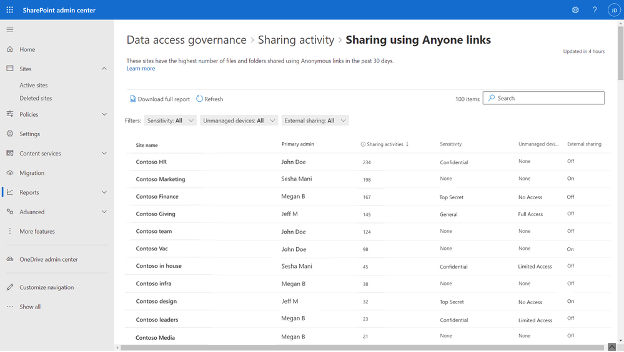 Microsoft announced the bringing together of the OneDrive and SharePoint admin

s

into a centralized admin. One thing

rema

ins

cle

ar

:

metadata remains a central component of SharePoint and OneDrive

. At Colligo, we are excited to continue to work alongside Microsoft

to

help remove the friction from the metadata application process with our

capture

and 

content management applications

. 

 
After an announcement–filled Ignite, our team is looking forward to working with the new features and updates to Microsoft products – and we will certainly need a rest!  
For any questions on anything Microsoft introduced in the Microsoft SharePoint and Teams domain, please feel free to reach out. We're always here to chat and see how we can help you with your Microsoft 365 journey and getting the most out of SharePoint Online.