Last Updated on February 3, 2021 by Sarah Gayda
Last week, we had the opportunity to attend AIIM's Mastering Your Microsoft 365 and SharePoint Investment: Moving from Rapid Adoption to Sensible Maturity online event and webinar series. While there were many takeaways for us, the overarching theme, highlighted in Peggy Winton's opening keynote, was just how ubiquitous Microsoft 365's enterprise presence is; only 7% of survey respondents indicated they do not have it in their organization.
The other major theme of the day was how organizations who have moved to (or are in the process of moving to) the cloud and Office 365 are better prepared to handle remote working. However, many have had to adapt. Only one in three organizations said they were "very prepared" for remote work prior to COVID, and this was an important topic covered by many of the speakers, including our own Presale Engineer Roland Reddekop.
Our three key takeaways: 
1. The top records management challenge for Microsoft 365 users is information chaos. 
Over 60% see a continuing need for third-party solutions to maximize their M365.
The top priorities are governance and records management (42%), integration with back-end processes like HR or finance (38%), and integration with key industry-specific processes (34%).
This aligns with a recent Gartner report, indicating that while SharePoint is a leading content services platform, it requires third-party software vendors to make up for its deficiencies in records management, capture, and metadata.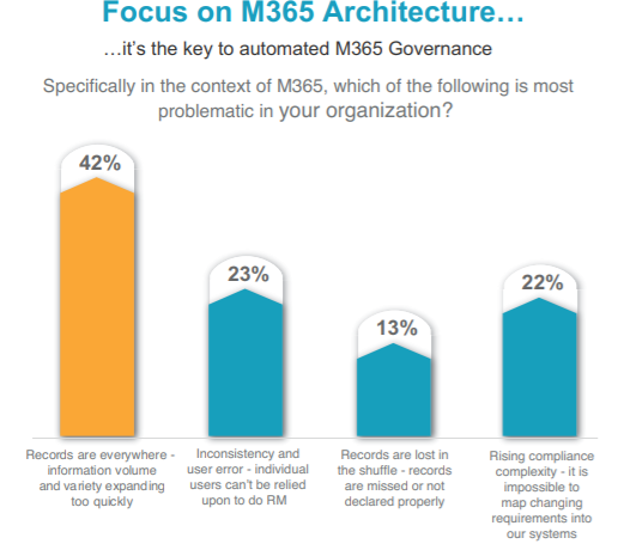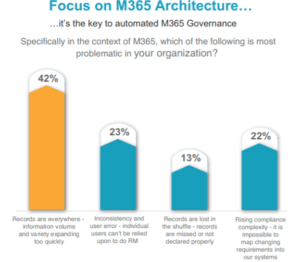 2. Migration is taking place at a rapid pace.
Over 50% of organizations say that when support ends for existing on-premise versions of SharePoint, they will migrate these types of content into M365. We were fortunate to hear our partner CreoSpark discuss their approach for implementing SharePoint online and migration. A critical piece of this, as our own Roland Reddekop pointed out, is to leverage M365 content management tools and tag documents that have future business value and migrate them into a properly provisioned and governed repository.
For companies to be successful with migrations and the new world of modern work, they will need to augment their newly minted SharePoint and Microsoft Office 365 suites with third-party SharePoint mobile apps and desktop apps to reduce friction filing emails and other records to ensure they earn user buy-in and adoption, while remaining compliant.
AIIM's recent overall self-evaluation "report card" survey of M365 governance effectiveness, found respondents rated themselves a B- and a C+. The biggest weakness is in "governing your data – automatically retaining, deleting, and storing data and records in a compliant manner."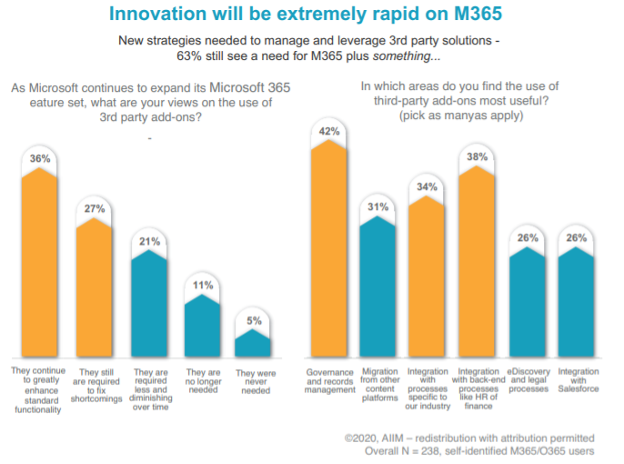 3. COVID forced a lot of organizations into 'knee-jerk' reactions.
Microsoft Teams facilitated remote work, as many of us experienced firsthand. In fact, three out of four organizations say their use of Microsoft Teams has "increased" or "increased significantly" as a result of COVID. However, governance and planning are critical to managing and controlling the explosion of M365 and Teams across organizations. The positive take on the explosion of Teams usage is that it presents an opportunity for organizations to entice knowledge workers to collaborate through an internally sanctioned "social" platform, always a challenge for businesses.
Improve Efficiency and Compliance with Colligo
With knowledge workers working remotely, ensuring records end up in the right place, no matter how they are shared (email or Teams), is critical. We all understand email is still the dominant source of records and record sharing in the organization. These records must be tagged and preserved. For this, we recommend a proven third-party app, like Colligo Email Manager, to improve efficiency and compliance within your organization. Even "filing should be fun!" as Roland mentioned in his presentation.