Last Updated on March 9, 2023 by tania
A recent report from Gartner calls SharePoint Online and Microsoft Office 365 the leading content services solutions available to organizations creating a digital workspace and digital business. With 70% of business users equipped with cloud office capabilities by 2021, SharePoint leads the industry in enterprise content management.
However, the report, "Office 365 Requires a Content Services Coexistence Strategy to Support Digital Business," also points out that increasingly complex requirements for collaboration and records management mean SharePoint and Office 365 alone won't meet organization needs. Gartner recommends that businesses need to look toward additional Content Services tools and partners to fulfill the growing needs of content management and records management.
The Convergence of Knowledge Management and Records Management
SharePoint and metadata tagging processes are bringing knowledge management and records management together, though these two worlds have disparate needs. Knowledge management requires email and document capture to improve workplace collaboration and productivity. They want save conversations the business is having to support knowledge sharing among employees, to best inform projects and buffer from brain drain as employees retire or shift to short contracts in the gig economy.
On the other hand, records management (including legal departments, corporate risk teams, and organizations that are highly regulated or serve a legal function) are focused on record retention. The focus is on identifying records (such as contracts, employee agreements) and ensuring they are protected and stored for the appropriate duration, and discoverable with search. As important, they seek to destroy non-essential documents that may cause future legal risk.
SharePoint and cloud services are bringing these two worlds together, and while Microsoft Office 365 offers the best platform on the market for intelligent information access and governance, Gartner recognizes the need to bring in add-ons to make this convergence work today.
Some of the Gaps in SharePoint
As Gartner points out, the more complex an organization's needs for complete Knowledge and Records Management, the more likely organizations are to need additional solutions from Microsoft Content Services Partners (CSP) to meet their collaboration and data compliance requirements.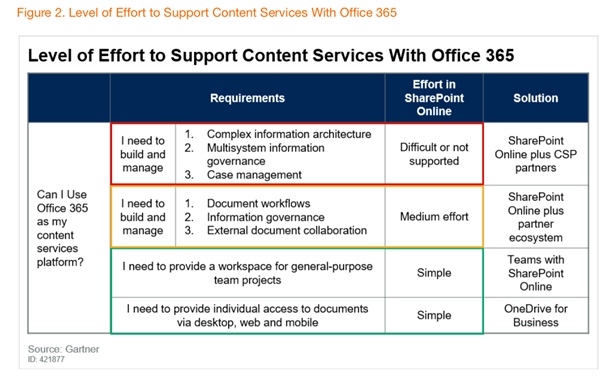 Content Services Partners help SharePoint handle complex information architecture, case management, multisystem information governance, document workflows, information governance, and external document collaboration. Organizations of any size can benefit from add-ons that enhance Office 365 content services.
SharePoint Office 365 Collaboration Solutions
One area that Gartner drills in on as needing support solutions is Collaboration, namely how workers can save completed work with metadata, and how can organizations serve worker demands "a single pane of glass" to save and search for documents from the Office 365 apps that people use most.
That's a key junction where Gartner advises organizations to "investigate the depth of [Microsoft SharePoint Online and Office 365] capabilities to ensure that specific use cases will be satisfied by the capabilities provided."
The number one ask we get at Colligo is to not leave Office 365 apps to save, tag, and label files for knowledge sharing, search and compliance. "If users have to step out of their habit of spending time in Outlook or Word or other apps to perform the work of file saving, they won't do it, or won't do it consistently."
Recommendations from Gartner
Gartner's recommendations for organizations implementing SharePoint include identifying the tools you need from Microsoft ecosystem partners to support your digital workplace and business requirements.
On the email and document management side, Colligo is a charter member of Microsoft Content Services expert at removing the friction of metadata tagging and saving into SharePoint from Office 365 and desktop Office users.
Colligo Email Manager for Office 365
Save emails into SharePoint right from Outlook with metadata. With Colligo Email Manager for Microsoft 365, organizations can unlock content collaboration and tagging directly from Outlook into SharePoint. By bringing SharePoint right into Outlook, Colligo gives employees a path of least resistance, improving user adoption, productivity, and providing more efficient search and knowledge sharing.
Colligo Office Connect for Microsoft 365
Save documents into SharePoint right from Word, Excel, PowerPoint, and more. Employees working within Office 365 need to be able to capture, tag, and archive living business documents for collaboration and records management. They can do that with Colligo Office Connect for Microsoft 365 from a workplace desktop, or remotely from a laptop, home office, or mobile device.
To learn more about using Colligo to integrate SharePoint into Outlook and Microsoft 365 (Office 365), request a demo to get a quick product tour suited to your team.
Want to try it out?
Take a quick product tour suited to your environment and needs. We'll set up a time convenient for you.