While Ignite in 2020 was drastically different than in years past, Microsoft did not disappoint. The virtual version of Ignite 2020 was packed full of the same great product and update releases we've become accustomed to over the years.
At Colligo, we were excited to see the first formal product release out of Project Cortex: SharePoint Syntex. Further, the Teams updates as well as Microsoft Lists continues to add value to the Microsoft 365 product suite, and ultimately provides more value to the Office 365 ecosystem. We believe this provides more opportunity for Colligo's solutions to extend the content management power of Microsoft 365 in ways that encourage user adoption and add value enterprises large and small.
The takeaways were many, but the overarching theme (and Ignite's focus this year) was creating greater digital resilience and building tech intensity across every sector and geography of the world. As Microsoft CEO Satya Nadella commented, "the case for digital transformation has never been more urgent," and we agree!
Our 3 main takeaways:
1. Microsoft 365 adoption is surging
Microsoft noted that they now have over "a quarter billion" Office users, over 75 million Teams active users, and that SharePoint has seen 10x growth in the last 4 years. These numbers in isolation are remarkable, particularly the inflections in SharePoint and Teams over the last few years. However, when taking a step back, they may be even more impressive when considering the interoperability and connectedness of the Microsoft 365 suite of products through the power of the Microsoft Graph.
Microsoft shared at Ignite, SharePoint has seen 10x growth over the last 4 years
Microsoft 365 is becoming the world's productivity cloud, and with the releases at Microsoft Ignite 2020, they seem to be taking it to the next level across collaboration, employee engagement, and connecting people with knowledge and expertise, all in an integrated solution. Microsoft commented that deploying Microsoft content services can drive "seven to nine figure gains" for organizations. Combining Microsoft 365 content services with Colligo's applications and helping bridge the data silos between Outlook, SharePoint and Teams can deliver a substantial return on investment for customers, globally.
Teams was front and center at Ignite this year in light of the global shift to remote working and the feature set rolled out was highly impressive as it becomes the communication hub of the enterprise. Collaboration becomes even more essential as the world works remotely, and we think Microsoft's breadth and depth of offerings have helped contribute to its growth acceleration this year.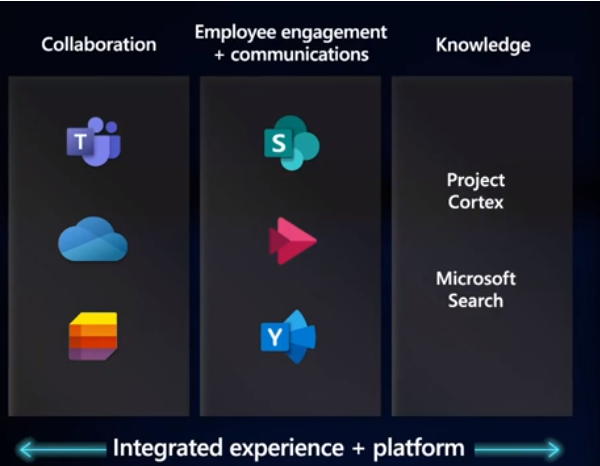 2. SharePoint has staying power
It was clear at Ignite that SharePoint is playing a larger part in the Microsoft 365 story. As highlighted, SharePoint has seen 10x growth over the last 4 years. Whether its innovations with Lists, or added features in Teams as the communication hub of the enterprise, SharePoint provides the building blocks for these solutions and continues to show off its prowess as the backbone of the enterprise.
Now, Microsoft has made SharePoint even more valuable to developer communities through the Microsoft Graph API. Microsoft also unveiled Microsoft Stream and Teams meetings recordings (both built on SharePoint) at Ignite this week. We were also excited to see Microsoft release the ability to bring your SharePoint home site and intranet content directly into Teams as well as SharePoint being equipped with global navigation.
Further, Microsoft released SharePoint Syntex at Ignite this week. This will continue to build on SharePoint, and all Microsoft 365 products, applying machine learning and teaching to convert content into knowledge (more on this below). We think this only further cements the staying power of SharePoint in Microsoft's product suite.
We were excited to see Microsoft release the ability to bring your SharePoint home site and intranet content directly into Teams.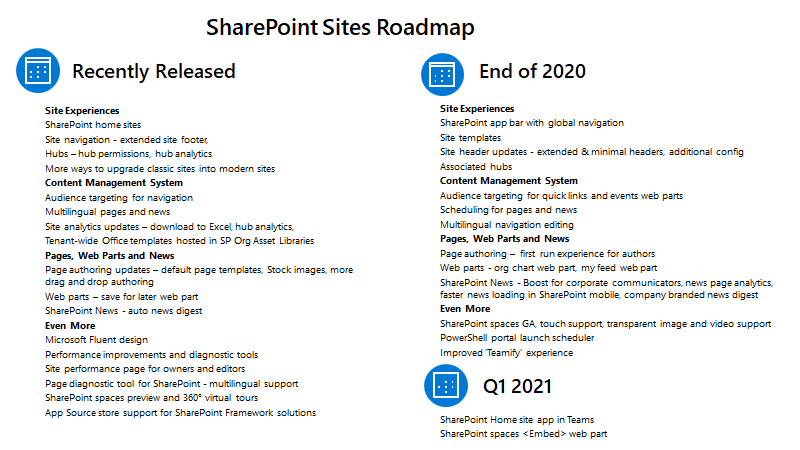 3. Metadata remains mighty important
Metadata remains central to organizational content management. It is critical for finding and managing content. This theme was pertinent throughout Ignite, particularly in the Microsoft 365 components, with solutions like Microsoft's first product release out of Project Cortex, SharePoint Syntex. Syntex has the ability to automatically extract metadata from content, and train models with as little as 5-10 PDF files. Knowledge workers spend a significant amount of time combing through content trying to find files and documents, and we think this is where efficiencies can be gained.
At Colligo, we are big believers in the importance and power of metadata as part of a content management strategy and delivering content services that work the way you do. A few years ago, managed metadata was often considered neglected. This is no longer the case, with the new commitment by Microsoft in 2019 to overhaul and modernize MMD as well as the model to publish Content Types throughout the organization, and in fact post Ignite 2020, it appears as if metadata is being thrust into the spotlight.
At Colligo, we are big believers in the importance and power of metadata as part of a content management strategy.
In our view, any automation that identifies critical data and ensures the accuracy and completeness of tagging is a valuable contribution to a total corporate metadata strategy. Colligo products complement Syntex's groundbreaking functionality with auto-extraction of key metadata from emails and facilitating metadata updates as documents flow through business process life cycles.
Other top trends from Microsoft Ignite 2020:
Resurgence of the PC: Over the last several months as the world has shifted to working remote, it's been incredible to see the importance of the PC come back into focus. Mobile has been the dominant theme for many years now that the importance of both the office and home desktop or laptop had been all but lost. With the future of work looking like a hybrid or fusion between the office and home, Microsoft commented that "there's no question that the PC has become mission-critical during this pandemic, across work, school, and life to sustain productivity in a remote everything world". This is a remarkable resurgence in the PC and a reason we continue to believe in the power of building applications for both the desktop and mobile device.
Caring for frontline and knowledge workers: With the future of work highly uncertain, document and content sprawl running rampant, and workers feeling isolated, Microsoft has also made customer wellness and sustainability a core theme this year to help combat the downsides of remote working. Whether its through finding new formats for Teams meetings, or partnering with the team at Headspace and creating virtual commutes, we are proud to work with Microsoft as a partner who values its customers and users at such a deep level. At the end of the day, both Microsoft and Colligo aim to solve real business problems and add productivity to customers, all of which make their lives and jobs easier.
Some playtime remains essential. And of course, we couldn't forget to mention the release of the 2020 version of Flight Simulator! Amazing work by the team at Microsoft and Azure.
Want to harness the power of Microsoft 365 for your organization? Collligo can help.

With Microsoft 365 adoption on the upswing, organizations need to identify how to get their employees best utilizing new tools for content management and collaboration. The opportunities ahead make us excited about our own roadmap and the continued alignment with Microsoft.
Whether it's capturing emails to SharePoint and adding metadata to Microsoft 365 files for discovery, retention or compliance purposes, or bringing SharePoint into Outlook to make workflows more productive and efficient through collaboration, Colligo can help your organization improve productivity and support the modern digital workforce. Get in touch to find out more.
Make information management easy for workers
Help workers in Outlook capture files into SharePoint so it's simple to search, share and collaborate. Our tools user favorites and take minutes to deploy.
Request a Trial