Last Updated on May 15, 2023 by Sarah Gayda
Research identifies common Microsoft 365 challenges – and we offer solutions
What's the biggest challenge with Microsoft 365 implementations these days? According to Colligo research, it's a perfect three-way tie between: 1. content sprawl, 2. lack of governance controls, and 3. lack of metadata and labelling.
While a few of our recent poll respondents cited a lack of buy-in or adoption and a lack of integration with Outlook, a whopping 87% selected one of the three information-governance-related options.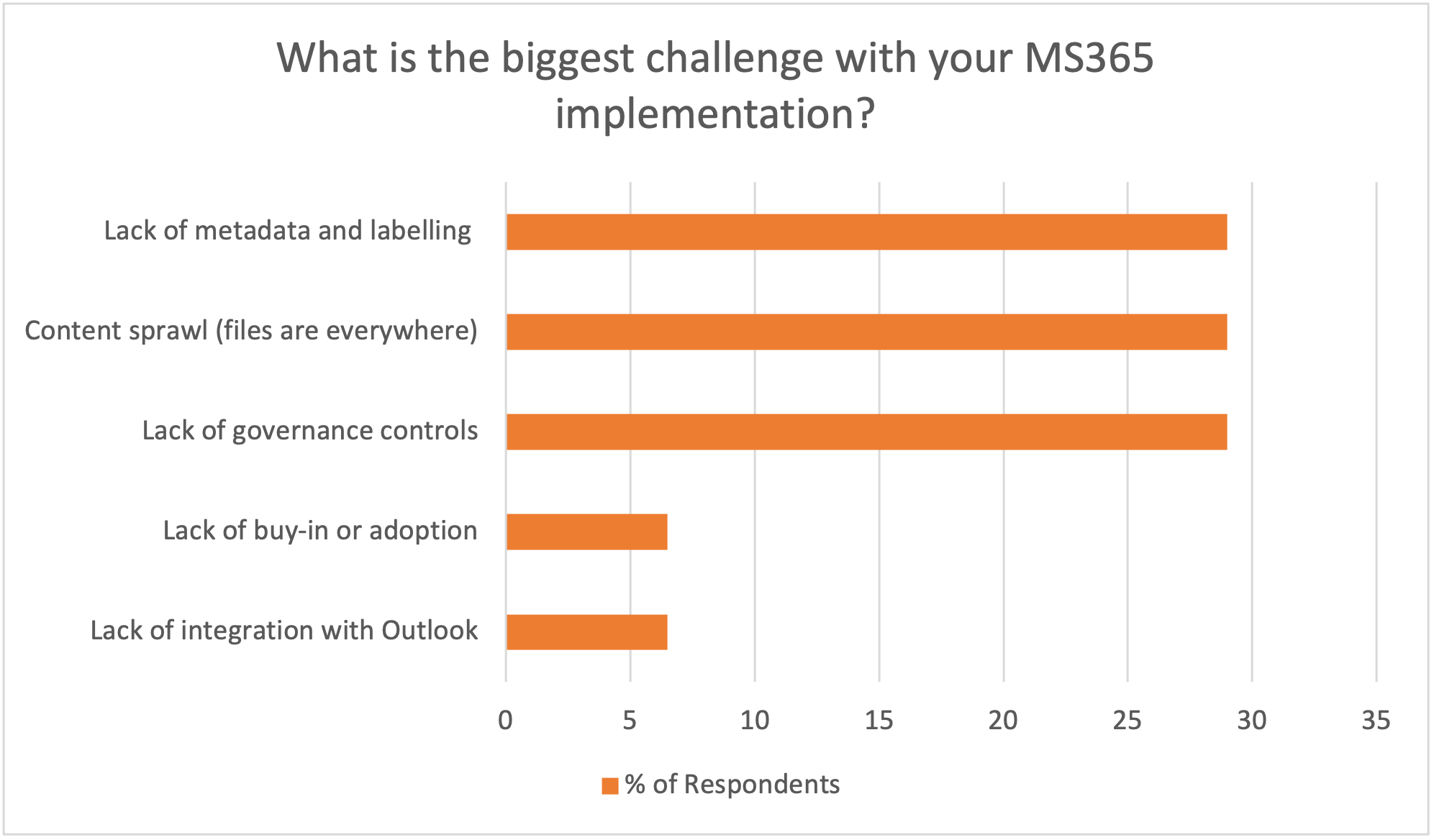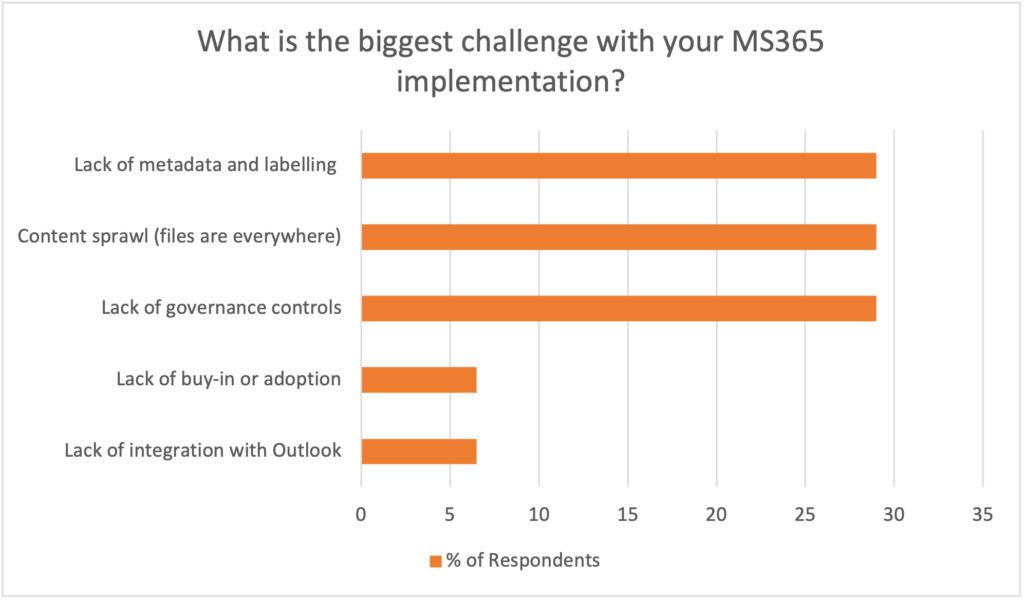 Our poll data falls in line with what we commonly hear from our customers. Things like:
"We have too many similar TEAMS and folders that we are losing track where key documents are being stored."
"Our team is storing documents all over the place."
"Search is broken! "
Colligo's customer feedback and poll results closely correlate with leading industry research. The most problematic aspect of Microsoft 365 is "Records are everywhere – information volume and variety expanding too quickly," according to 42% of respondents of a 2020 AIIM survey. With adoption of Microsoft Teams growing at a rapid pace to over 145mm+ daily active users, information and team site sprawl has ballooned. The ramifications of rampant data fragmentation could be devastating if not addressed, according to 87% of IT admins surveyed in a recent Cohesity report.
Given the pervasiveness of the problems, it's no surprise that our poll participants had clear immediate priorities when it comes to SharePoint and Teams. 51% of respondents want to improve governance and compliance controls in their organizations, while 33% intend to consolidate and standardize organizational content.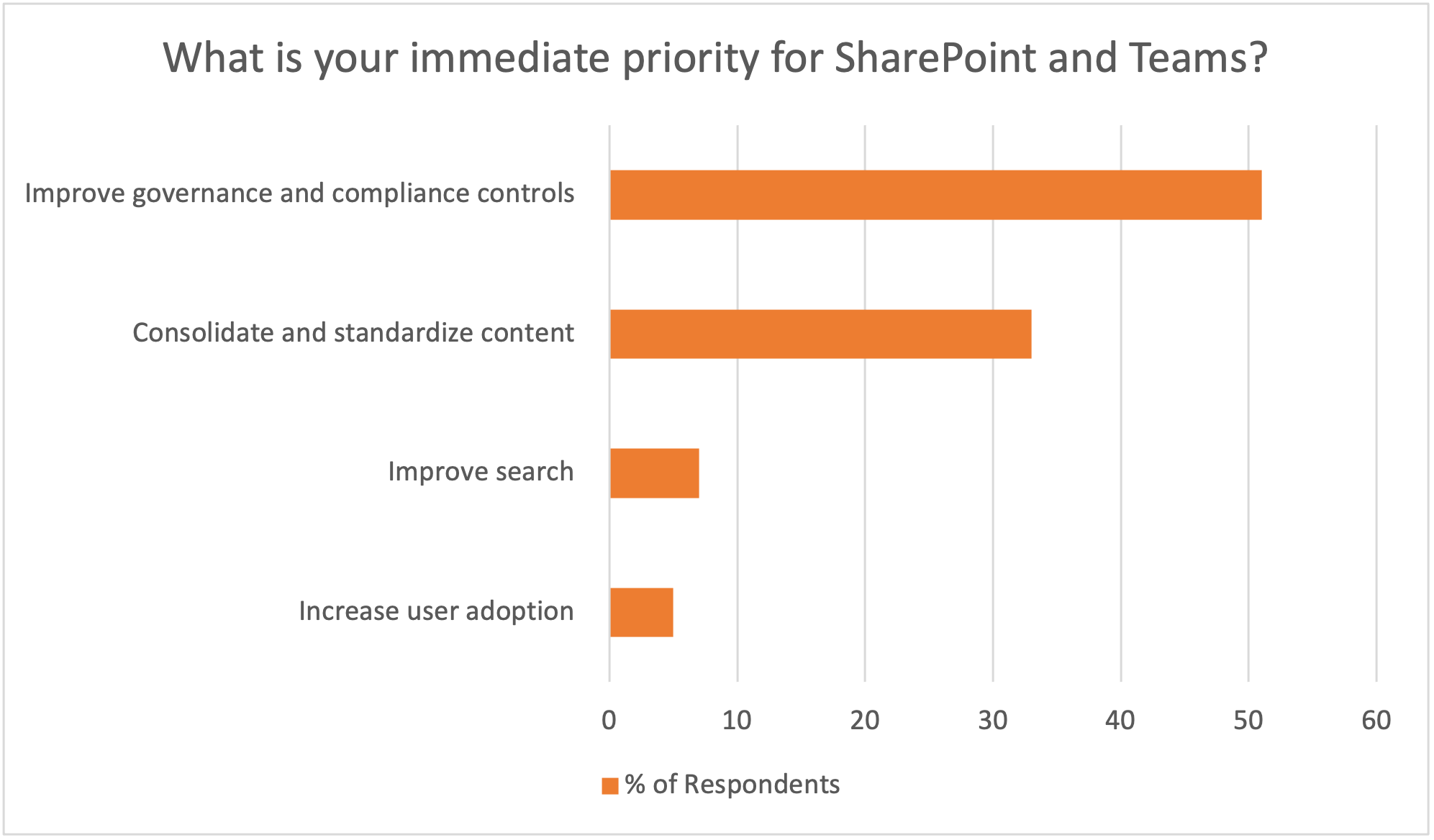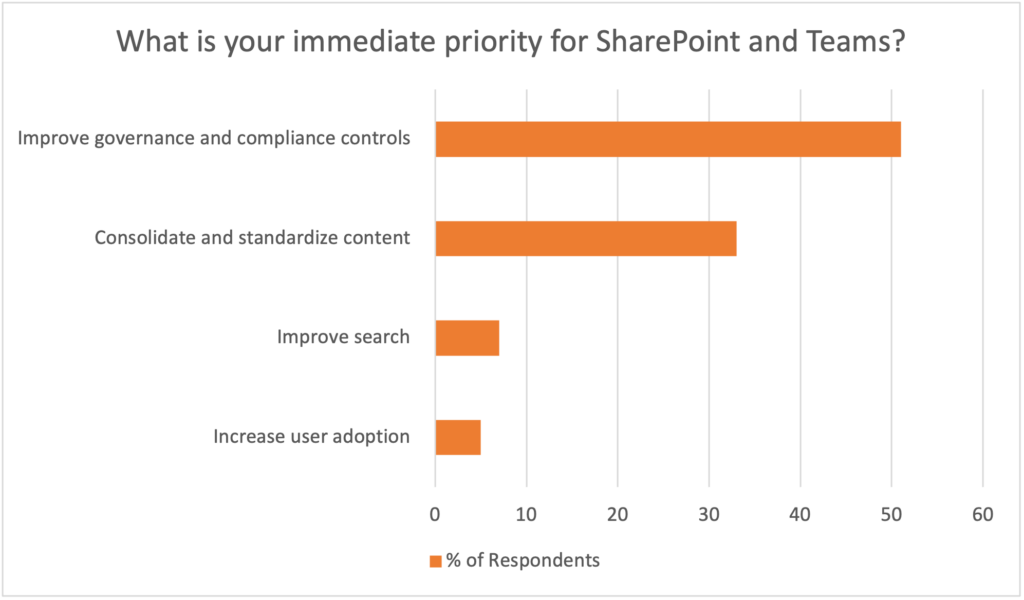 But if the problems and priorities are so well defined, are the solutions to rectifying these challenges equally clear? That was the focus of our recent webinar: How to Remediate Rushed SharePoint Online Implementations (and Get Compliant). We outlined some immediate and critical steps you can take right now to fix your SharePoint Online implementation to improve your organization's governance and compliance.
Our number one suggestion: start somewhere and start now
Often our customers tell us that the thought of cleaning up, tagging, and properly filing mounds of records and data is too overwhelming. And this often prevents them from doing anything at all. We recommend breaking the task down into smaller stages. A manageable place to begin is properly tagging and labelling content moving forward as it enters your organization. That way your users learn new habits and processes, and your newly created content is discoverable. We call this "stopping the bleeding." Once you have an improved information capture system in place, the task of cleaning up past records is a lot less daunting – especially in manageable chunks.
What else do we recommend for remediating your SharePoint Online implementation? Our top five quick wins
Plan and implement the information architecture / taxonomy​
Leverage metadata tagging, train your team on search and filtering​
Remove or reduce reliance on folders​
Consolidate related files across multiple Teams sites​
Govern Teams and SharePoint site creation
We add more colour and detail to these five steps, plus practical implementation advice that you can find in the free recorded version of our webinar.
Also, our Colligo add-ins for Microsoft 365 deliver quick wins by making it easy to save and add metadata to SharePoint files right inside your favourite apps: Outlook, Teams, Word, Excel, and PowerPoint – while at the same time significantly improving your organization's governance and compliance. You can see for yourself with a free trial of any of our Office add-ins.
As always, if you need help or advice about how to better your SharePoint Online implementation or would like more information on Colligo products, please get in touch.