Last Updated on June 9, 2023 by Sarah Gayda
Colligo's

cloud-based

Email Manager

'

add-in

'

rounds out

M365
"Bump, ouch." That's the sound of you coming back down to reality now that the panic of the world 'working from home' is maturing into a long–term future. 
Do we all go back to an office? Do we continue home working? Is it a hybrid? I don't think anyone clearly knows the answer. But one thing for sure is some of the IT changes we made (Yes, I am one of you, too) will not be rolled back. 
The reason many of us have been able to convert to working at home so swiftly and efficiently is not just due to our IT skills, but to the Microsoft 365 solution and its existing stable and proven cloud–scalable features. 
Microsoft scaled in epic proportions to handle the demand of customers who were thinking about moving to O365, but never quite got there, or those who had never even considered it, but suddenly got a swift 'kick up the arse' (as we say in the UK) from their management with simple demands like, "You better keep my business running," and " If my users can't work, it's on you." (Yes, these are real anecdotes from the hard–working people on the ground like yourselves that I have spoken with since the disruption.) 
Plug-ins versus add-ins
The beauty of this new Microsoft paradigm for 'plug–ins' in the cloud world is that they are no longer plug-ins. They are 'add-ins'. Subtle difference in naming, but a much larger difference in the way it technically works; it boils down to this: in the old world, plug-ins needed to be installed with an exe or msi installer on each end users' machine. You needed to visit the machine to fix issues and sometimes upgrade to new versions. Outlook could have conflicts with other plug–ins or could randomly object to plug-ins and memory usage and slow down or even stop working.
Microsoft seems to squeeze the resources available to these dated 'installed' plug-ins every time there is a new Outlook release, which is often! I take this as a clear indication from Microsoft that these legacy plug-ins are not part of the longer-term future. 
If you're a part of the masses this year that have moved to the cloud (Microsoft 365), then you'll appreciate the benefits of a true add-in to extend the value of the Microsoft 365 suite. ShareGate recently published a report highlighting a 37% increase in the number of operations to migrate from on-premises to the cloud (SharePoint Online / MIcrosoft 365) year-over-year in 2020.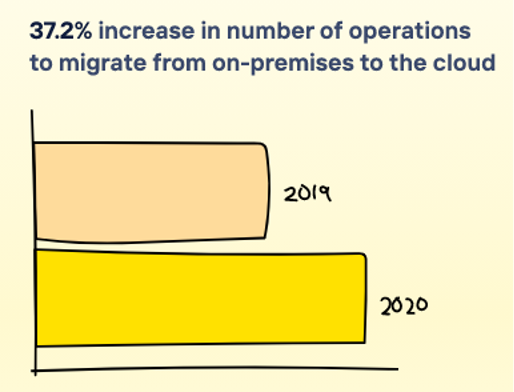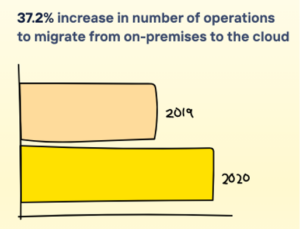 Colligo
Email Manager
'add-in'
fills
gaps
in Microsoft 365
Colligo has been developing a native Microsoft 365 email solution for some time now. The add-in fills significant gaps that exist when moving emails between Outlook and SharePoint. Here's what you need to know about the add-in to assess whether it's time to move over: 
Secure & cloud-based
All your worries are gone with the new–style Colligo add-in. It is now a cloud–based resource running securely in Microsoft Azure (which you already trust with your email and data as it's based on the same Microsoft services, APIs, permissions, and access restrictions that all other M365 apps use).  
The Colligo Email Manager add-in is running next to the M365 services users access, including email and SharePoint/Teams, so there's no data journey over the public internet to your machine and back again when you save things. But to your end users, it still looks like it's running on their machine. For IT, there are no headaches or worries related to installation, management, crashing, or upgrading. 
Available
anywhere
on Outlook
The new Colligo add-in works anywhere Outlook works. In the web browser, on the desktop client for Windows and Mac, even on mobile devices. Nothing needs to be installed. It's enabled for a user account and shows wherever they work. 
3-click filing
Colligo has optimized the saving process. Filing is down to three clicks! Open the plug–in, click the cloud next to one of your previously pinned or automatically remembered locations, and then confirm. Job Done! Legal case data, evidence, and contracts saved, tagged, and stored in seconds — including multiple related items all in one go if you choose. 
All the work is done in the background, so users (and the Outlook application) are free to continue working if they want. No longer an excuse for a coffee… sorry! 
Auto-metadata extraction
and mapping
One convenient button shows inside Outlook, which allows users to send emails and files directly to SharePoint, Teams, and OneDrive locations you are using for your collaboration or record storage. But the file doesn't just drop the file into a black hole. Colligo automatically extracts metadata from the email and applies it to the email or file where it now lives in your new O365 world. Metadata/Properties/Columns (terms for the extra information that follows your files around) are just like 'tags' that make searching, filtering, sorting, and ultimately finding your files much easier in the future. 
If you are new to this metadata thing, or if you have been using older Colligo products, then we support the same list of around 20 fields that can be auto extracted from the email and populated in SharePoint without your users needing to think about it. That big bucket of files suddenly becomes more useful! 
Metadata at the point of saving
You could rely on scripting, expensive AI, or after the event rules to work out if your data is important or not. Our customers like the confidence of knowing their data is in the correct location, tagged with the correct metadata, and labelled correctly at the point of ingress. What does this mean? Final contracts can be marked as such when they are uploaded, HR records can be protected immediately, evidence can be labelled as such, and SharePoint retention and protection features will kick in as soon as users load these items. With most data and unstructured documents, the user is best placed to decide on the appropriate label and tag for the record. 
Designed for
s
implicity
Colligo recognizes that if you make a tool too complex, or you implement too many decisions or click points for users, then ultimately users won't use the tool (no matter how great the tool might seem great to a technical person). Keep it simple, keep it to the point; Colligo just works, with a few clicks and no end user training. 
In addition to sending emails from your inbox, Email Manger allow you to file multiple items at a time from your sent mailbox, work in shared mailboxes with team members, and attach links from SharePoint, Teams, and OneDrive when you compose a new email to internal users, preventing data duplication.  
Colligo is a tightly integrated tool that makes using M365 easier for file storage, records management, and shared work. If you'd like to give it a try, reach out to your account manager, or get in touch with our sales team.