Record Management is Hot and Getting Hotter in DC
A quick scan of the national headlines on any given day will reveal how much current scrutiny there is over record keeping practices within the US Federal Government. This may seem unusual, but this is more than just a temporary tempest that will soon pass. It could also be a bellwether sign of growing scrutiny in other countries and jurisdictions.
Here are three forces that all Federal government agency Records Managers should be aware of:
1. The 2019 deadline for compliance with the Managing Government Records Directive (M-12-18)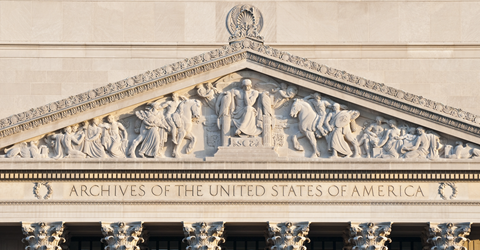 The topic of records management, especially email management, has been top-of-mind for Federal Agency heads since the 2011 issuance of Executive Order 13589 [1]. In this order, the President of the United States addressed "Promoting Efficient (Government) Spending," and cited cost-savings: "to promote further efficiencies in IT, agencies should consider the implementation of appropriate agency-wide IT solutions that consolidate activities such as desktop services, email, and collaboration tools." Shortly on the heels of the order, the President issued a memorandum, Managing Government Records (M-12-18) [2].
The order, sent to all heads of executive departments and agencies of the United States, called out new responsibilities and priorities regarding records management:
Reform records management policies and practices;
Modernize records management, including the automated electronic handling of email records; and
Reduce spending and focus on mission critical functions (from Executive Order 13589 of November 9, 2011 – Promoting Efficient Spending).
It could be said that Memorandum M-12-18 itself has gone on to become the backbone of Records Management within the Federal Government as it was later added in its entirety to the United States Code, 44 USC 3101: Records management by agency heads; general duties [3]. On November 26th, 2014, the President signed into law H.R. 1233, the Presidential and Federal Records Act Amendments of 2014.
With the direction clear, it is now up to agencies to ensure they are in compliance with the Directive. And last year, the urgency of proving this was increased by The National Archives and Records Administration's (NARA's) declaration that beginning in 2019, agencies will be audited for compliance [4]. Currently, most agencies don't have a fully automated end-to-end electronic records management solution in place, nor is there money allocated to procure and implement these solutions.
With an unfunded budget, getting compliant in time will be tricky. Tackling the budget and negotiating for funding is new territory for a lot of records & information (RIM) personnel. One positive angle could be focusing on the cost-savings associated with the shift away from maintaining paper records, including those associated with maintaining a large physical storage space and the time it takes to retrieve records when responding to FOIA requests. Both of these are greatly reduced with electronic records management.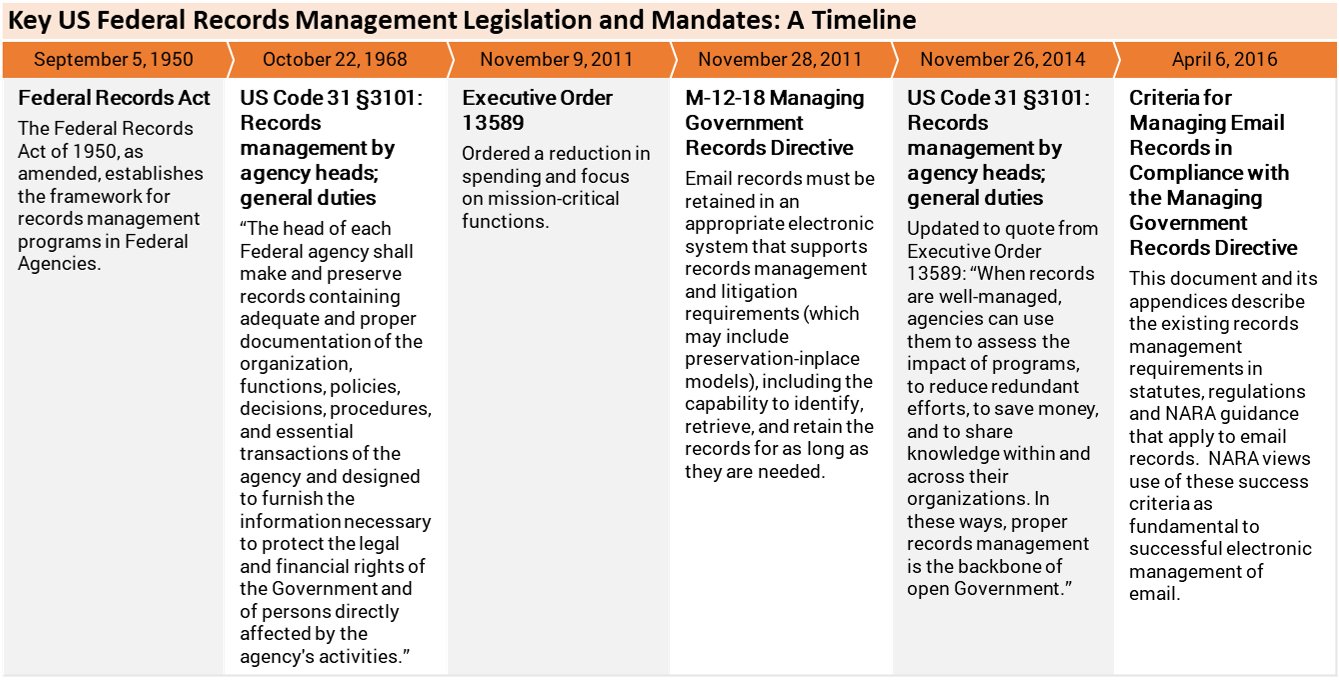 2. Email records management is under Congress' microscope
A letter addressed to the Secretary of State by Congress in September 2017, deepened the significance of emails as a record. The writers, speaking for their constituents stated, "Congress passed the Federal Records Act of 1950 to provide the framework for records management for federal government agencies. Many emails from federal employees are considered records under the Act and therefore subject to certain recordkeeping requirements. This Committee [Oversight and Government Reform] has legislative jurisdiction over the Federal Records Act, as well as the Presidential Records Act and Freedom of Information Act. As technology has changed and the use of email and other modem forms of electronic communication have become ubiquitous, the Committee has been active in updating portions of these laws. These updates include the Presidential and Federal Records Act Amendments of 2014 and the FOIA Improvement Act of 2016.2 [5]."
Today, the subject of Federal government email management has become the topic of mainstream news. Headlines about cases of Congressional and Special Committee hearing are producing an abundance of evidence through email records alone. Clearly, it is realized by citizens today "technology has changed and the use of email." Indeed, it has changed and the importance of email as a record cannot be clearer. As M-12-18 noted, the need continues to 1) Reform records management policies and practices and 2) Modernize records management.
Federal Agencies must have records management controls built into electronic information systems, services, and applications in combination with appropriate policies and procedures to ensure that records:
Maintain their content, context, and structure;
Can be associated with their creators and agency;
Accurately represent the transactions, facts, or information they document;
Are protected against unauthorized alteration, deletion, or use; and
Can be located, retrieved, presented, and interpreted for business use until the NARA-approved retention period is met and disposition can be executed.
Agencies should continually evaluate and monitor their programs' management of email for compliance with all records management requirements.
The Chairman of the US House Committee on Oversite and Government Reform made a notable statement in 2016 when he reflected on the Federal government's role in managing records: "We do this differently than most countries. We do preserve records and we do allow public to access this information this information because they paid for it, it's their government [6]."
His words echo memorandum M-12-18 when the President, with keen insight, declared "the key" to Federal records management and the backbone of open Government: well-managed records. "When records are well-managed, agencies can use them to assess the impact of programs, to reduce redundant efforts, to save money, and to share knowledge within and across their organizations. In these ways, proper records management is the backbone of open Government."
3. NARA's move to accept only digital records by 2022
There's a second deadline pending that is driving forward the fundamental transformation of records management practices away from paper and towards digital systems. In their Draft FY 2018-FY 2022 Strategic Plan, NARA themselves has clearly stated their own objective to fully embrace digital records, including digitizing over 500 million pages of existing paper records and implementing policies and processes that support Federal agencies' transition to fully electronic record keeping. And as NARA goes, so go the agencies. The strategic plan also states that, "by December 31, 2022, NARA will, to the fullest extent possible, no longer accept transfers of permanent or temporary records in analog formats and will accept records only in electronic format and with appropriate metadata [7]."
With a majority of Federal agencies still maintaining at least some paper records, this deadline places a clear timeframe on when these records management practices will need to be replaced by full electronic methods. This poses some serious questions for US Government records managers including: how will electronic records classification work? What should we do with our existing paper records? And what does a realistic rollout schedule look like? (We addressed all three of these with a focus on leveraging existing SharePoint investments in our post on "Getting Started with Records Management in SharePoint: Three Questions to Consider.")
Closing Thoughts
NEOSTEK and Colligo work together to provide end-to-end records management solutions for government agencies, including helping one US Federal agency save over $4 million in annualized costs by moving to electronic management of email records leveraging existing investments in SharePoint. We'd be happy to have a short call to see if our experts can help you in scoping out your own strategy to deal with the forces we've discussed above. Contact us for a no-obligation discussion.
Sources
[1] White House Archives. Retrieved January 22, 2018.
[2] White House Archives. Retrieved January 22, 2018.
[3] United States Code Archives. Retrieved January 22, 2018.
[4] Draft National Archives Strategic Plan. Retrieved January 29, 2018.
[5] Gowdy, T., & Cummings, E. E. (2017, September 25). Congress of the United State House of Representatives [Letter to The Honorable Rex W. Tillerson Secretary U.S. Department of State].
[6] Oversight of the State Department. Retrieved January 22, 2018.
[7] National Archives. Retrieved January 25, 2018.
Simplify Office 365 Records Management
Easily save emails and share content between O365 and SharePoint.