Last week was very exciting for all SharePoint enthusiasts with the return of the official Microsoft SharePoint Conference. Microsoft announced that it will continue its support for SharePoint Conference North America every year, combining the SharePoint Virtual Conference with SharePoint Conference North America.
While the conference bears the SharePoint name, it covers a wide range of Office 365 workloads and integrations with SharePoint at various levels. You probably know that the SharePoint framework is the backbone for most of Office 365 workloads for content management.
Microsoft continues its investment in SharePoint content management and collaboration with a lot of new feature and functionality announcements during this conference. Here are three announcements in the space of Content Management and Collaboration that grabbed our attention:
Insights and analytics based on list data
We suggest making SharePoint the central place to store all your content, documents and lists. With PowerBI integrated into the list view which is coming soon to SharePoint "modern" lists, users will be able to gather and visualize valuable intelligence from their existing data. The screenshot below shows a simple list containing project information. Right next to it is a panel where PowerBI generates in-place insights and analytics. The behavior here is similar to how PowerPoint suggests graph and layout options based on what you have in your slide.
This relatively simple Insights panel doesn't replace full reports and PowerBI dashboards. Instead, it provides quick summary of things you otherwise might have had to create a report or export to Excel. The value also extends to applications built in SharePoint utilizing lists as the data source. With this new capability, such applications deliver simple insights and analytics capability right out-of-the-box without any development.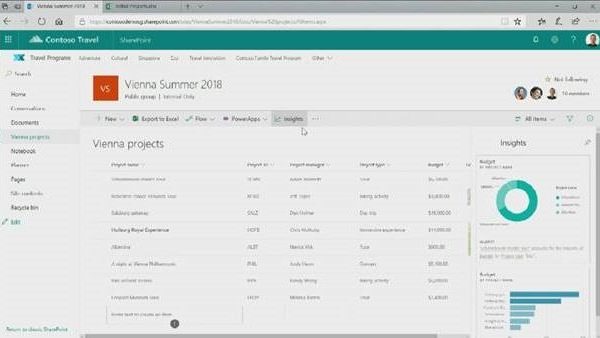 Enhanced SharePoint search
If you store your content in SharePoint, you will be able to find it via search. Microsoft has now introduced the ability to search within images—text from those images is parsed automatically so that users can search scanned documents without have to OCR them first. This enhances knowledge management capabilities, reducing the number of clicks users have to make to find the information they care about. So whether you have images or documents, just file them in SharePoint to take advantage of this powerful yet simplified search experience. Few of the most common scenarios this feature could be used is in applications automating expense reports and document management.
Microsoft also introduced its upcoming feature that will enable integration of other sources into Office 365 search which will make it more transparent for users to search content located elsewhere.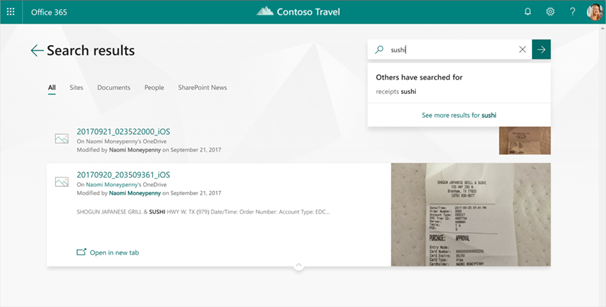 Adding SharePoint Web Parts as Teams tabs
Microsoft Teams being a full citizen of Office 365 means that a lot more integrations are coming it's way. One of the highlights is the ability to add SharePoint WebParts as tabs in Teams. This means that rich capabilities that are available in SharePoint for Web Parts, such as document libraries, can now be rendered with the same capabilities in Teams. If your organization builds custom Web Parts, they too can be embedded into Teams. An example where this capability can be used is to represent structured knowledge including sources from other systems within Teams. This enhancement will make Teams a more attractive starting point for many organizations without significant retooling.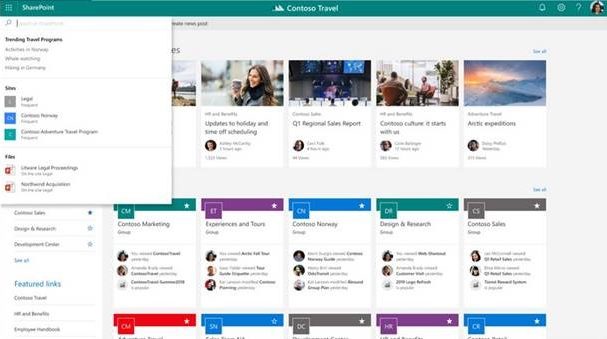 More news from SharePoint Conference North America 2018