Ovivo Worldwide experts in water treatment
Ovivo Uses Colligo Email Manager to Capture Multimillion-dollar Knowledge to Profitably Manage Projects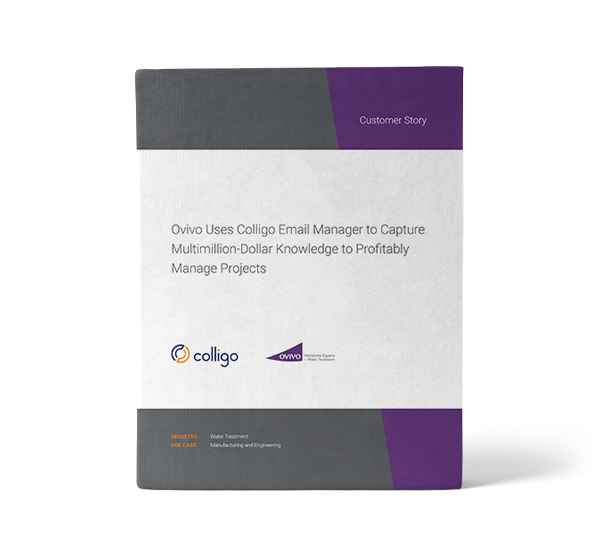 For any business running multimillion-dollar global projects, profitability depends on having mastery of project knowledge, including the thousands of legacy discussions and decisions related to estimating, managing, billing and executing projects in a way that can be legally defended to the letter of the contract. Ovivo's water treatment business is based on executing large-scale global projects, some spanning more than five years, involving globally teams distributed of employees, partners and contractors. Thousands of documents and many more emails are produced containing critical information for project decisions, billing and defending contracts.
Ovivo recently adopted Microsoft SharePoint as a foundation for centralized knowledge management. While SharePoint is in place, employees spend most of their time in Outlook and the old habit of saving emails and attached critical information to personal Outlook folders was inhibiting preserving project knowledge, accurately estimating future projects, recovering costs, and legally proving contract obligations were met long after a project was completed. This case study is an account of how Colligo Email Manager enabled project teams to continue to work in Outlook but save and classify critical knowledge to SharePoint without any extra effort.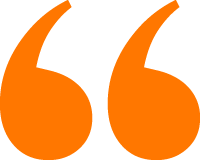 "The two are inseparable in employees' minds and the support Ovivo has received from Colligo has enabled us to learn as we go, evolving Colligo's functionality to fit the needs of individual teams to create flexible systems that work for the project team, not Ovivo's IT department."
The only department using SharePoint for email management prior to implementing Colligo was Ovivo's legal team. For the rest of the company, using SharePoint to save emails related to projects was considered too time consuming and so, teams used a mixture of public folders in Outlook and folders in the company's C drive to store archived emails.
Ovivo recognized the importance of coming up with a solution that was simple for employees, and there was urgency to evolve from saving emails randomly in local folders for a number of reasons:
Knowledge transfer was at risk as project teams shifted. Ovivo projects commonly last five years or longer. Over that period, project teams often expand and change. With each departing member, Ovivo must mine through the siloed project emails on the individuals' local drive, spending hours manually hunting for critical project knowledge, knowing there is risk that valuable items will be overlooked.
Incomplete project information was being stored in a scattered way. With the majority of teams and projects using traditional folders, emails and attachments became increasingly difficult to find. As time passed and thousands of emails accumulated, searching shared folders became increasingly difficult.
Emails not classified or tagged for later lookup. By maintaining emails in PST files, without any method of classification meaningful across the team, searching for project details was time consuming, and often critical data could not be found sometimes inhibiting planning, estimating and billing. No additional metadata was captured to facilitated later search.
Legal discovery was time consuming and error-prone. In the event of a lawsuit or arbitration, Ovivo would need to copy the archived PST files from a legacy employee onto an external drive, connect the drive to the Outlook account of an existing user, let the files index for several days, and then query from a single computer to save emails in folders associated with each claim topic, manually changing the file name to something more relevant. This process could cost hundreds of thousands of dollars in contractor fees and employee hours.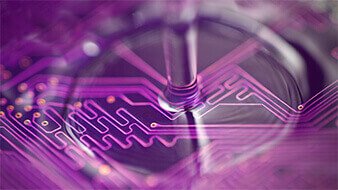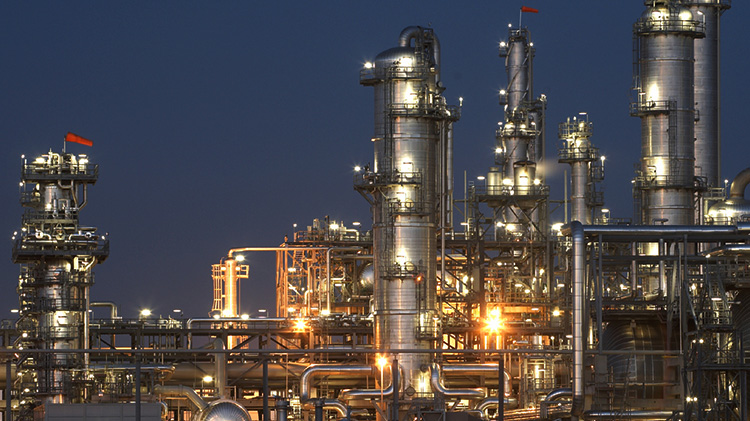 Ovivo relies on SharePoint for knowledge and records management, but needed to streamline access to simplify capture of complete project information. Employees were used to working from Outlook, they needed a way to continue to work productively from their inbox. With Colligo chosen, implementation and training were then led by project teams. Each department creates simple on and offline libraries in SharePoint structured to logically, consistently store critical information and Colligo makes doing so easy from Outlook. Employee champions then share how it works with others, and the ease of use is bringing project teams deeper into SharePoint.
Simplified project knowledge capture. By integrating SharePoint folder access directly into Outlook using Colligo Email Manager, employees are able to save emails and attachments directly to SharePoint from their Outlook inboxes. In just a couple of clicks, employees save a project-related emails and attachments to the relevant library in SharePoint, with Colligo automatically storing key fields like subject, sender and date as metadata.
Faster search and sharing capabilities. Anyone on a project team can now rapidly search for, find and share secure links to valuable emails and attachments as they are captured and tagged with useful metadata. The time savings and complete information access informs profitable project management, and ensures everyone is working from complete and current information.
Mobile and offline access to email records. Even Ovivo employees working in locations with low bandwidth use Colligo Email Manager to save and classify emails to offline SharePoint libraries. Colligo's complete platform means that Ovivo's employee can access SharePoint from Outlook on premise, on mobile devices and in via Office 365 if Ovivo shifts there in future.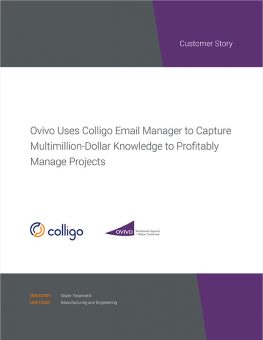 How Colligo helped a global manufacturing and engineering firm capture multimillion-dollar project knowledge
Download the full case study.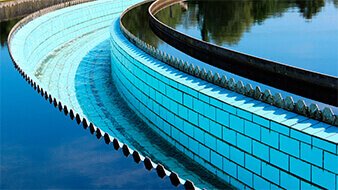 Colligo has now been in use for over a year on most of Ovivo's larger projects to save emails, attachments and documents to SharePoint. Achieving a full transition to SharePoint across the entire company is still a few years off, but already Ovivo has seen valuable impact including recouping hundreds of thousands in costs on a delayed project, saving thousands on legal discovery, and shifting team behaviour towards routinely capturing and protecting project knowledge.
Learn about Colligo's cloud suite