SharePoint, don't slow me down.
If users were asked to get t-shirts made to express their affection for SharePoint that might be the clean slogan on the front.
As enterprise controls over content have become more complex, it has become increasingly difficult for many employees to communicate and collaborate they way they want, without adding precious time to their day.
Hampering productivity is not the intent of knowledge management and data compliance initiatives, but many organizations confess they gave too little attention to user behavior in how SharePoint has been rolled out and supported. As AIIM pointed out in its recent Impact of SharePoint report, "User adoption has been and continues to be something of an issue for 58 percent of our respondents."
Businesses that have tried an inflexible approach have seen where it can lead: employees turn to unsupported, non-compliant, and potentially risky applications and services. Adoption of SharePoint and other centrally managed solutions is impacted. Then complicated systems become more complicated.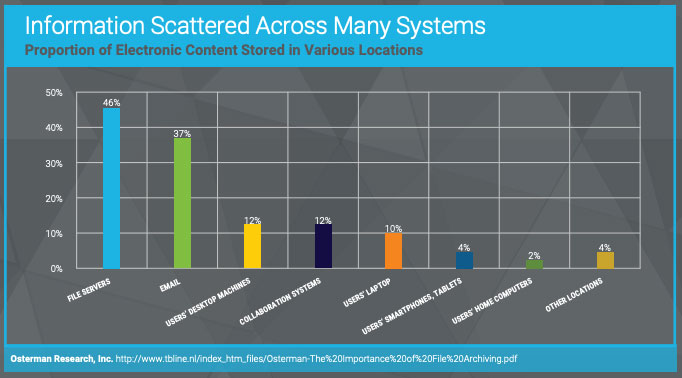 SharePoint usage – respect mobility, collaboration, compliance
When we talk with organizations that we serve, there is no single way that their users seek to access SharePoint. Some are highly mobile, want easy access from Office 365 and Outlook on the go, others want the power and user-richness of on-premises Outlook and Office programs. Employees in legal and finance care deeply about classifying, labeling and managing retention of key documents to maintain data compliance as they work.
It's not only organizations using SharePoint that have grown wise about the complex needs of workers, so has Microsoft. Office 365, Teams, and openness to add-ins demonstrate Microsoft's clear and collaborative future vision of work. That vision is being rolled out in tandem with ADG, and guidance on record labeling and data loss prevention.
Reality check – what do people seek from SharePoint for productivity
In the research we've conducted with Microsoft MVP Christian Buckley, the data shows that people want the ability to work from anywhere with common UX elements on every device, and from inside the email or Office programs they are using.
The most common requests we hear when IT and business leaders come to talk with Colligo are, "I'm looking for a solution that can help me…":
Save emails direct to SharePoint from Outlook
Save multi attachments direct to SharePoint from Outlook / O365
Drag/drop emails directly to SharePoint from Outlook
Sync content between our SharePoint document libraries
Save files from Office – Word, PPT, Excel direct to SharePoint without leaving the apps
That's a pretty fair expression of how workers want to work, and those principles guide many of our solutions.
Colligo Email Manager / Email Manager for Office 365
Seamlessly connect Microsoft Outlook to SharePoint to improve records and email management, while improving productivity.
Save emails to SharePoint directly from Outlook & Outlook in O365
Add labels and retention data upon save for seamless knowledge management
Keep SharePoint libraries in sync, even while mobile
Colligo Document Manager for Office 365
Connect Microsoft Office and SharePoint to help teams access content and collaborate faster.
Search for and save Excel, Word and PowerPoint filed directly to SharePoint right from Office 365
Add labels and retention data upon save for seamless knowledge management
Share document links on-the-go, from any device
Colligo helps organizations worldwide to optimize how Microsoft Outlook and Office applications connect with SharePoint including in Office 365. We make it easier for users to find information, work productively and collaborate faster while advancing knowledge management and compliance.