"Colligo was the missing link in providing an end-to-end electronic records and information management solution. Colligo solves the problem of classifying and properly managing case-based emails. Their solution got the job done and was easily adopted by the end users."
Amina Elgouacem, CEO, NEOSTEK – lead consultants on the US Federal Government Agency project
US government agencies have been challenged in the governance of email records since the issuance of the Managing Government Records Directive, M-12-18 addressing the heads of all executive departments, agencies, and independent agencies. The overarching message of the directive emphasizes the government's objective of "Improving records management [to] improve performance and promote openness and accountability by better documenting agency actions and decisions.
For one US Federal Government Agency, difficulty responding in a timely way to FOIA (Freedom of Information Act) requests prompted a change in how they approached email management. Working with award-winning Information Management and IT consulting firm, NEOSTEK, Colligo email manager was used to provide economical and email record management using SharePoint.
Summary
---
Challenge
Storing email in records in Outlook PST files was error prone and inefficient when responding to FOIA requests.
Needed to comply with all federal guidelines, including Presidential Memoranda, US Code, Federal Records Act and other Agency specific guidance.
Solution
Enabled much faster search by storing all records (email and other file types) in SharePoint and tagging each record with rich metadata.
Simplified record capture by integrating SharePoint folder access directly into the Outlook application.
Results
Reduced time to respond to complex FOIA requests from 160 hours to 1 hour—a savings of almost $24,000 per request.
Achieved 100% user adoption of the new process.
Became compliant with Federal RIM Program Maturity Model and the Universal Electronic Records Management Requirements.
How Colligo and NEOSTEK helped a US Federal Agency become NARA compliant and reduce FOIA costs
Download the full case study.
Download PDF Version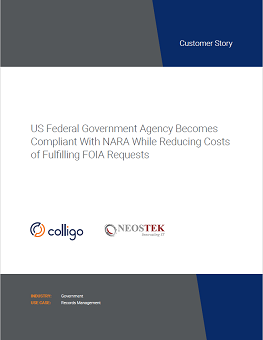 Other recommended case studies in Microsoft Outlook email management: