We needed a solution that would ensure our field workers have the latest content – even when in remote areas where there is no connectivity. Colligo is fast, easy to work with, and content is available offline. Importantly, it is allowing our technicians to work more safely."
Mike Wright, Business Systems Analyst
Northpower is one of New Zealand's largest multi-utility contractors, with a reputation for safety, excellence and innovation. It is imperative that Northpower's field service technicians have the most current versions of documents such as standards, drawings, procedures and best practices for working on a variety of electricity networks around the North Island but since technicians work in very remote locations, they frequently do not have Internet connectivity.
Northpower was seeking a way to improve field worker safety and productivity through providing fast iPad access to content with a solution that works offline.
With Colligo mobile content management Northpower field workers now have access to company and customer specific documentation on their iPads. Colligo automatically syncs to SharePoint when the user connects to Northpower's corporate wireless network to ensure that workers always have access to the latest content, even when offline. Northpower also uses Colligo for centralized configuration and management. This is a key component in managing who has access to certain information, while also enabling devices to contain content for the specific customers they are working for.
Air Transat's IT Solutions team centrally controls the distribution of electronic documents and forms using Colligo, and reviews activity dashboards to track usage metrics. Beyond providing ease in information management, Colligo has also been critical for Air Transat data compliance.
Deploying Colligo has enabled Air Transat to more efficiently meet regulatory requirements. To comply, we're mandated to maintain current manuals aboard each aircraft. Air Transat gained regulatory approval to replace print manuals with electronic versions on tablets with Colligo. Distribution across tablets is instantaneous. It's also easier to search through electronic manuals – crew no longer need to 'flip' to the right pages.
Brigitte Cloutier, Senior Business Analyst at Air Transat
How Colligo distributed critical documents to Northpower remote, offline field technicians
Download the full case study.
Download PDF Version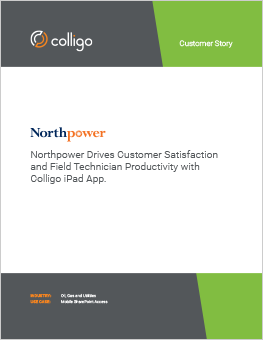 Other recommended case studies in Microsoft Outlook email management: