Last Updated on May 15, 2023 by Sarah Gayda
ILTACon 2021 offers glimpses of the future of legal tech landscape
We were live on location in sunny Las Vegas for the International Legal Technology Association's annual conference last week. Dubbed ILTACon 2021, the conference provided a great opportunity for us to get back to meeting in person with some of you — our partners, customers, and colleagues.  
Amid the excitement of the first legal tech hybrid event of 2021, not to mention the glitz and glamour of the City of Lights, three legal technology themes surfaced:  
Microsoft 365 is rising rapidly
 in the legal industry
Since the beginning of the pandemic there has been a tidal wave of legal professionals adopting Microsoft 365. While many of you in law firms or legal departments have always used Microsoft solutions in some shape or form, ILTACon sessions and discussions highlighted the proliferation of Microsoft 365 and SharePoint across seemingly every firm out there.  
The disruption of the Document Management System is in full effect. Legacy systems from the incumbent providers of are ceding to the rise of Microsoft SharePoint (SharePoint Online) alongside a third-party solution for email and document management. The combination creates a lighter-weight DMS that is more flexible and much more cost-effective for modern firms or legal departments if you already have SharePoint and Outlook deployed.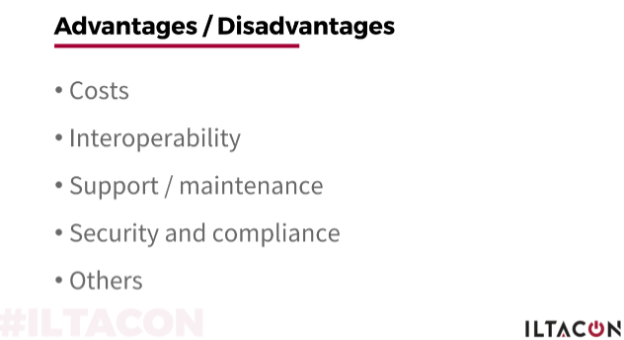 Information governance is more important than ever
Information governance appears to be an area more firms and legal departments are focused on. This is likely owing to the rise of remote and hybrid work since the onset of the pandemic and the explosion of content sprawl. Add in 'Teams sprawl,' and firms are realizing content is everywhere and they need to rein it in.  
Numerous sessions we attended highlighted the importance of proper information governance and control over firm or organization assets. Metadata, retention, and sensitivity labels go a long way in helping provide this governance, but it still takes attorney and user buy-in.   
Microsoft Teams is all the buzz
Lastly, the talk and enthusiasm around Microsoft Teams was substantial. From sessions to lunchroom discussions, it is clear many of you are either utilizing Teams or considering doing so in the near future. What remains to be seen is how broadly and deeply Teams will be adopted as the firm collaboration platform. From some of you using Teams for document management (using Colligo's Content Manager for Teams) to others using it strictly for chat and calling, firms are adopting and using Teams in a wide variety of ways.  
Our prediction is that this will change by the time ILTACon 2022 rolls around. The Teams ascension has only just begun and with every passing week, firms are learning more about how to get value out of Teams. Paired with the rise in SharePoint Online adoption, we believe more firms and legal departments will turn to Teams to do more, including document management.  
ILTACon 2021 was a huge success, and kudos to the organizers for putting on such a well-attended and learning-filled event in this turbulent time. We look forward to seeing many of you again at ILTACon 2022. In the meantime, for more on Microsoft 365, information governance, or Microsoft Teams, or how we help clients in the legal industry, please get in touch.