The new Colligo Briefcase for iOS app is now available in the Apple AppStore, and it unites the former Colligo Briefcase Lite app, Colligo Pro app, and Colligo Briefcase Enterprise app into one. Those older apps will be retired from the AppStore over the next month.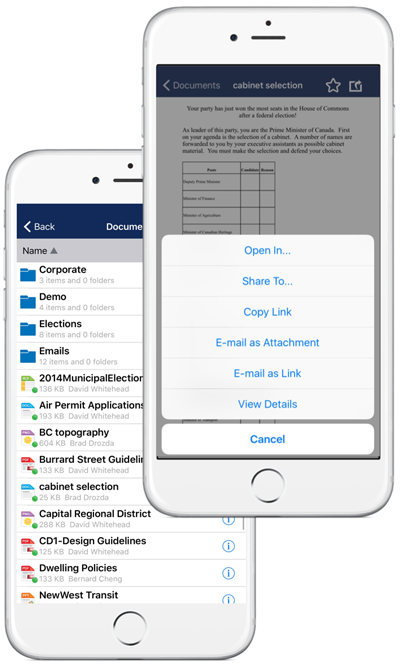 If you are a Colligo Briefcase for iOS "Lite", "Pro", or "Enterprise" app user, be sure to upgrade to the new Colligo Briefcase iOS app. It's our latest and greatest, and will provide you with the best possible mobile SharePoint experience.
Why should you upgrade?
With the new Colligo Briefcase for iOS app, you now have access to the latest and full product. Even better, you can say goodbye to feature restrictions.
Want more good news? Your organization's first five licenses are free! Just sign up with your business email.
What are the key new features available in the Colligo Briefcase for iOS app?
Access to the Colligo Console, a powerful central administration tool, will allow you to:
Push content to users, groups, and devices
Centrally set policies and monitor compliance
Track user activity and compliance through rich analytics and reporting capabilities
Annotate PDFs including highlights, notes, strikethrough, adding text, and freehand drawing
Integrate with any MDM system including Oracle, IBM, Citrix, AirWatch, Mobile Iron, and Good Technology
Enterprise deployment assistance and support is available when upgrading to a SAAS model with 25 or more licenses. Contact us to learn more.
If you are upgrading from Colligo Briefcase Lite, you can take advantage of several new features:
Set up multiple SharePoint sites rather than a single site
Upload documents to SharePoint
Edit SharePoint lists from within the app
Set up a security passcode and protect the SharePoint data that is in your app
Get unlimited data – no more 50MB data limitation per device
How do I upgrade?
Backup your current Colligo Briefcase Lite app and Colligo Briefcase Pro app to iTunes just in case you want to restore it. Refer to this Backup Knowledge Base Article for help with this process.
This knowledge base article provides details about the process to upgrade to the new Colligo Briefcase for iOS app.
What should I do if I need more than 25 users?
Contact us to discuss available options. We can help with a successful deployment!
We are excited about all the new innovations we've delivered in this latest release of Colligo Briefcase for iOS. Now you can get the best mobile experience for SharePoint.
Contact us anytime to discuss the best upgrade options for your business.