Colligo Briefcase for Windows
Colligo Briefcase for Windows delivers a productive desktop experience for both offline and online SharePoint content management. It enables users to easily sync, view, edit, file, tag, and share SharePoint documents and list items with rich support for metadata – anytime, anywhere.
Sync SharePoint desktops & laptops for mobility & performance
Enable productive offline access
Edit files, lists, and metadata
Easy-to-use, familiar desktop interface
Drive enthusiastic SharePoint adoption
Alleviate slow connectivity to SharePoint
Replace network shares with SharePoint for document storage and collaboration
Colligo Briefcase for Windows drives SharePoint adoption by giving our professionals offline access to project information when travelling or working in the field.
– Bryan Scurfield, Global IT Officer, Practical Action
Sync
Colligo's powerful sync technology ensures up-to-date content and optimal performance in the office, or on the road.
Locally synced SharePoint content delivers fast access, eliminating network latency
Automated 2-way sync, document check-in/check-out, and elegant conflict resolution
Sync specified documents, document sets, libraries, or entire sites
Ensure up-to-date content via automatic background sync based on startup, view, and configured time intervals
Offline viewing and editing, with full access to SharePoint features
1-way sync option is available upon request
View
View SharePoint content without a browser, with full access to SharePoint's capabilities.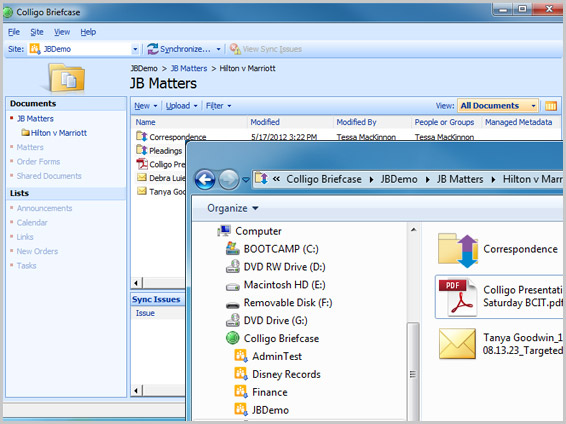 View multiple SharePoint sites and site collections without a browser
Use SharePoint views to organize data even while offline
SharePoint metadata is shown as columns for easy metadata viewing and editing
SharePoint libraries and folders represented as folders in treeview
View standard and custom lists, such as events, issues, links, contacts, and tasks
Powerful desktop client, and Windows Explorer integration
View files and metadata easily
Edit
Edit whether connected or not, with easy conflict resolution when syncing.
Documents and document sets are easily opened, edited, and saved
Edit documents and metadata even when offline
Changes are synced to SharePoint once online
Allows users to open/save to SharePoint from any desktop application, not just Office applications
Save documents to SharePoint from any app
File
Drive SharePoint adoption and increase efficiency with excellent ease-of-use
Drag-and-drop files and folders between Windows and SharePoint, or between SharePoint sites
Access SharePoint right from within Windows Explorer
Supports filing to upload-only and offline locations (with visual indicator for each)
Supports filing for standard or custom SharePoint lists
Perform SharePoint actions such as document check-in / check-out via right-click
Drag-and-drop between sites and Windows
Tag
Rich metadata features ensure content gets tagged properly.
Custom metadata support for all major SharePoint metadata types, including content type, enterprise managed metadata (taxonomies and keywords), and person/group metadata
Support individual metadata tagging for multiple files upload
Rich metadata support
Share
Effective sharing promotes enterprise-wide collaboration.
Copy SharePoint document URLs with fast right-click
Instant sharing of SharePoint content with background sync technology
Share document status by displaying whether files are checked out to yourself or another user
Easy sharing of docs as links
Colligo Contributor Pro
Need to manage email too? The perfect companion to Colligo Briefcase for Windows is Colligo Email Manager, bringing SharePoint content management directly into Outlook. Colligo Contributor Pro gives you both in one package.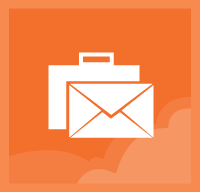 Complete solution suite for email and document management in SharePoint
Both products in a single license for a great price
Same Colligo sync technology, so workers stay productive in the office and on the road
Colligo Administrator
Increase IT efficiency and reduce costs with centralized administration.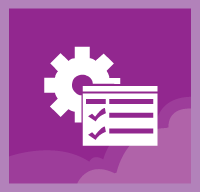 Centrally administer SharePoint sites, folders, and favorites
Support corporate governance initiatives with secure, centrally-enforced role- and policy-based SharePoint access
Ensure appropriate access with configuration on a per-user or departmental basis
Manage other web application URLs in groups according to business or project needs