Last Updated on May 15, 2023 by Sarah Gayda
Platform makes it easy for partners to generate revenue and satisfy customers while tapping into rapid growth of Microsoft 365
As we continue building our channel network, a common reason I hear prospective partners cite for delays or hesitation in signing up is limited time and resources to take on a new relationship. They are focused on supporting their existing clients and technology partners, meeting their revenue targets, and managing a myriad of other business
challenges. It's understandable, and disappointing too. They see opportunities to offer Colligo solutions to clients, but don't have the time and resources to sell and support our solutions. We thought to ourselves…there must be a better way!
And there is. We've made it easy for you to generate referral revenue from Colligo by joining the PartnerStack Marketplace. If you haven't heard about PartnerStack, it's a Partner Relationship Management (PRM) platform used by resellers, agencies, affiliates, and marketers to generate revenue. PartnerStack manages the simple application process, hosts our sales and marketing assets for you, tracks your referrals, and processes your commission payouts. All you need to do is search for Colligo in the PartnerStack Marketplace, or better yet visit the Colligo Partner Application page and click the Join Now button to get started.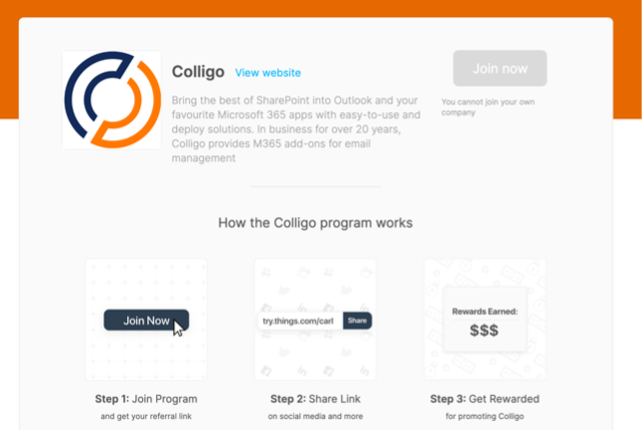 Once accepted, you will receive a unique referral link that you can use to register leads. You will also gain access to all our marketing assets, such as blog posts, case studies, and eBooks that you can share with your network to generate leads.
So, if you'd like to generate revenue from Colligo but don't have the time to handle the sales process yourself, sign up through PartnerStack and refer your leads to us. We'll take care of the rest, and you'll get a commission on every closed sale.
Our participation in the PartnerStack Marketplace does not replace our Colligo Partner program. We continue to have a thriving and growing partner community that we work with directly. They are trained to sell our solutions and own the customer relationship from beginning to end. We are continuing to recruit VARS, resellers, IT services companies, and system integrators into the Colligo Partner program.