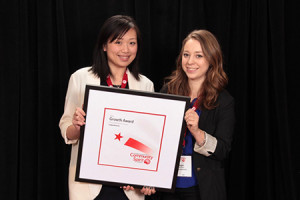 Employees Recognized for Increasing Commitment to Charity
March 23 2016 – Vancouver, BC – Colligo, a leader in mobile content management (MCM) solutions for Microsoft SharePoint, Office 365 and OneDrive for Business, is pleased to announce the company received the United Way Growth Award for its fundraising efforts in 2015.
The Growth Award recognizes the workplace campaign that had the highest percentage increase in the number of donors and dollars given directly to United Way, as well as maintaining or increasing their number of leadership donors year over year. In addition to Colligo, this years finalists included Pacific Blue Cross & Canadian Union of Public Employees Local 1816, Connor, Clark & Lunn Financial Group, Corix Group of Companies and Wawanesa Mutual Insurance Company.
"Our employees are really committed to giving back and for many years have contributed to the United Way. We truly support how the organization leads the building of stronger communities for all across the Lower Mainland. This year, in particular, we wanted to support the Early Years Refugee Settlement program to help young Syrian refugees," comments Megan Lawrence, HR and Office Manager at Colligo. "Given our company size in comparison to the other finalists, we were thrilled to be selected for the Growth Award. We thank the United Way for the recognition as we look towards our continued fundraising efforts for years to come."
The United Way recently announced it raised $25.1 million in 2015 that will help 340,000 children, families and seniors across Metro Vancouver. The campaign total was announced at the 15th annual Scotiabank & United Way Community Spirit Awards gala, at which Megan Lawrence and Eva Wong proudly accepted the Growth Award on behalf of Colligo.
About Colligo
Colligo is a leading provider of mobile content management solutions for Microsoft SharePoint, Office 365 and OneDrive for Business. The company's award-winning, unified suite is used by organizations every day for email management, document distribution and mobile collaboration. Colligo is a Microsoft Gold Application Development Partner with Global 500 customers including 4 of the top 5 global oil and gas companies, Microsoft, EDF Energy, Bayer and the US Department of Energy. The Colligo iOS app is consistently ranked as a Top 50 purchased iPad business app on the Apple App Store. For more information, please visit www.colligo.com.
For further information, please contact:
Asa Zanatta
Tel: +1.604.724.7755
Email: asa@colligo.com