Last Updated on March 16, 2023 by Gui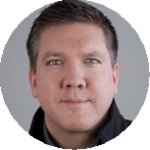 Today's guest post is authored by Christian Buckley, globally-recognized Microsoft MVP, author, and technology evangelist. He is the founder and CEO of CollabTalk, an independent research and technical marketing services company. Follow him via @buckleyplanet.
Christian explored these concepts further as our expert guest speaker on our webinar: Mastering Knowledge and Records Management in Office 365
---
Every few years there is a technology upstart that claims to have created an "email killer" application, and that email as a communication system and document transport solution will soon be extinct. Of course, these predictions never happen. In fact, new innovations around cognitive search, machine-learning, and records management have all extended the reach and value of email—and made it an even more essential component of business transformation planning that many organizations now find themselves going through.
End users still rely heavily on email, along with instant messaging and other forms of collaboration and communication. According to one vendor's research, IM and social collaboration has only displaced 20% of email traffic (Exclaimer, 2017). The reality is that there has been an explosion in the growth of data—both personal and organizational. With this growth, organizations are recognizing that sensitive data now sits across multiple repositories, fueling the need for more stringent records management policies and controls.
The issue is data access: how can the company get access to this information if it needs to audit all records, or there is an investigation or legal proceeding?
Where is your data?
Think about your company's intellectual property: Where is it stored? You may have final deliverables within your knowledge management or collaboration platform (like SharePoint), but what about the versions still transit?
In most companies, a good deal of your IP is sitting in your email server. An increasing wave of government regulations, such as the Sarbanes-Oxley Act, the European Union's General Data Protection Regulation (GDPR), the Graham-Leach-Bliley Act, SEC Rule 17 a-4, and the Health Insurance Portability and Accountability Act are impacting how organizations manage, index, classify, store, audit, retrieve, and delete their data.
Some companies have decreased the overall volume of email they handle, but few have successfully moved away from the technology entirely. Instead, collaboration and communication have become much more complex—which is where much of the innovation is happening around collaboration and records management. As a result of this new innovation and rising accountability, organizations need to streamline how they use email, what is automated, and how it fits within their overall digital footprint.
Digital transformation
It is safe to say that most organizations have some of vision of a Digital Workplace that they are working toward, looking for real-world solutions that can help make our business activities more streamlined, efficient, and intelligent. Email continues to be an important technology to help us bridge the technology and business process gaps within these strategies. Where we are seeing less email is when it is informal, or unassociated with formal projects or "high-velocity" collaboration—these are places where instant messaging solutions and video chat have displaced email.
eDiscovery and search benefit from proper tagging and labeling of content, as well as strong records management and retention strategies—and email automation can solve much of this.
Without a strong alignment between our technology and key business activities, many end users will turn to unsupported applications and services to get their work done. However, when organizations take the time to understand how their employees work, and refine the movement between workloads, those employees often become more engaged.
The reality is that with the focus shifting toward the Digital Workplace, our collaboration needs (with email being a major part of those needs) has expanded, and email continues to be an important aspect of future planning. While the volume of email that organizations receive has decreased overall (much improved spam management), email's value within the enterprise has remained solid. What we have learned is that email alone is an insufficient collaboration mechanism—but when used in concert with social and document collaboration capabilities, it provides an essential role within our Digital Workplace strategies.
Establishing email governance
The challenge for most companies is finding that balance between flexibility and control. Having a strategy in place for a growing, evolving SharePoint environment is just one piece of the plan, however. Your strategy should include details on how you align SharePoint with your business processes, how teams will access and use the platform, the lifecycles of critical content types and how they are stored as your content volume grows, and other key considerations. Having the governance policies in place (the boundaries of your system) is also important, but so is having the tools and processes in place to manage expected (and unexpected) changes.
Some additional steps might include:
Create a governance strategy. Formalize your plans, so that stakeholders and end users alike can provide input and help make the resulting plan part of your company culture, ensuring long-term
Understand your usage and activity. Start your planning with data, so that you better understand who is using SharePoint, how they are using it, and where there are gaps in your planning.
Map out your records management policies. Different departments may have different rules they need to adhere to, and one set of rules may not apply to everyone.
Implement and iterate. Once the plan has been built and signed off by your executive sponsor, stakeholders, and end user influencers, begin to implement

—

making sure you have a strong change management process in place, so that you can make changes and adjust your strategy as you learn.
Email archiving has become part of an organizations overall records management and content archiving strategies, allowing administrators to manage all unstructured information in the same way without having to go through separate systems. However, companies still need to be thoughtful about how end users access and search this content, ensuring that governance policies and procedures are met, as well as how this vital IP will be leveraged.
Would you like to learn more about overcoming challenges with email management in the digital workplace?  Christian returned as our expert guest speaker for our webinar: Mastering Knowledge and Records Management in Office 365. Watch the on-demand recording now.