Paper-based records keeping is the stalwart standard for many government organizations. For years this method has proven reliable, but it is becoming sorely outdated from a practicality and efficiency perspective, especially now that US government agencies have to respond to over 788,000 Freedom of Information Act (FOIA) requests annually. So much of our correspondence and documentation is now digital—particularly driven by email—that storing hard copies just doesn't make sense.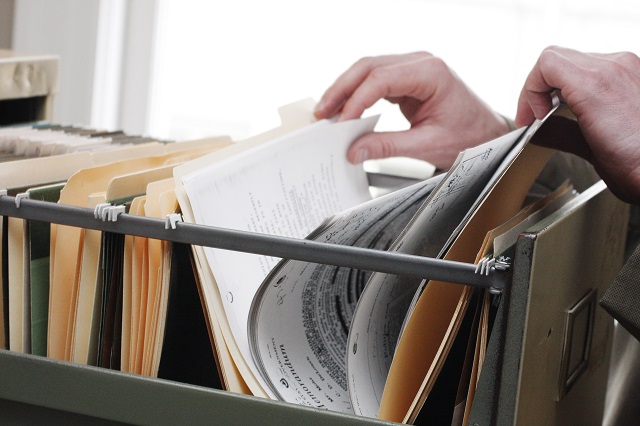 Some agencies mandate the use of specific email PST files to avoid printing paper copies of emails, but this too falls far short of centralized electronic records management. Given that over 250,000 organizations run SharePoint, leveraging this existing tool for records keeping seems like a straightforward solution. (In a recent post, we shared three questions you should be asking as you consider getting started with records management in SharePoint, including what a realistic rollout schedule looks like.)
Perhaps the biggest pain with using PST files or paper records is felt when they need to be searched and retrieved—for example when responding to a FOIA request. If you've ever had to do this, you'll be familiar with some of the areas where paper records and PST files come up short:
There's a lack of metadata. Looking through printouts of emails is hugely laborious when trying to find records that pertain to certain names, topics, or accounts. Searching within individual PST files gives you only marginally better performance: you can search within the subject line, or for senders or recipients, but not much more. Capturing records like emails electronically and tagging them with rich metadata allows much more targeting searches, and ensures that all pertinent records will be found.
It's a time-consuming manual process. The process of searching for and retrieving records from hard copy repositories can be hugely laborious. When records are not stored centrally, people have to scramble to respond to respond to requests, searching their own file folders and PST files. We worked with one US federal agency who estimated that responding to complex FOIA request could take up the time of 40 people working for over 4 hours each.
There are findability issues when people are out of the office. On any given day, people at your office are out on personal leave, vacation, or because of illness, or because they have been let go. These planned and unplanned absences wreak havoc on a records retrieval exercises—without the person there with the first hand knowledge of where they've been storing their own records it takes much longer for the organization to be sure they've found everything.
There are clearly compelling reasons to move towards centralized electronic records management. So why the resistance to change? For one, the perceived effort needed to introduce centralized electronic records management seems daunting. It can be a major project, especially when it impacts everyone in an organization. But the benefits of implementing this change are profound.
Does your situation sounds similar? Then you'll find lots of helpful background information in our 20 minute video "SharePoint for Government – How to Comply with Mandated Records Management Requirements"—in which we share how one US federal government agency overcame these same challenges and reduced the time needed to respond to complex FOIA requests from 160 hours to 1 hour.