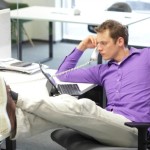 You probably use your mobile phone for tasks like checking email, making appointments on your calendar and reviewing short documents. But what about "real work" that's more process-driven, such as editing a contract? For that, many people still turn to laptops or tablets.
As an article from CMSWire points out, more process-focused apps are going to be needed for people to be truly productive using mobile devices. Often, when it comes to a business solution, the reality is there isn't always an app available for that.
For instance, how many apps on your phone are feature-based? Do you frequently need to switch between apps to get routine work done? Such issues prevent people from easily leveraging mobile phones for work.
"The process apps that people need to get work done need to work with the broader mobile ecosystem. This isn't just a matter of not recreating the wheel. It's the reality of the mobile world," the article explains. "Storage is finite on a device. It's important to provide the expertise you need without forcing substandard features that clutter the device."
As we mentioned in a previous blog, apps for mobile phones should be simple, as there's a finite amount of space on a small screen. For example, most websites (Facebook and LinkedIn come to mind) have created different apps specifically for tablet devices because the touch interface and screen size requires a different way to think about user experience.
Apps provide a great way for business users to get work done while on the road. SharePoint is a good example, as many companies are using it for collaboration on documents. Allowing employees to review contract documents, for example, via SharePoint on any device — mobile or otherwise — rather than via email helps to make the process much more efficient.
Expect to see more business process apps moving forward as organizations realize the importance of embracing mobile tools.
Learn why Colligo Contributor Pro is the complete solution for managing SharePoint enterprise content, including emails and documents. 
Source: CMSWire, April 2014