Mobile content management (MCM) is here, now. IT departments are working hard to aggressively mobilize enterprise content by rolling out more and more apps. In a recent report, Good confirmed major app growth:
70% of organizations use 2 or more mobile apps;
Among those that have deployed apps beyond email, organizations deployed 3.21 apps on average.
You get it, and like other IT pros, you're looking for best way to meet the needs of both your information workers and enterprise. It's no big surprise that MCM architectures vary widely in their ability to deliver on the promise of increased mobile productivity, security and governance. One of the first steps towards MCM success is selecting the right architecture for your enterprise.
What are the different architectural approaches to mobilizing your content?
It all starts with where that content is stored. And more often than not, there's a lot of data spread around multiple systems. That makes it a confusing mess for information workers, so unless you provide a great solution for mobile devices, you'll have a user adoption problem right out the gate. As well, you've got security and governance concerns. Without proper management, mobile devices can represent significant risk.
So what are the options for mobilizing content? Let's look at the three most common architectural alternatives, and evaluate some pros and cons of each.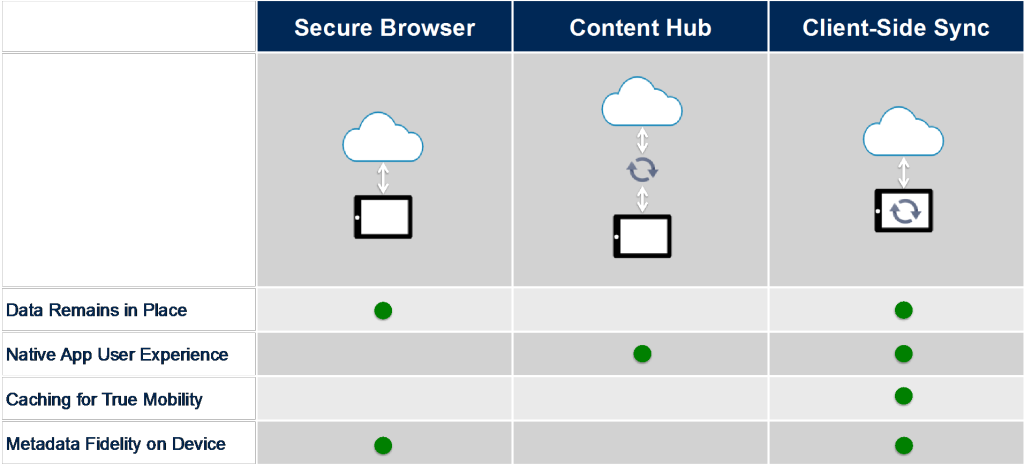 Secure browser apps are popular with IT. But what about rapid adoption?
The first architecture is the Secure Browser. Easy, right? Secure browser apps enable users to access multiple content repositories from a single app. There are a couple of advantages to secure browsers. Firstly, they don't require the data to be moved to a new repository. Data stays in place in SharePoint, or your chosen enterprise content management solution, and is just accessed directly using https. Because it's a browser, most of the features of the repository – including support for metadata – can be enabled on mobile devices.
However, the Secure Browser approach falls short in a couple of areas. Firstly, despite advances in HTML5 technology, applications still lack the performance of native mobile apps. Information workers expect the usability of consumer apps, and adoption can quickly suffer with a browser limited experience on mobile devices.
Secondly, secure browsers are really only useful when your information workers have a high speed connection to a network. These apps lack sophisticated caching capabilities that ensure lightning speed access to content both online (when in poor coverage areas or when accessing large files) and when used offline. All of this can add up to a frustrating user experience.
Today's mobile workers expect great experiences from enterprise apps, just like the experiences they get with apps they use in their personal lives. In fact, the barriers between "work apps" and "personal apps" have broken down. Users simply won't use tools that get in the way of doing their work.
Content Hub apps deliver a native mobile experience! But what about risk?
Next is the Content Hub. In this configuration, data from multiple sources is synchronized with a server, or hub, on the Internet. This data, in turn, is synced with an app on the mobile device. Typically this is a native app that provides a richer user experience than the browser to help support fast user adoption.
The big downsides of this approach are complexity and risk. Essentially, a content hub requires data from multiple repositories to be copied to a file store. This adds complexity to deployment and support, and introduces a risk of data loss that needs to be managed because the data is being copied or proxied to the hub.
While it's possible to cache data on the mobile device, most vendors apps do not, so users are required to have a full-time connection to the network for access to content.
And because the content hub acts to store and distribute all the data in the system, often the unique features of the various content repositories are "dumbed down." For instance, there are very few content hub solutions that actually support enterprise metadata, making them useless for records management applications. This lack of support for metadata, to enable findability and governance, spans solutions from most of the major EMM, ECM and EFSS vendors.
Client-side synchronization – a win-win MCM architecture!
The last alternative is client-side synchronization. In this configuration, sophisticated sync technology is resident on the mobile device. This means the phone or tablet can sync directly with multiple repositories, eliminating the need for a hub at all. This is a much simpler solution.
An app is built on top of the sync engine using an SDK, enabling all sorts of purposeful, native apps to be quickly developed on the mobile device. The sync engine can also selectively cache data for offline access (although caching is not required if there are security policies that preclude enterprise data caching on mobile devices).
Finally, because the devices are connected directly to individual repositories, advanced metadata features can be implemented on mobile devices. This opens up records management applications that can be implemented directly across mobile devices.
With the advent of more powerful mobile devices with fast processors and lots of memory, client-side sync is now fast becoming a best practice. It's changing the game for mobile content management. These apps deliver both the compelling experience that mobile workers demand AND the security and governance the enterprise requires.
Try our Colligo Engage Apps!
At Colligo, we've built the most sophisticated client-side sync engine and addictive apps for SharePoint, Office 365 and OneDrive for Business for highly productive mobile workers. Our Colligo Console is the unique administration companion to Colligo Engage apps that enable central configuration management and compliance monitoring … to meet the enterprise requirements for security and governance.
Or to learn more about the advantages of MCM and client-side sync, watch the on-demand webinar "Enterprise Mobility: Awakening the SharePoint Force" featuring 451 Research mobility expert Chris Marsh: