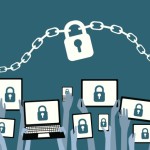 Many mobile applications — especially those from third-party app stores — present security risks to business data stored on employees' smartphones and tablets. Using mobile device management (MDM) helps reduce this exposure and ensure security for corporate data.
Much of the risk stems from misconfigured and misused mobile apps, rather than sophisticated hacking attempts, according to a Computerworld UK article.
What's a misconfiguration? That's when a person uses their personal cloud services for conveying company data, without their company's knowledge. These personal mobile applications may lead to data leaks that go undetected for long periods, because the leaks occur outside the organization's IT systems.
Another security risk comes from mobile devices that have been jail-broken or rooted. In a BYOD environment, these jail-broken devices put corporate data at risk because they "remove app-specific security protection and the safe 'sandbox' provided by the operating system," the Computerworld UK article explains. "They can also allow malware to be downloaded to the device and open it up to all sorts of malicious actions, including extraction of enterprise data."
Adopting an MDM policy helps maintain a secure configuration of employees' mobile devices, and using additional app shielding improves security for enterprise data, according to the article. An MDM policy might ask users to bring their mobile devices into compliance with security standards before granting them access to enterprise data, and users may need to agree to allow IT security to take over certain controls in the event of problems.
Currently, there aren't many companies competing in the MDM space. But as MDM works to defend corporate data, there's potential for lots of innovation and growth that enables a more secure enterprise environment.
Are you looking to learn more about how enterprise mobile apps and MDM could help your organization? Contact us today to talk with our team.
Source: Computerworld UK, May 2014