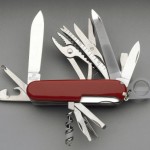 It's best to think of SharePoint as a Swiss Army knife. The platform offers a variety of tools that you're able to use to help complete many different tasks, including document management and collaboration.
An article from SharePoint Pro references a 2004 survey to examine how SharePoint usage has changed over the past 10 years. At the time of the survey, SharePoint Portal Server 2003 was the latest version.
Document management ranked as the top problem users were looking to solve 10 years ago with SharePoint. Users also listed collaboration and creating virtual workspaces as reasons for turning to SharePoint.
Understandably, users didn't mention social features, as at the time most people probably weren't wondering about how enterprise social tools like Yammer (launched in 2008) would work with SharePoint.
How do the above results compare to those from a poll earlier this year? "Document management was the most-used function of SharePoint, at 81 percent of votes, followed by 74 percent of votes for intranet use, with the remainder of uses being, in descending order, workflow features, BI and social media," the SharePoint Pro article reports.
This shows that, for the most part, the core reasons for using SharePoint remain largely unchanged a decade later. That shouldn't come as a big surprise. After all, document management and collaboration are just as (if not more) important today than they were 10 years ago.
The fact that SharePoint is a platform is why it continues to be so valuable to organizations 13 years after being launched by Microsoft. SharePoint was never designed to be an application, even though many people today see it as that. SharePoint has always been a platform — it just happens that document management is the highest and best use.
The bottom line is that with a platform like SharePoint, you're able to make customizations, allowing you to build and pivot as necessary.
Learn more about solving your business challenges with SharePoint apps for secure mobile access and email management in the enterprise.
Source: SharePoint Pro, April 2014