Our team was in Toronto this week, speaking at the ARMA Canada conference. For the uninitiated, ARMA is a professional association focused on effective management of records and information within an established information governance framework.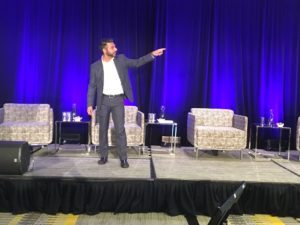 This event brought together members from across the country's 14 chapters and beyond, and as you can expect when canucks from coast to coast get together, there was plenty of fun. Nor did the content disappoint, covering the gamut from technology trends to leadership and interpersonal communication. Communication expert Mark Bowden's opening keynote was a humorous take on the subtleties body language, while Jesse Hirsch provided plenty of food for thought on the increasing politicization of information, the murkiness of authority in our day and age, and the implications for AI systems being built to act on all this data. Riyaz Lakhani, Colligo's Director of Professional Services and I also presented on mobile data records management.
Here are three big themes we heard this week:
The only thing constant is change. Every practitioner we spoke with described how their organization was undergoing or planning for a significant transformative project. Many mentioned the rollout of new technology across the enterprise that would heavily impact records management and information governance, from new ECRM systems to deployment of a new version of SharePoint. Others spoke of more foundational moves away from paper to digital records. Amidst all this change, it is critical that companies have visibility to new process adoption.
Information Governance is a program, not a project.  Georgia Barlaoura (Crescent Point Energy) and Shelley Sapieha (Purusing her MIS at Dalhousie) delivered excellent and very practical advice based on their first hand experience developing information governance programs at energy utilities and oil and gas firms. They repeatedly came back to the imperative of aligning IG programs with the company's strategy and demonstrating impact with appropriate metrics that roll up to strategic goals. Best practices include starting with quick wins but driving towards granular metrics that demonstrate process compliance and value to the company.
New Kids on the Block: The CDO.  Firms are responding to the opportunities (and risks) that big data presents by elevating the responsibility for oversight on data management and policy to the executive level.  V Nicole Godin of KMPG described that it is not unusual to see firms allocating 5-year budgets of $10M-$100M to ensure firms are able to deal with the volume, variety and velocity of data they are generating. Given increased regulatory oversight and the need for compliance, having the right controls in place to ensure proper privacy and security is paramount. And for firms to get value out of their data, they need to be positioned to get quick insights from it, and respond quickly.
For the last word, we'll turn to this nugget from Sherlock Holmes, shared by Nicole in her great overview of the role of the CDO:
"Data!  Data!  Data!" he cried impatiently. "I can't make bricks without clay!" – The Adventure of the Copper Beeches