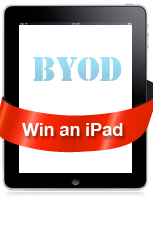 The Bring Your Own Device (BYOD) trend is impacting organizations of every size. To better understand the issues and concerns that organizations are currently facing, Colligo is participating with Osterman Research in a survey on the BYOD phenomenon.
The survey covers various BYOD issues including:
IT policy for organizations supporting BYOD
Corporate data security concerns for mobile devices
Issues regarding cloud-based services for file transfer
SharePoint usage and access requirements for mobile devices
We invite you to take make your opinions count by participating in this important survey. The results of the survey will be presented at an upcoming Colligo webinar featuring Michael Osterman of Osterman Research on June 7 and will be available for download via a White Paper.
Please take a few minutes to complete the survey. Survey participants will be automatically entered in a contest to win the new iPad! The survey period ends on May 8, so please complete the survey today.