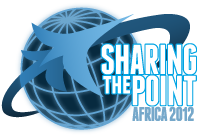 Excitement is building for the kick-off event–just one week from today–in Johannesburg, South Africa. This FREE tour brings a fantastic line-up of SharePoint experts to four African cities over a ten day period:
As the team travels through Africa, you can follow their progress as they post stories and photographs from our SharePoint iPad app, Colligo Briefcase.
Sharing the Point Africa 2012 is a community-driven initiative designed to educate users about the potential of SharePoint platform. The best of the SharePoint Evangelists will be on tour presenting practical applications for SharePoint in real world scenarios. The ultimate goal of this tour is to promote SharePoint while educating and galvanizing members of the local communities around the benefits of SharePoint.
Colligo is proud to be the global sponsor for Sharing the Point Africa 2012.
Agenda & Registration